by Mike Hays
Acupuncture and Chinese medicine may sound sound mysterious to some, but a few minutes with our village acupuncturist, Dr. Lauren Dulberg, will cure you of your misconceptions (and possibly cure your ailment). Nyack has a reputation for healers and healing, so it is appropriate that Lauren's office for Two Rivers Acupuncture and Wellness is located in a beautiful blue house on North Broadway in Upper Nyack.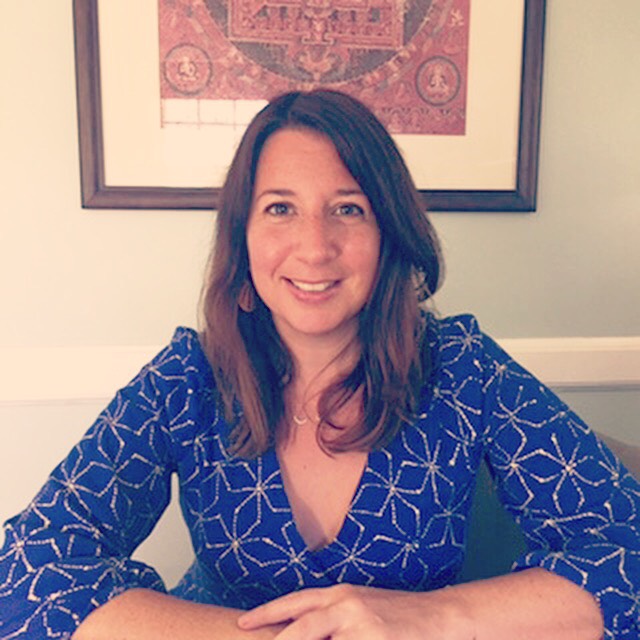 Chinese medicine is not well understood in the United States and is often thought of as alternative to traditional medicine. Patients often come to Lauren for treatment after everything else has failed. Many are surprised to have positive results and wish they had started with Chinese medicine first.
Chinese medicine has been practiced for 5,000 years
Traditional Chinese medicine (TCM) is a complex science putting a diagnostic emphasis on patterns of disharmony in the body. Think for a moment about how pain treatment has led to an opioid addiction epidemic. Pain can often be treated with acupuncture rather than drugs. In 2018, hospitals will start offering acupuncture as a standard practice.
TCM offers patients custom or specialized treatments. For example, in the western approach, everyone takes the same aspirin for the treatment of headache. In Chinese medicine there are at least five different herbal treatments for headache.

An initial appointment with Lauren is a 90-minute diagnostic session. A wide variety of therapeutic methods are used depending on need including acupuncture, cupping (think Michael Phelps at the 2016 Olympics), herbal medicine, moxibustion (heat therapy), and nutrition.
Dr. Lauren Dulberg
In 2016, Lauren became the first physician in Rockland County to receive a doctorate in acupuncture and Chinese medicine. She earned her Masters of Acupuncture and Chinese medicine in 2011, becoming not only a licensed acupuncturist but also a board-certified herbalist.
Born and raised in Rockland County, Lauren has traveled all over the world. She studied anthropology at the University of Arizona. An interest in ethnobotany led her to travel to Asia, Israel, and Latin America. She started her acupuncture practice and her family in Buenos Aires where she owned and ran the only Chinese medicine clinic in Argentina for almost five years.
Lauren specializes in women's health and fertility. She also emphasizes pediatrics, orthopedics, and emotional wellness in her practice; but she treats all ages and genders.
She moved to Nyack in 2016 with her husband and two children. She thrives in our small community and finds time to sing, play guitar, and write songs. You might even hear her at Maureen's Jazz Cellar some night.
Hu Qing Yu Pharmacy
A Chinese Medicine Clinic in Hangzhou, China
Known as the "Medicine King of Southern China," this clinic was established by Late-Qing Dynasty merchant Hu Xueyan in 1874. It is China's most well preserved piece of late-Qing architecture and still functions today.


Inside the three-story clinic with a central atrium, numerous types of Chinese medicines are processed. It is a busy place most days.
Located at the foot of Wu Mountain besides West Lake, Hu Qing Yu Chinese Pharmacy attracts thousands of visitors every year for its valuable collections, unique cultural atmosphere and magnificent architectural complexities.

Photo credit:  Michael Hays
Michael Hays is a 30-year resident of the Nyacks. He grew up the son of a professor and nurse in Champaign, Illinois. He has recently retired from a long career in educational publishing with Prentice-Hall and McGraw-Hill. He is an avid cyclist, amateur historian and photographer, gardener, and dog walker. He has enjoyed more years than he cares to count with his beautiful companion, Bernie Richey. You can follow him on Instagram as UpperNyackMike.

Nyack People & Places features photos and profiles of citizens and scenes near Nyack, NY. Sponsored by the Gedney Street Project.