Meet Rockland County native, artist, musician, educator, single mom and owner of 95 1/2 Main.

How Did You Become An Artist?
I was raised by two very intelligent and creative parents who were writers, editors and at one time, publishers of a literary journal called "First Person."
My parents truly believed in the importance of creative expression and my deep interests in the visual, literary and performing arts were nurtured and validated from a young age by my family, teachers and mentors. Most likely, that last line is a vital part of the story as to why and how I was drawn to create a space like 95 1/2 Main, my latest creative and business endeavor. Part of my mission to help validate and nurture authentic creative expression for all.
What Kind Of Art Do You Make?
I make original art across many disciplines, including songwriting, mixed media paintings, photography, performance poetry, storytelling, and writing, directing and acting in, theater, dance and performance art productions.
My love of music led me to focus most passionately on that discipline. I am a singer-songwriter, multi-instrumentalist, band leader and recording artist – – with three independently released albums and one EP. I've shared stages and written, recorded and performed with, Grammy- and Emmy-nominated jazz and rock musicians and producers.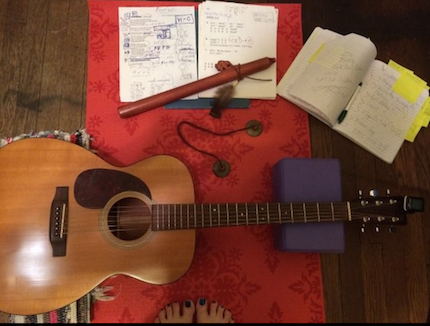 My performed and recorded original works have been praised by the Village Voice, The Big Takeover, Lucid Culture, and Obie/Bessie award winning poet/playwright Carl Hancock Rux, among others. Performing has always been a lifelong passion and I have toured Europe and headlined such NYC venues as The Blue Note, Joe's Pub and the Mercury Lounge, among others.
My multi faceted journey as an artist in terms of process, created works and disciplines eventually manifested as a deep desire to give back as a mentor in the arts.
As an educator, creativity coach and community organizer, I teach music, storytelling, performance poetry, and songwriting classes and workshops to kids and adults in the lower Hudson Valley, with an emphasis on girls, women and the LGBTQ community.
In 2016 and 2017, I was a featured performer and educator at the Garner Arts Festival, in Garnerville, NY, as well as a visiting teacher for Garner Art Center's arts education programs for the local public schools.
In the Spring of 2017, I launched my Women's Storytelling Night Events, "Nevertheless, She…" which feature women from the Hudson Valley and Nyack area telling their true stories. I serve as curator, host, producer and open mic/workshop facilitator. Installment 3, in September 2017, had a women in politics and leadership theme and featured Maureen Porette, the current Democratic candidate for Rockland County Executive.
What's Your Muse?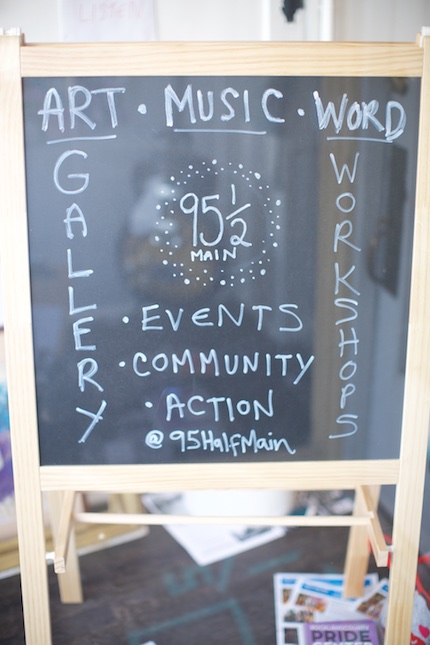 What isn't my muse?! There is so much to delight in, react to, appreciate right in front of us.
My top muses: authenticity, the Hudson Valley light, the woods and river, an intimate conversation and hug with a close friend, live music, spoken word, dancing. Stories. Women collaborating, sharing. Women living in their truths, Women in leadership. My students. Goofiness.  My daughter…
With my new endeavor 95 1/2 Main, I am exploring many of those personal muses and translating them into programs and exhibition themes. The title of our inaugural exhibition, "Incredible Creature: Inside/Out," articulates my philosophy as an artist and educator.
I plan to continue the artistic, philanthropic and progressive traditions in Nyack.  This new venture will be a place to pay it forward, listen, connect, take action and help all of us live in a more incredible way. We can all be muses.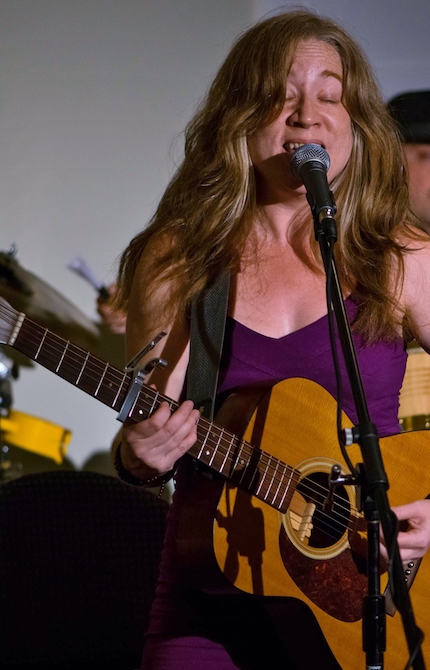 What's Next?
Currently:
Group Art Show: "Incredible Creature: Inside/Out" through 11/26. Visit www.95halfmain.com for gallery hours.
Midday Meditation for Creatives: Wednesdays 12:10-12:30p, $5
Music & Play with Katie: Thursdays 10-10:45a(Ages 9mo-4yrs), $10
2nd Sunday Monthly Women's Storytelling Circle: 7-9p, $10
4th Sunday Monthly Words & Wine: 7-9p, $5
Upcoming Events:
First Friday Nov. 3rd: 6:30-8p Incredible Creature: In Conversation. A wine & cheese reception plus in-the-round conversation / Q and A with the curator and exhibiting artists. Open to the public, $5 donation.
Saturday Nov. 18th, 7-9p. "Nevertheless, She…MeToo", Women's Storytelling Night, Hosted and curated by Katie Elevitch. Casa del Sol, $10
December 7th, 2017, "The Listening Room", A Music / Performance Series Launches.
For more info,  visit www.95halfmain.com or follow on IG/FB @95halfmain.