by Richard Kuczkowski and Mia Leo for GraceMusic
The evocative & mystical music of Herbert Howells and Ralph Vaughan Williams opens GraceMusic's 48th season on Sat, Oct 21.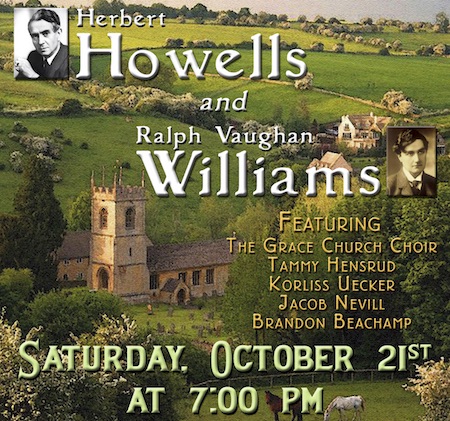 Those in the Anglican Communion tend to be very familiar with the music of Ralph Vaughan Williams and Herbert Howells, two of 20th-century England's master composers. Both represented a focus on Tudor and non-German styles, and produced rich and varied music for a wide range of instruments.
A long friendship with Gustav Holst was crucial to the development of both Vaughan Williams and Howells, who were themselves close friends. Although they both held church jobs at various times and taught at prestigious institutions, they thrived at a time when it was possible to earn a living as a composer – quite different now, many decades later. Both studied with Charles Villiers Stanford and Hubert Parry (two giants of 19th century Anglican sacred music); Vaughan Williams also studied with Max Bruch in Berlin and Maurice Ravel in Paris.
Vaughan Williams and Howells are both interred in Westminster Abbey, near the grave of Henry Purcell, and near to each other – musical friends on earth and beyond.
The concert features the Grace Church Choir singing some of the most beautiful choral works by both composers. Nyacker Korliss Uecker and Tammy Hensrud will perform solo vocal pieces, accompanied by James Rensink, Director of Music at the Reformed Church in Nyack. Organists Brandon Beachamp & Cleveland Kersh will perform some of Howells' edgy and exciting organ pieces. saxophonist Jacob Nevill will join Beachamp at the piano for some new arrangements, and you (the audience) will join us in singing a beloved hymn written by each composer.
An English-inspired reception will follow afterwards; all welcome to come greet the artists and each other.
The music of the music of Ralph Vaughan Williams and Herbert Howells will be performed on Sat Oct 21 at 7p  at Grace Church, 130 First Ave in Nyack. Tickets are $20; seniors $15; students $5; children under 12 free. Handicap-accessible via First Avenue entrance. Visit GraceMusicNyack.com for more information.