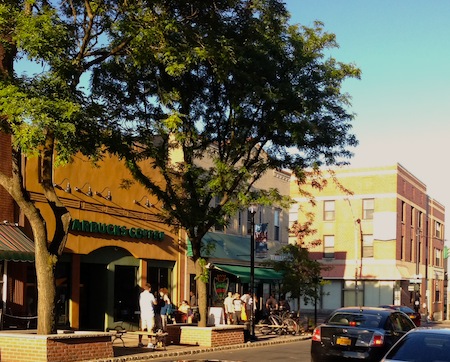 Two days to go for a free front yard tree for Nyack homeowners. There was a bus on bridge non-announcement at the Palisades Center last Tuesday. And tonight at Nyack Village Hall at 6:30p, hear info on a planned S Franklin Bicycle Lane that will connect Nyack's downtown to the new Mario M Cuomo Tappan Zee Bridge Shared use Path (MMCTZBSUP? )
A Tree For Free
Nyack's Front Yard Tree Planting program offers free trees to qualifying residents with yards that have adequate space for healthy trees to grow near the sidewalk and street. But there's a catch: you have to promise to water the tree and protect its base from mulch, mowers and weed whackers (The traditional kind of weed whacker. Not the US Atty General Jeff Sessions kind.)
Trees are cool and green — in both an environmental and monetary way. Their shade will reduce your cooling costs; their beauty may increase property your value, too.
It's first come first served. Trees must be planted between 3 1/2 feet and 12 feet of the front curb and they can't be under any power lines. All fall planting requests must be made by Sat Sept 30. Email Marcy Denker at the Nyack Tree Committee at mdenker@gmail.com for more information.
This is Dedicated to The Lane We Love
You could feel the transportation drama in the air last Tues night when the New York State Department of Transportation convened an open house at the Palisades Center to disclose their findings on whether the
LHTL, the future replacement to the Tappan Zee Express
, will get it's own lane on the new Tappan Zee Bridge. It was the kind of excitement you get when you gather about 25 state transportation officials, elected officials and vendors in a room and invite the public to stop by to hear — no decision yet. (yawn…)
Officials say there's more studying to be done and a process to be followed. Don't expect a final decision to be announced before sometime next spring.
If approved, the BRT-like bus system will share space with an emergency vehicle access lane. Officials say a dedicated bus lane will reduce travel times, improve traffic flow and increase reliability for bus riders. Stay tuned.
Nyack's South Franklin Bicycle Lane
As part of the village's Transportation Alternative's Program (TAP), the Village of Nyack will be creating a bike path that will run along S Franklin Street connecting downtown to the Esposito Rail Trail and the Shared Use Path on the Mario M Cuomo Bridge.
There's a bit of a misconception as to whom might be using this path. Although Nyack is a regular bicycling destination for many serious NYC cyclists, this path isn't for them. Road cyclists, who can average 15-22 mph on their sub-20 lb. carbon fiber efficient bicycles, may be brave enough to share the road with cars, but most would rather avoid sharing a confined path with the slower traffic that pedestrians, joggers, recreational cyclists, families with kids, strollers and dogs represent.

To Your Health! And Safety: There's a sizable population of people who say they would like to ride more but are terrified of sharing the road with cars.
It's not a newbie thing, either. As distracted driving increases, many former road bike regulars have given up sharing the streets with cars for rail trails and bike lanes. "I do not like riding on the roads with cars and I wish there were more dedicated bike/walking paths in Rockland County," says New City resident Cheryl Langus. "I do not ride as much as I would like because there aren't enough bike friendly paths/roads without fear of being hit by a car," she says.
It's important to note that there's a big difference between putting up a sign that says "Bike Route 9" and creating a space where parents will want to ride with their kids, village residents will feel safe enough to ride downtown to run errands, and future bicycle commuters will want to cross the Hudson. The S Franklin Bike Path is for the people who relate to some of these statistics:
Want to get involved in creating safe spaces to cycle in the Nyacks? The Village of Nyack, with input from residents in Upper Nyack, South Nyack and the Nyack School District, will be creating a Bike/Walk Master Plan to improve connections between destinations in the Nyack river villages. Volunteers are needed to work with an outside consultant which Nyack plans to hire this fall. Email info@NyackNewsAndViews.com for more information.
Street Beat is a weekly feature on Nyack News And Views covering streets, sidewalks, cycling, mass transit and safety. Sponsored by Velo Bistro Wine Bar, Weld Realty and Bike Nyack.