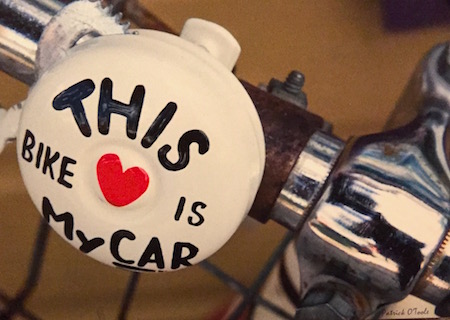 Friday 9/22 and Tues 9/26. Two days, and two opportunities to make our community a little bit less dependent on cars. Car Free Day asks us to try what most of us think is unthinkable: don't drive for a day. Mass Transit planners take center stage next week to share their findings on giving commuter buses their own lane on the new Mario M. Cuomo Tappan Zee Bridge.
Organized by a broad-based group of Hudson Valley leaders, Car Free Day Hudson Valley is  an initiative backed by major employers, businesses, civic and environmental groups, colleges and municipalities, including Keep Rockland Beautiful, the NYS Department of Transporation, Riverkeeper and the MTA Metro-North Railroad. Travelers are encouraged to use sustainable modes of transportation, such as riding a train or bus, carpooling, biking or walking, to help reduce traffic congestion, improve air quality, conserve energy and save money.
What is
PARK(ing) Day?
How green can you be? Here's one suggestion that's almost unthinkable in Nyack, where complaining about parking is practically our village mantra:
In celebration of Car Free Day, we encourage participating entities from colleges and hospitals to businesses and municipalities to take part in PARK(ing) Day.
Re-purpose an existing parking space into something better!
Think about how a parking space could better serve your community, and build a temporary park!
"The New York State Department of Transportation actively supports a multi-modal approach to transportation in New York State," said NYS DOT Regional Director Todd Westhuis said. "It could inspire people to go car free more often."
If you like how this sounds, you can Take The Pledge at HudsonValleyCarFreeDay.org about how you will be car free on Friday…and the various ways you will reduce your dependence on fossil fueled personal transportation. The site asks you to pledge how many miles you expect to save and the way you expect to do it: walk, bicycle, take mass transit or drive an electric car. Those who pledge are eligible to win prizes including bike rentals, gift cards to restaurants and entertainment and ski lift tickets.
If you are ready to get greener while your getting around, maybe you're ready to drop out of gas lines and plug in. Earth Matters runs down those details for you: Earth Matters: Your Next (Electric?) Car
Will There Be A Dedicated Bus Lane
on the Governor Mario M. Cuomo Bridge?
The smart money says there will be. But no one knows for sure until Tuesday Sept 26 when the New York State Department of Transportation (NYSDOT) hosts the first of two public meetings regarding whether new buses will get their own lane on the new Tappan Zee Bridge.
Along with the new bridge, inter-county commuters will also get a new bus system. The LHTL (Lower Hudson Transit Link) will replace Rockland County's Tappan Zee Express buses when the Mario M. Cuomo Tappan Zee Bridge opens next year. It features WiFi on board and at bus stops and "traffic signal priority" which means that buses will be able to "hold" green lights to make it through more intersections without delay.
Rockland gets the first meeting on Tues Sept 26 from 6-8p at the Palisades Center, Alder Room, 4th Floor, 100 Palisades Center Drive in West Nyack, NY. The NYS DOT will hold a second meeting on in Westchester on Wed Sept 27 from 6-8p at the Greenburgh Public Library, Multipurpose Room, 300 Tarrytown Road in Elmsford.