It's Labor Day weekend and First Friday in Nyack and while it may be the unofficial end of summer, there's still music and art to enjoy and the outdoors to explore. Nyack's own indie band Regret The Hour returns to the 'hood to play the Hudson House. There's also modern country, classic rock, folk and new age music.  You can kayak along the Nyack shore or visit a fun and funky pop up park.  If you're a poet (and did or didn't know it) there's a poetry slam to show off your talents.
Friday
On the First Friday of each month, local businesses host art and music events.

The Nyack Art Collective artists invite you to join them for an end of summer party. The musical guest is the ever talented Marianne Osiel. 8p, Casa del Sol, 104 Main St, Nyack.

Reception for Ellen Hopkins Fountain, the First Friday Artist of the Month from 6-7p and Bach to Rock's music teachers are "Teacher Creature" and they play classic rock and contemporary favorites from 7p-8p at Edward Hopper House Art Center, 82 N Broadway, Nyack.
Local indie rock band Regret the Hour are back in Nyack for the first time in a long time at the Hudson House. They will be joined by their friends Swim Rest and will be playing some new songs. 8:30p, 134 Main St, Nyack.
If rock's not your thing, Country Fresh will be twangin' out your favorite modern country music at O'Malley's. 9p, 108 Main St, Nyack.
Saturday
Explore Nyack from a different vantage point with a Kayak Tour from the Nyack marina. Enjoy the expansive views of the Hudson River and Hook Mountain as you paddle along. 3 & 6p, Nyack marina at Burd St, Nyack.
Suffern Poetry presents their first Poetry Slam of the season at Casa del Sol. 6:30p, 104 Main St, Nyack. There will also be a free pre-slam workshop starting at 5:30p.
Can't make it to the Jersey shore or the Hamptons? You can still feel the sand between your toes while listening to some great music. Tallman Beach and Pool Club has The Goods and they'll be playing all your favorites from Stevie Wonder to Led Zepplin. 7p, 2 Tallman Mountain Rd, Sparkill.
Sunday
Relax, kick back, enjoy some wine or distilled spirits and listen to the acoustic pop, rock, folk and new age music of John Moroski at Torne Valley Vineyards. Open to the public at 11a, music begins at 1p, Torne Valley Rd, Hillburn.
Next Week
Monday – Labor Day
Cool your heels in the village of South Nyack. Head down to the river and experience a new fun and funky Pop Up Park. 11a, 115 Piermont Ave (Towt Park), South Nyack.
Wednesday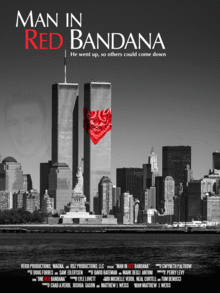 Don't miss the world premier of the film Man in Red Bandana which traces the story of Welles Remy Crowther, an extraordinary 9/11 hero and Rockland-county native. Welles was a 24-year old civilian who gave his life saving others in the South Tower of the World Trade Center including carrying a woman down 17 flights on his shoulder.  7:30p, Lafayette Theater, 97 Lafayette Ave, Suffern. Prior to the screening, there will be a Film Discussion at the Nyack Library with Welles Crowther's mother, Alison Crowther and Matthew Weiss, the writer and director, from 3 – 5p. 59 S Broadway, Nyack.
To get the Nyack Weekender delivered to your mailbox auto-magically every Friday morning, add your name to our mail list. Visit our
online sign-up sheet
to subscribe.