Nyack's Downtown Was "Fragile" in the '90s. What changed?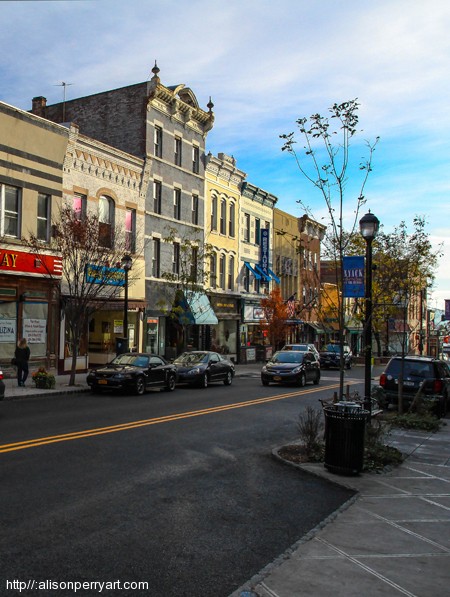 by Terry Hekker
I first came into Nyack in 1941 to get my school shoes from Glynn's on Main Street, then moved here in '58 when the downtown shops still offered men's and women's clothes, shoes, hats, two supermarkets and several meat and fish markets. There were factories and car dealerships. Orangetown Town Hall was next to the Nyack post office and The Rockland Journal-News office was on Hudson Street. AT&T was at 99 Main. The village was bustling.
Then as Rockland boomed there came Korvettes, Caldor and the malls out on Route 59 and our downtown became bleak. Antique stores took advantage of low rents and the village had another rebirth but those merchants too began to drift away as the internet became the place to locate antiques.
When I became mayor of Nyack (1994-2000) the downtown was fragile. The village tax base had shrunk precipitously, which exacerbated the basic problem that so much of the village land was off the tax rolls.
South and Upper Nyack are basically residential and rely on Nyack to provide their post office, library, hospital, most churches and waterfront park. And I often thought that those sister village residents might not fully appreciate how much of their property values are tied to the health of Nyack's downtown.
My parents died in '68 and their South Nyack riverfront home could not be sold for anywhere near the appraised price because prospective buyers were so turned off by the dismal state of downtown Nyack.
As mayor, my first priority was to lure a supermarket back to town—a survey proved that was residents' No. 1 concern. I failed miserably. I met with every supermarket chain and they all wanted large parking lots and loading platforms, which we couldn't provide. So I signed up for each Downtown Revitalization meeting offered through the New York State Conference of Mayors.
Get "PK People"
At every seminar, the No. 1 rule of downtown revitalization was "Get PK people living in your downtown"–"PK" being post- and pre-kid families who would not burden the school system but would pay taxes and have the disposable income to energize the village shops. Experts assured me that was our only hope since the factories and car dealers and such were never coming back.
When I first moved here, the riverfont property on Gedney Street had a
gas station and storage tanks
. By the time I was mayor, it was surrounded with anchor fencing and it was owned by
Presidential Life Insurance
. There were plans to build an office complex on that property.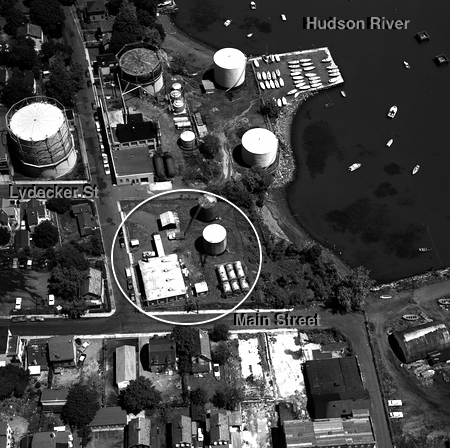 Thankfully, Nyack has a breathtaking waterfront that can be successfully developed for PK housing; a plan now being considered
even offers riverside public access
.
Some residents would love to see a spectacular park there but the village can't afford to insure and sustain another park. They absolutely can't afford to buy the land or lose the taxes.
There is also talk of providing affordable housing notwithstanding that Nyack Plaza, Waldron Terrace and the Senior Center offer subsidized housing in hundreds of units. In fact, if you go on the Nyack Housing Authority website you'll learn that it is the only Rockland village providing low-cost housing for its citizens. And the village might be hard pressed to handle more below-market housing without diminishing service to its current residents.
High taxes are a problem for all village residents, especially those trying to sell their homes. New PK housing might not reduce taxes but should stabilize them. To protect property values in all the Nyacks, we need to energize the downtown. And the village must have sufficient ratables to provide for its most vulnerable residents, including the youngsters at the Nyack Center.
The best advice I had came from the Pilgrim Baptist Deacon Bill Rose, who was my deputy mayor. Many residents came before us with compelling personal problems and opinions and he settled almost every argument with, "We have to decide what's in the best interest of ALL our citizens." And with this in mind I give the present Nyack Village Board (most of whom I don't know) high marks for doing what's legally right and for enduring unwarranted personal criticism because of a handful of well-meaning but misguided opponents.
Terry Hekker served as Village of Nyack Mayor from 1994 – 2000.
See also:
Photo Credit: Alison Perry