This Week In The Villages: This past weekend, it was lights, camera, action for the Mario M. Cuomo Bridge. This week, it's lights camera, action for an actual movie. HBO comes to town Monday. And Orange & Rockland Utilities begins working on gas main replacement and the Midland Avenue Project resumes. The projects are unrelated, but will leave Nyack safe, glamorous — and a little bit challenging to drive through this week. And it's not too early to make Labor Day plans, including a visit to a one-day-only pop-up park on the Hudson River in South Nyack.
---
Village of Nyack
Gas Main Replacement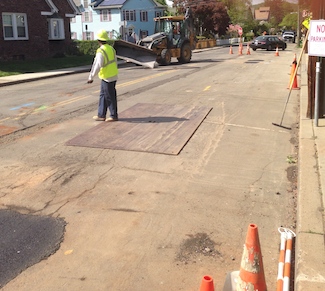 Orange & Rockland Utilities will begin work on gas main replacement on Piermont Ave and Spear St on Monday August 28, 2017.  Piermont Ave gas main and home service lines will be replaced from Main St to Cedar Hill Ave.  So be prepared for traffic detours in that area during the construction process.  If you have any questions contact Bruce Cummings at Orange & Rockland (845-577-3466).
Midland Avenue Project
Beginning this week construction will resume on Midland Ave, from High Ave to the village border of Upper Nyack.
Sidewalk intersections will be made handicap accessible.
Selected driveway aprons will be rebuilt.
New drainage will be installed between Haven Ct and High Ave.
Midland Ave will be milled and paved as part of this project.
Parking will be restricted as necessary. There will be a minimum of 24 hour notice from the Village of Nyack Parking Authority.  Appropriate notices will be posted in the areas where it is necessary to restrict the parking.
If you have any questions, please call the Department of Public Works at 845-358-3552.
Movie Filming
First it was TV for Amazon, now it's a movie for HBO. This week, beginning Monday, August 28, from 7a to 4p, on North Franklin St, a movie will be shooting in Nyack. Parking will be restricted on the following streets:
Sickles Ave (between N Franklin St & Duryea Pl)
Jefferson St (between First Ave & Third Ave)
Third Ave (between N Franklin St & Marion St)
South Nyack
Labor Day Staycation Idea: If you want to cool your heels in the Hudson  on Labor Day, South Nyack is inviting you down to experience a new fun and funky POP UP PARK located at 115 Piermont Avenue (also known as Towt Park) from 11am-3pm on Monday, September 4th.
Towt Park is one of two river front properties that the Village of South Nyack owns. It has not been developed or open to the public in decades. This is just the beginning of what the village hopes will be a revitalization of this space while bringing the community together in a fun and creative manner.
Rockland County
A public meeting will be held by the Rockland County Shared Services Initiative Panel to discuss and vote on the Rockland County Shared Services Initiative Report on Monday, August 28, 2017 at 7p in the Technology Building at Rockland Community College (145 College Rd, Suffern).  The Shared Services Initiative looks at the possibilities for saving tax dollars and streamlining government by combining efforts and reducing duplication. Additional information including all public documentation can be found on the New York State County-Wide Shared Services Initiative web page.
Tappan Zee Bridge News
The opening of the Mario M. Cuomo Bridge with four lanes of northbound/westbound traffic went smoothly on Friday evening. If you have yet to travel across the bridge and have questions about the project, here's all you need to know.


Cashless Tolling Upgrades
Work this week on the overhead cashless tolling equipment in Rockland County requires an overnight ramp closure of the New York State Thruway (I-87/I-287) southbound/eastbound exit 10 (Nyack – South Nyack – US Route 9W) on-ramp from Mon at 9p through 5a Tuesday morning, Aug 29.
Southbound/eastbound drivers will be detoured to the exit 11 (Nyack – South Nyack – US Route 9W) on-ramp, as shown below.


Ongoing additional work includes:
Structural steel and stay cable installation on eastbound span
Support for river-based work from the Rockland trestle
Survey inspections on the existing bridge
Pier substructure work
Expansion joint operations
Internal tower work
Maintenance dock construction
Electrical equipment installation and testing
Construction of maintenance and state police facilities
---
Here are the municipal events the Village of Nyack for the week of 8/28. There are no meetings scheduled in South Nyack or Upper Nyack this week.
Village of Nyack
Tue 8/29, 5p: Justice Court
Thurs 8/31, 9:30a: Justice Court
Nyack Village Hall is located at 9 N. Broadway.