8 Things To Know About Nyack's New Bridge
(including, what to call it)
by Dave Zornow
Nyack, Aug 25 — (updated)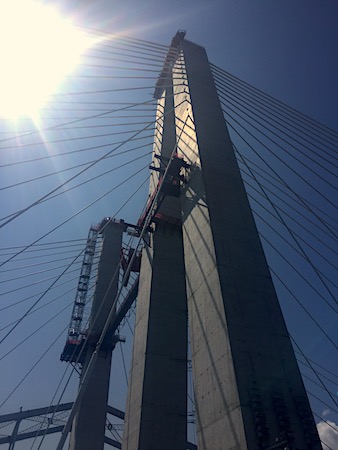 It's Game On tonight for Rockland County (north- and west-) bound traffic on the north span of the new Tappan Zee Bridge. Westchester? Your time is coming later this fall. Here are answers to a few questions you might have about opening night on the Mario M. Cuomo Bridge.
Why Is This Friday Night Different From Other Friday Nights?
The new bridge will be christened with four westbound lanes of traffic (towards Nyack and upstate). The old bridge will continue to carry east (Westchester- and NYC-bound) traffic. Here are the local impacts:
Rockland Alert: NYS Thruway Exit 10 in South Nyack will be closed from about 9p 8p Friday night until 6a Saturday. (updated, 8/25 per the NewNYBridge/NYS Thruway)
Tarrytown Alert: The on-ramp for Thruway Exit 9 (Tarrytown–Sleepy Hollow–US Route 9) at Route 119 will be closed from about 9p until 6a Saturday.
If you are hoping to be part of history, you might be sitting in a lot of idling overnight traffic. Between 12m and 5a, there will be two 20 minute traffic stops of all four lanes of the northbound/westbound Thruway. The first traffic stop will take place near Exit 9 in Tarrytown. A second traffic stop will occur a few hours later near Exit 10 in South Nyack. The Big Shift will conclude by 8a Sat Aug 25.
[URIS id=84040]
What's In a Name?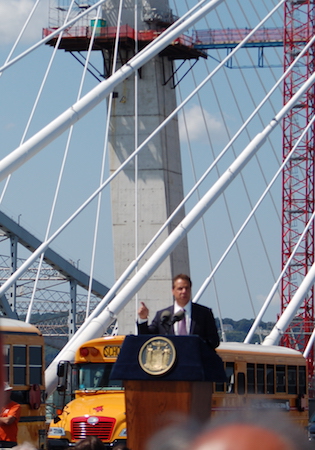 To the best of our knowledge, no one has offered a public Hurrah! for the bridge's new name. But history offers this advice: it's best to just get over whatever misgivings you have about Governor (Andrew) Cuomo naming the bridge after Governor (Mario) Cuomo. Because regardless of which name you prefer–the Tappan Zee Bridge, the TAP,  the Malcolm Warner Bridge, or the TZB…it isn't up to you.
The future will be determined by what it says on Google Maps. Which will most likely be the Mario M. Cuomo Bridge (or perhaps, the MMCB).
Where's the Shared Use Path?
It's coming…in 2018. The north span of the new bridge will have a dedicated pedestrian and bicycling lane called the Shared Use Path (SUP). There will be six viewing areas called "belvederes" along the way for visitors who want to stop, rest, or just turn around. It's in the same class with tourism destinations like the George Washington Bridge and the Walkway Over the Hudson. No one knows how popular this will be, but consider this: if the MMCB SUP gets 1/10 of the annual traffic Poughkeepsie's Walkway Over The Hudson receives, Nyack and Tarrytown will see an uptick of 50,000 visitors a year.
But local businesses will need to wait until the second span opens in 2018.
Tappan Zee Constructors
will then reconfigure both spans to add the SUP as well as breakdown lanes to both spans.
Who Was Malcolm Wilson?
The December 1955 Hudson River crossing bridge between Tarrytown and Nyack didn't have a name when it opened; the "Tappan Zee Bridge" title was suggested by Rockland Journal News Editor Norman Baker *after* the bridge opened.
In 1994, almost 40 years after the TZB opened, the bridge was renamed for (Charles) Malcolm Wilson, a former NYS Republican governor who served as Nelson Rockefeller's right hand man during Rockefeller's four terms as governor. The Malcolm Wilson Bridge name never really caught on–probably because it's hard to change people's habits with a little sign on a big bridge.
FYI, Malcolm Jamal Warner played Theo on The Cosby Show. No bridges have been named for him to the best of our knowledge (yes, you missed this reference three paragraphs back. Gotcha).
What's This Going to Cost?
1955 Newsreel: "The NYS Thruway, the superhighway of the great Empire State, is extended another 28 miles from Suffern and Yonkers. This is the largest bridge of its type in the world. It has over two acres of pavement spread over six wide lanes."
To paraphrase David Byrne of the Talking Heads, "$5…same as it ever was." Nyack, Tarrytown and the Northeast US just got a brand new bridge for nothing! Well, at least until 2020, when the loans start coming due. It's likely tolls will cost $13-15 at that point, unless New York State decides to subsidize TZB II operations with NYS Thruway toll revenues. Which would only be fair, considering the NYS Thruway was initially constructed with bonds backed by TZB toll revenue. In case you were wondering, it only cost 50 cents to cross the Tappan Zee Bridge when it first opened in December 1955.
Want to know more about what you will be paying to cross the new bridge? Politfact weighed in on the subject earlier this week (Who's paying for the $4 billion Tappan Zee Bridge replacement? 8/21/2017).
What Will Become of the Original Tappan Zee Bridge?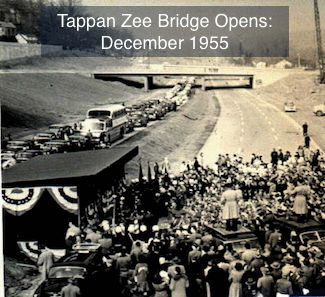 Tappan Zee Constructors (TZC) had two innovative ideas to win the Design Build contract to construct the New NY Bridge. The first was to purchase and refit the "Left Coast Lifter" super crane (since renamed "I Lift NY"). This ginormous floating crane helped build the new spans. It will also play a big role in helping to deconstruct the old bridge. The second innovation? TZC has the rights to sell the old bridge for scrap to offset construction costs.
Some parts of the old Tappan Zee Bridge will get a second life. The NYS Thruway is selling many of the 159 deck panels on the legacy TZB for a dollar a section to upstate New York counties. And if you miss the lane switching system, which currently adds a lane of traffic to the rush hour direction on the TZB each day, you might be able to catch its second act someday on the the Long Island Expressway in Queens and the Gowanus Expressway in Brooklyn.
Is This the Big Opening People Will Be Telling Their Grandchildren About?
Probably not. That will happen in 2018–exact date TBD–when the second span opens. It might be delayed until the new LHTL (Lower Hudson Transit Link) bus system, slated to replace Rockland's Tappan Zee Express, is ready to roll. When it's all Good To Go, rumor has it that NYS Governor Andrew Cuomo will be the first to drive across the new bridge in a restored 1932 Packard Phaeton limousine that once belonged to former New York Governor and US President Franklin Delano Roosevelt.
What's the Deal with the 360+ Degree Ramp at Exit 10? Is it going away?
No, it's not. There were plans to replace it with two roundabouts when the current $4 billion "crossing" project was envisaged to be a more ambitious $16 billion
corridor
project from Suffern to Port Chester. However, this fix was dropped when that inter-county moon shot was truncated to a "just build the bridge" project.
The reason why west bound Exit 10 traffic has to go round and round before it can exit in South Nyack goes back to the original plan for the New York State Thruway–which didn't include a Lower Hudson Valley crossing at Nyack. New Jersey initially planned to extend the NJ Turnpike North via 9W to connect to the Thruway in South Nyack. Which seems to be the reason that Interchange 10 is so much more than it needs to be. But money and local opposition scuttled those plans. Plus, NYS Governor Dewey saw TZB toll revenues as a way to back up the bonds required to build the New York State Thruway.