by Mike Hays
It's hard to conceive of a place where an airplane with engine trouble could land near Nyack today, but that's exactly what happened 106 years ago this month.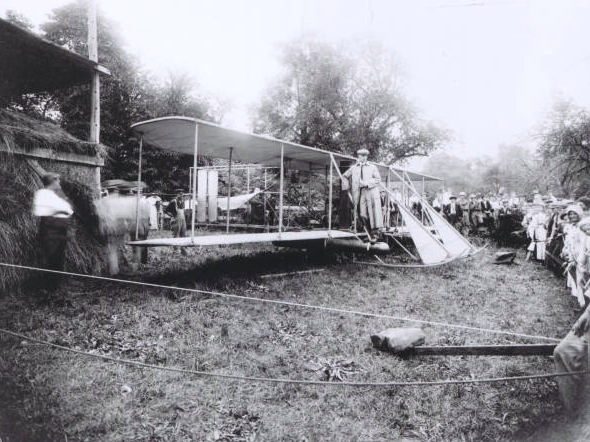 Crowds lined the Nyack shore waiting to see cross-country aviator Harry Atwood pass by the village as he headed to New York City on the final leg of his cross-country journey. After a fuel stop and a bridge fly-under in Poughkeepsie, Atwood headed down the Hudson River for his final destination.
As fate would have it, he wasn't going to sleep in New York City that night.
While approaching Rockland County, Atwood's plane experienced engine trouble and started to lose power. Not trusting his pontoons to land in the river, he flew over a pier in Haverstraw and asked a local where he could find an open field to land. He followed that advice and went "right around the mountain" as his plane continued to falter. Strong winds pushed Atwood's Burgess-Wright biplane every which way as he rounded Hook Mountain at only 600 feet.
The Nyack crowd, assembled on the shoreline to see the famous aviator head down river, watched in disbelief as Atwood's plane suddenly appeared around The Hook and then just as suddenly disappeared into the west.
Fortunately, there was a lot more open space in Upper Nyack back in 1911 than there is today. Atwood's landed his plane in a very small hay field between a grove of apple trees and a hay rack, just north of Lexow Avenue and east of North Broadway on H.D. Davies' field.
Harry Atwood, a 20th Century
Hero of The Air

Harry Atwood was an American pioneer aviator, engineer and inventor from Roxbury, MA. Well before Charles Lindbergh, aviators were already swashbuckling heroes in the public's imagination.
Adoring crowds met Atwood at every stop during his prize-money flight from St. Louis to New York City which took him down the Hudson and over Nyack.
Atwood held several early distance flight records including Boston to Washington, where he landed on the White House lawn. He delivered the first airmail (dropping the mailbag out of the plane). Photo Credit: Library of Congress via Wikipedia
As news of his emergency landing in Nyack spread, local newspapers and out-of-town journalists appeared. Two extra operators were added to the Nyack telegraph station to forward news dispatches.
Repair and Repast
Atwood's mechanics repaired the faulty connecting rod on his airplane with a replacement that was cast overnight by a company at Petersen's Boatyard. Wilson Foss invited Atwood to be his lunch guest at the St. George Hotel. Atwood accepted, dined at Foss's for dinner and stayed overnight at the hotel.
From the beginning crowds appeared around the plane. Nyack Chief of Police Curran kept the growing crowds at bay behind a rope. Atwood allowed people to write their name in pencil on the canvas, which was already plastered with names from previous stops.
Flight Delays Back In The Day
The next day was foggy and drizzling. Atwood stopped at I. Neisner's store on Main Street in the morning to buy a rain coat, cap and shoes. Not chancing a takeoff from the small field where he landed, Atwood decided to move to the nearby Foss field. He enlisted the help of 25 men to help him lift the plane over fences.
Although no human lives were lost, several trees were sacrificed to clear the way for Atwood's plane. This included a  pear tree that was chopped down, much to the dismay of the widow who owned it. She happened to be away from home at the time when Atwood's crew of Nyack helpers decided it had to go.
Engine Trouble
Atwood's engine wouldn't start at first. Then it backfired. Then it caught fire. After the fire was put out, the bi-plane took off but barely cleared the trees. Heading downriver to his final destination at Governor's Island at 200 feet and above 40 mph, Atwood passed the cheering Nyack crowds that thronged the riverside.
Atwood briefly owned the record for the longest cross-country flight in aviation history with a total flight time of 28 1/2 hours and 11 stops.

Sources:
Skylark: The Life, Lies, and Inventions of Harry Atwood, Howard Mansfield, University Press of New England, 1999
Harry N. Atwood: Pioneer Aviator, South of the Mountain, Vol 28, No. 2, April-May 1984
Photo Credit: The Nyack Library
Michael Hays is a 30-year resident of the Nyacks. He grew up the son of a professor and nurse in Champaign, Illinois. He has recently retired from a long career in educational publishing with Prentice-Hall and McGraw-Hill. He is an avid cyclist, amateur historian and photographer, gardener, and dog walker. He has enjoyed more years than he cares to count with his beautiful companion, Bernie Richey. You can follow him on Instagram as UpperNyackMike.

See also: American pioneer aviator Harry Atwood, Wikipedia
Nyack People & Places
features photos and profiles of citizens and scenes near Nyack, NY.
Sponsored by the
Gedney Street Project
.