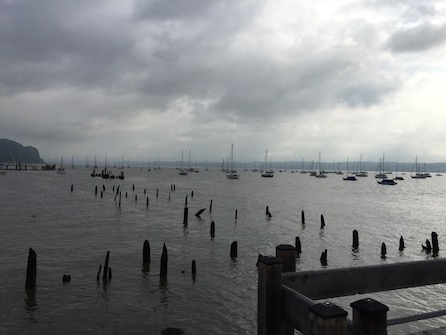 Although we too often take it for granted, the Hudson River still has much to offer, today, and for future generations.
The Village of Nyack Local Waterfront Revitalization Program (LWRP) wants to know: where do we go from here? They want to hear from residents, visitors, business owners and Hudson River fans throughout the region. Share your river views in a 10 minute online survey and let them know:
How you have "used" the river in the past (boating, fishing, picnicking, skateboarding, playing basketball, walking, bicycling, softball, birdwatching, etc)
Which current facilities need to be improved (boat moorings, parking, river access)
How to prioritize potential projects. Including:

Addressing downtown flooding through the Nyack Brook Improvement Project.
Constructing a pedestrian bridge to connect Memorial Park to Nyack Marina
Creating a public waterfront walkway with streetscape improvements and wayfinding to increase access to the river and connections to downtown.
Supporting a commuter and/or recreational ferry service
Expanding the Memorial Park Pier to create a fishing pier in the Hudson River.
Exploring resilient infrastructure strategies to protect the Nyack Marina and waterfront residential development from the impacts of sea level rise.
Restoring riverside wetlands on the south of Nyack and creating a raised walkway for passive use of these sensitive areas.
Initiating several boating related projects including increased marina parking, regulation of mooring fields, dredging and removing navigation hazards near the Nyack shoreline.
Encouraging rehabilitation of the historic John Green House at the foot of Main Street.
The survey, which will be online through August 15, is being conducted by BFJ Planning and the LWRP citizens' committee. Click today to have your say about Nyack's water front tomorrow.