by Melody Partrick, Village of Nyack Recreation Director
Nyack, July 20 — The heat and humidity last Saturday didn't discourage about 80 people from trying their hand at the fastest growing sport in the US.
The villages of Nyack and South Nyack held a Pickleball Demonstration Day on July 15, attended by both the curious and the experienced at the sport. The game, which combines the best parts of tennis, ping pong and badminton on a court half the size of a tennis court, proved to be a "big hit" with everyone. In addition to residents from both villages and communities across the Hudson Valley, participants included the young (8 years old) and those who used to be young (70+)!


Still not sure about how the game works? There's a Pickeball Primer for The Nyacks you can read to get up to speed!
This day wouldn't have been possible without the help of Rich Henry, the founder of the Rockland County Pickleball Association. In addition to teaching all of the newcomers the basics of the game last weekend, Rich supervised the meticulous placement of the lines on the Franklin Street Tennis Court as well as lending the villages the portable Pickeball nets. "I love the exercise aspect of the game," he says. "It's both very social and a sport which most people can pick up at any age." Rich Henry's business card says "Rockland Pickleball Ambassador;" he also runs a "drop-in" Pickleball session open to the public for a small fee in Stony Point on Wed nights and Saturday mornings.


Also, a big thanks goes out to Nyack resident and Pickleball enthusiast Ira Sussman who helped Rich put down the lines in the blistering mid-day heat as well as helping to get the word out about Saturday's successful event.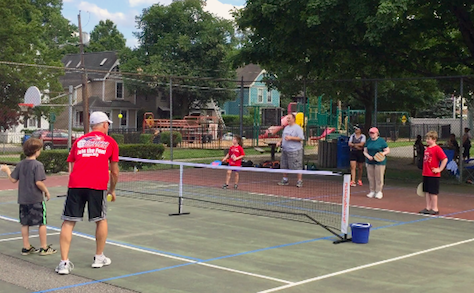 And last but not least, a Big Thank You to the South Nyack Village Board and the Village of Nyack Trustees for letting the Rec Department test the waters to see if there was sufficient interest to offer regular Pickleball play in our villages.
We've created a short questionnaire to determine our next steps — asking people when they are available to play, if they prefer league play or a "drop in" format, and other similar questions. Email me at Recreation@Nyack-NY.gov if you would like to be part of our mailing list and be join the Pickleball Party of the Nyacks!
Thanks to everyone who came out to play! And thanks to the trustees and all of the volunteers who helped make our July 15 Pickleball Demonstration Day a big success!
Melody Partrick is the Recreation Director for the Village of Nyack, NY.
See also: