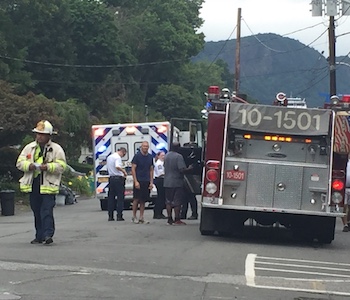 Nyack, July 27 — Police, fire and EMT personnel responded to two calls on Thursday morning regarding a strong smell resembling burning plastic near 4th Ave and Gedney Street in Nyack. An Orangetown sewer official said the odor was most probably caused by sewer work in the neighborhood to insert a plastic lining in the old clay sewer pipes under the street.
Residents said the odor reminded them of airplane glue. One Gedney Street resident complained of dizziness and and Nyack Community Ambulance Corp was summoned to examine the homeowner and give oxygen on the scene.
The Nyack Fire District dispatched one truck to the first call and three trucks to the second call in this neighborhood.
The Orangetown sewer official said that ongoing work to line the sewer pipes on Ackerman Street, adjacent to the homes that made the 911 calls, would be completed by Friday.