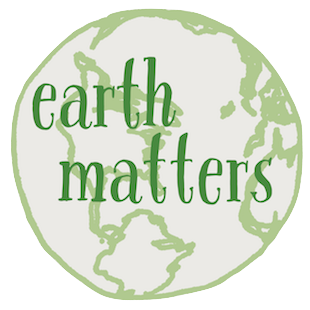 Earth Matters focuses on conservation, sustainability, recycling and healthy living. This weekly series is brought to you by Maria Luisa Boutique and Strawtown Studio.
If Earth Matters to you, sign up for our mailing list and get the next installment delivered right to your inbox.
by Susan Hellauer
When China announced, in a July 18 filing with World Trade Organization (WTO), that it will stop importing a number of foreign recycled materials (some types of glass, metal, plastic, paper and textiles), the Institute of Scrap Recycling Industries, Inc. (ISRI) called the move potentially "catastrophic," with "devastating impact" on the American recycling industry. 
It won't just be a blip. One-third of all the scrap recycled in the United States (including $1.9 billion in scrap paper and $495 million in scrap plastics) is prepared for shipment to the export market. China is the recycling industry's largest customer, according to the ISRI statement. The ISRI also points to over 155,000 U.S. jobs supported directly by this export activity, many of which could be threatened by China's action, expected to be implemented in the last three months of 2017.
Why the change from China?
China's government is aware of the high human and economic toll of pollution in their country. The world's largest nation is now, in fact, eager to take up the clean-energy leadership role that the U.S. has recently dropped. No more are pictures of choking brown smog rolling into Beijing taken lightly: China has begun to fight back for a cleaner environment.
But it's not the scrap materials themselves to which China objects. China has long been remanufacturing scrap into everyday objects that we import, buy, and use. This new initiative is part of a Chinese anti-pollution campaign called "National Sword 2017," with the objective of keeping out the contamination that comes in along with recycled scrap from around the world. The statement filed by China with the WTO spells out the new order's "objective and rationale":
 . . . [W]e found that large amounts of dirty wastes or even hazardous wastes are mixed in the solid waste that can be used as raw materials. This polluted China's environment seriously. To protect China's environmental interests and people's health, we urgently adjust the imported solid wastes list, and forbid the import of solid wastes that are highly polluted. [Objectives:] Protection of human health or safety; Protection of animal or plant life or health; Protection of the environment.
How the Chinese scrap-ban could affect you
Officials at the Rockland County Solid Waste Management Authority (RCSWMA) were immediately concerned about this new Chinese initiative and the ISRI's strong reaction to it. In Earth Matters' visit to the MRF in 2015, Executive Director Anna Roppolo emphasized that receiving, sorting and bundling the county's recycling was not their biggest challenge. Rather, the fluctuating prices of commodities (like petroleum), along with shifting demand, made the search for reliable markets for recycled material their biggest headache.
For more insight into local fallout from the Chinese scrap ban, Roppolo and her staff reached out to Casella Recycling LLC, which for the last two years has been managing the recycling operation at the county's Hillburn Materials Recovery Faciility (MRF, or "the murf" as it is referred to by the staff). A spokesman for Casella replied with a more measured and encouraging view of the situation, stating that the clean condition and high quality of the county's mixed paper recyclables made them easily marketable in Europe and Indonesia, and that the PET plastic in question already goes to domestic markets.
But Casella emphasized that there's much yet to be clarified and made specific in this new Chinese initiative, especially with regard to the rigid plastics category (like laundry detergent bottles, five-gallon plastic buckets, broken recycling bins and garbage cans). The whole world—and a significant slice of its economy—waits to learn more.
Your role in the fate of our recyclables
For a better snapshot of Rockland's recycling, and how we can keep it clean for an ever more demanding market, Earth Matters spoke to Jackie Dodrill, Public Information Specialist at the RCSWMA. 
Dodrill praised county residents for careful sorting of recyclables into dual streams, keeping mixed paper in its own box, uncontaminated by containers of glass, plastic and metal. "Our residents do a great job with separating their recycling, so we're actually ahead of the game a little. Our recycling is more valuable, and that's because it's so clean," Dodrill said. So clean, in fact, is Rockland's recycling that the county receives a 10-15% sales revenue premium on bales of newsprint  grade paper and cardboard, according to Dodrill.
And if you need another incentive to recycle clean, there's an 85/15 per cent split of the income from sales of recyclables with Casella. The larger portion is retained by the county and pays a rebate back to municipalities per ton brought in. This income can be used to keep taxes down or provide other benefits for residents. Tiny, 0.6 square-mile Village of South Nyack, for example, collected 232 tons of recycling in 2015— roughly equal to the weight of the Statue of Liberty. At $35 per ton, they earned a rebate of $8,120.
The next scrap-ban challenge: plastic bags
Maintaining overseas and domestic markets for our recycling—which is, after all, the only thing that makes recycling work—means treating it like the valuable, competitive commodity it is.
And even though Jackie Dodrill wishes we didn't have plastic bags at all, she's working on a new RCSWMA anti-contamination campaign to let residents know that plastic bags may not go into curbside recycling, or be used to hold recyclables for pickup. They're pasting informational stickers onto the offending bags when found at the curb.
Plastic bags at the MRF get tangled in the machinery and can injure operators or grind the operation to a halt. They also get contaminated there, and can no longer be recycled the way they should be: at the retailer or supermarket where you got them. All sorts of plastic bags and film can go back to the store, into those containers near the door. There's a good domestic market for them, in the manufacture of items like a popular deck planking.
But, just like your other recyclables, bags and film must be clean and uncontaminated to dodge the landfill and to be turned into value-added consumer goods, here or abroad.
Learn more:
Email Earth Matters
Read Earth Matters every Saturday on Nyack News And Views, or sign up for the Earth Matters mailing list.
Earth Matters, a weekly feature that focuses on conservation, sustainability, recycling and healthy living, is sponsored by Maria Luisa Boutique and Strawtown Studio.