by Katie Menowsky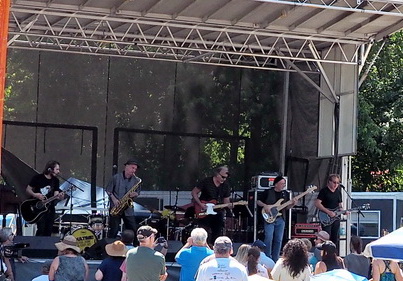 Rockabilly, Rhythm & Blues, American Roots and Folk will be represented at the 4th annual Rockland Bergen Music Festival, in Tappan, NY on June 23-25.
It's a chance to see national acts and local faves playing side by side, performing original music and tributes to Elvis and the Allmans, Billy Joel and Elton John, Linda Ronstadt and Patsy Cline. The festival includes three indoor nights in Piermont and Tappan and two days under the sun – – for less money than you and a friend would pay for dinner and drinks.
Here's a rundown of what you will hear, organized by genre.
American Roots Rock
With a sound foundation which can be traced to blues, bluegrass, country and gospel, ten acts on Saturday and Sunday bring songs with American Roots to the Rockland Bergen Music Festival. The bands include, Jake Clemons Band, Steve Forbert, Joe D'Urso and Stone Caravan, Jeffrey Gaines,  Joe Grushecky, Damage Radio, Better Than Bowling, and the Tommy Dunn Band  As well as:
John Cafferty and The Beaver Brown Band (Sat at 2:30p, Glow Seeger Stage) have been playing since 1972, doing everything from recording records to scoring films. They gained mainstream success in the early 1980's with their songs "Wild Summer Nights" and "Tender Years," followed by their chart climbing record "Tough All Over." They've scored the film "Eddie and the Cruisers" and have had songs in the films "Jersey Girl" and "There's Something About Mary." Still touring today, John Cafferty and the Beaver Brown Band are largely a part of the American Roots Rock movement, doing annual national tours. You can give your ears a head start on their music here.

Mike Rocket
(Sat at 11:30a, Mr. Lou/Stefan's Turning Point Stage) is often compared to Bruce Springsteen, but he is The Boss when it comes to connecting with his audience. Rocket is known for out of the box performances – setting up outside of stadiums, Times Square, and outside larger festivals – anywhere that he can share his music with people looking for a good time. Rocket always seems to be smiling, interested, and passionate about his message through rock. After four years of posting up outside of the Firefly Music Festival, he was invited to be added to the bill. Rocket has since been playing along side huge acts at festivals like SXSW, CMJ, and Light of Day festival. He's just put out a new record – "All We Really Know is Now," described as being "a genuine reflection of his musical talent." Here's a
sample of some of his music.
Hollis Brown
(Sat at 1:50p, Mr. Lou/Stefan's Turning Point Stage) named their band after a Bob Dylan song, seemly their music reflects their inspiration as well. These guys started out touring with Deer Tick and Lucero and have since been on national and international tours with The Zombies, Citizen Cope, and Heartless Bastards. Their sound is heavily influenced by the music of the 60's and 70's with a current cultural relativity so important to music today. Their latest record, Cluster of Pearls, was chosen as one of the 300 select releases for Record Store Day 2016. Check out some of their
tunes online.
Blues/Rockabilly
Rockland and Bergen bring the blues to Tappan with Blarney Stew, Mojo Foot and local favorite Finn and the Sharks.
Mojo Foot (Sun at 3p on Mr. Lou/Stefan's Turning Point Stage) is a modern acoustic blues band mixing delta sounds with an abundance of gospel and country blues. Expect a wild time from these guys, they love playing their instruments and come by their talent naturally. Mojo Foot loves to incorporate covers into their set from the likes of Lynyrd Skynard, Black Sabbath, Pink Floyd, ZZ Top and Cream to name a few. Intrigued? Listen HERE.

Finn and the Sharks
(Sat at 1:10p, Glow Seeger Stage) used sell out shows back in the day at The Office on Main Street in Nyack. Their new set will be full of songs from the last five years as the band is back together and ready to review their older material, while incorporating several new recordings. Their high energy shows are a guaranteed good time, as members of the band are music industry veterans, having rocked with Bo Diddley, Carl Perkins, BB King, Pete Seeger, John Lee Hooker, Howlin' Wolf and so many more. 
Hear more here
.
Tribute Bands
In addition to Dead Mile Dance (Allman Brothers) and Jeb Jones (Grateful Dead), hear the music of Elvis Presley, Patsy Cline, Linda Ronstadt, Billy Joel and Elton John.
Award winning Broadway composer and performer Neil Berg (Sun 7:20p, Glow Seeger Stage) will bring a New York State of Mind to his tribute of Billy Joel's and Elton John's catalogue. Berg is a Nyack resident whose "100 Years of Broadway" performances have thrilled crowds in Rockland over the years. He'll tell some of the stories behind the songs in his Rockland Bergen Music Festival appearance. Give a listen HERE.
Rita Harvey's (Sun at 6p, Glow Seeger Stage) powerful vocal style gives reverence of pop music icon Linda Ronstadt in this hour long set. The principal soprano in "100 Years of Broadway," Harvey is known for her Broadway roles in Phantom of the Opera and Fiddler on the Roof. She changes the tune here with a mix of raconteur renditions of famous Ronstadt ballads –  "Blue Bayou," You're No Good," and "When Will I be Loved." Harvey dives into the peak moments in the undeniably talented Ronstadt's pop and country career, making note to share her history in the industry and praise for Ronstadt as a powerful, self-assured woman and vocal performer. , Sample what she sings here.

Carter Calvert
(Sun at 4:40p) best known for her Tony nominated work in "Ain't Nothing But the Blues," brings Broadway cred to the Glow Seeger Stage. Her voice has been described as one "of smoke and fire" – making her a perfect match to sing tribute to late Patsy Cline. Calvert serenades audiences in the production of "Always…Patsy Cline," doing covers of her most famous songs – "Crazy," "I Fall to Pieces," and "Sweet Dreams" while telling the story of her life and friendship with Louise Seger, a friend Cline had met in a Texas honky-tonk in the early 1960's and corresponded with until her death. You'll laugh, you'll cry, and you'll remember a founding woman in country music through touching tales and witty comedy.
Listen to her beautiful music here.
It's "All About Elvis" when
Rex and the Rockabilly Kings
 play the Glow Seeger Stage (Sunday 6/25 3:30p). Rex Fowler, of American folk duo Aztec-Two Step, teams up with the Rockabilly Kings for a tribute to Presley's early classics – a little country, a little rock-n-roll, and a whole lot of hip swinging.
Get a taste of their tribute here
.
Americana/Folk
Eleven of the acts at the Rockland Bergen Music Festival have folk roots, including Christine Olhman, Jesse Terry, Tim O'Donohue & TMU, Bobby DiBlasio, Ayanna Martine, Rick Ilowite,  and Patrick Stanfield Jones.

Influenced by the songs of folk singers and songwriters, local rising star
Isabella Rose
(6:40p Sun on Mr. Lou/Stefan's Turning Point Stage) immerses her listeners in a range of emotion through her beautiful songs. Rose has been playing the piano since age 4, later picking up a guitar, encouraging her to begin writing lyrics and vocal arrangements. She recorded her first EP,
Closer to Roses
, at the age of seventeen and is currently working on her next release.  Rose sees a song as a personal journey, encouraging her audience to join her on an emotional quest through highs and lows, lyrically and vocally. She's known for her juxtaposition of "haunting harmonies and sweet, feel-good songs."
Catch some of her act  here
.
Together since 2011,
Scott Wolfson & Other Heroes
(Sat at 12p, Glow-Seeger Stage)
plays fun, catchy indie folk rock
with vivid lyrics and infectious energy. Their 2016 record,
Welcoming the Flood
, topped charts and received major acclaim boosting them to the 2016 Falcon Ridge Folk Festival's "Most Wanted" artists. Scott's voice has been described as "unconquerable," and the band known for collaborating stage efforts with other on the bill – it'll be interesting to see what shenanigans they pull this time.
Jersey Boy
Anthony D'Amato
(Fri at 8p, The Turning Point) recorded his first album, 
Down Wires
, in his dorm room during his senior year at Princeton. Four years later, after gaining attention from public radio's World Cafe and BBC Scotland, he was signed to New West records where he released his second record
The Shipwreck from the Shore.  
D'Amato's record has been streaming on Spotify where it's collected more than three million plays and has also had hit songs on the show
Nashville
. Most recently he's been named by Rolling Stone as "An Artist You Need to Know." See some of his show on 
YouTube.
Schedule
There will be two stages at the German Masonic Park in Tappan. Additional festival events will be held Friday and Saturday night at the Turning Point in Piermont and on Sunday at the '76 House in Tappan. Tickets are now on sale at RocklandMusicFestival.com.
Friday, June 23
The Turning Point – Piermont, NY – 8pm
Festival Kick-off Show with Anthony D'Amato and Joe D'Urso & Stone Caravan
Saturday, June 24
[full]
[half flow="start"]Glow-Seeger Stage
11:00 – Joe DUrso's Acoustic Excursion
12:00 – Scott Wolfson & Other Heroes
1:10 – Finn & The Sharks
2:30 – John Cafferty & Beaver Brown
4:00 – Christine Ohlman & Rebel Montez
5:30 – Joe D'Urso & Stone Caravan
7:05 – Jake Clemons Band[/half]
[half flow="end"]
[half flow="start"]Mr.Lou/Stefan's Turning Point Stage
11:30 – Mike Rocket
12:30 – Jesse Terry
1:50 – Hollis Brown
3:15 – Jeffrey Gaines
4:45 – Joe Grushecky
6:15 – Steve Forbert[/half]
[/full]
Sunday, June 25
[full]
[half flow="start"]
Glow-Seeger Stage
11:00 – School of Rock Orangeburg
12:30 – Tim O'Donohue & TMU
1:30 – Dead Mile Dance
2:30 – Jeb Jones plays Grateful Dead
3:30 – Rex & The Rockabilly Kings
4:40 – Carter Calvert's Patsy Cline
6:00 – Rita Harvey's Linda Ronstadt
7:20 – Neil Berg's Pianomen
[/half]
[half flow="end"]
[half flow="start"]
Mr.Lou/Stefan's Turning Point Stage
12:00 – Damage Radio
1:00 – Better Than Bowling
2:00 – Tommy Dunn Band
3:00 – Mojo Foot
4:10 – Blarney Stew
5:20 – Songwriters By The River w/Bobby DiBlasio, Ayanna Martine, Rick Ilowite
6:40 – Songwriters By The River w/Isabella Rose, Adam Falcon and Patrick Stanfield Jones
[/half]
[/full]
Sunday, June 25
The '76 House – Tappan, NY – 8:30pm
Festival Wrap-up Show with Tim O'Donohue & TMU