by Katie Menowsky
Break out your picnic blankets, sun hats and summer shades. The 4th annual Rockland-Bergen Music Festival comes to Tappan's German Masonic Park and two other venues on June 23-25.

Producer Joe D'Urso, who has been promoting, performing and managing talent since the early 90s, has curated an impressive line up of national and local acts.
The drawing board for D'Urso's vision came from his experience at other festivals. He says his Rockland County event isn't like other music festivals that try to pack as many people as possible into one space — it's about spreading out and enjoying really great music. "This festival is about being comfortable and having a good line of sight to the stage," said D'Urso.
He knew that having an event of this scale in Rockland was vital to the region's cultural roots and a unique opportunity to promote local singers, songwriters and performers along side bands that tour coast to coast. It's a vision that 20 local festival sponsors have endorsed.
Jake Clemons, the nephew of the late legendary Clarence Clemons who plays sax with Springsteen's E-Street Band, will headline. American roots rock'n'roll band John Cafferty & The Beaver Brown Band will perform as well as Adam Falcon, who has graced stages with Whitney Houston, B.B King and Eric Clapton. Singer-songwriter Christine Ohlman is the long-time vocalist with the Saturday Night Live Band and the "queen of blue-eyed rock n' soul." And Joe Grushecky, who recently recorded "That's What Makes Us Great" with Bruce Springsteen, will also take the stage. Americana legend Steve Forbert also performs on Saturday afternoon, as does D'Urso's band, Joe D'Urso & Stone Caravan.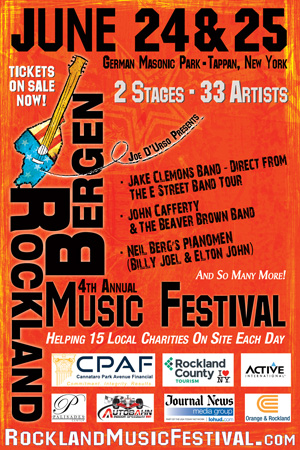 Local acts include Rex Fowler (of Aztec Two-Step fame) and the Rockability Kings, Tim O'Donohue and TMU Band, Neil Berg, Rita Harvey, Patrick Stanfield Jones, Isabella Rose, the Tommy Dunn Band and Scott Wolfson & Other Heroes. Many of these local acts will be playing the festival on Sun June 25, when tickets are $10 in advance and $15 the day of the show. "Have your high school reunion here, your birthday party – there won't be any better party around for 10 bucks a pop," says D'Urso.
Part of D'Urso's vision for the festival is to use the weekend to raise awareness and funds for some of Rockland County's non-profit groups. A portion of the festival's profits go to 16 charities, which include Habitat for Humanity, Why Hunger, Meals on Wheels and The Light of Day Foundation. "I hope  people will walk through the gates and find a charity they want to support," D'Urso said. "I want to turn connections into relationships. We would like this event to be the pebble in the pond that creates ripples than go on forever," he said.
There will be two stages on site at the German Masonic Park in Tappan. Additional festival events will be held Friday and Saturday night at the Turning Point in Piermont and on Sunday at the '76 House in Tappan. Tickets are now on sale at RocklandMusicFestival.com.