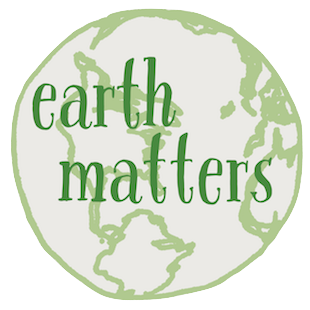 Earth Matters focuses on conservation, sustainability, recycling and healthy living. This weekly series is brought to you by Maria Luisa Boutique and Strawtown Studio.
If Earth Matters to you, sign up for our mailing list and get the next installment delivered right to your inbox.
by Susan Hellauer
Trump in the White House has environmentalists in a sweat, as hard-won victories slip away. But the reversal of fortune has also energized eco-advocates to fight harder for a sustainable future.
So here's something to help us all have a little more faith in that future: they've just picked the winners  in a Rockland County Earth Day essay contest, and our youngest sustainability standard-bearers have plenty of environmental lessons worth learning.
An Earth Day essay contest
For the past 26 years, the Rockland County Environmental Management Council (EMC) has sponsored the Eleanor Burlingham Fifth-Grade Earth Day Essay Contest. Chosen each year from about 100 entries, winners are awarded a certificate of excellence and an EMC pin by the County Executive in a June ceremony.
The contest was created in 1992 to honor the memory of dedicated environmental advocate and educator Eleanor Burlingham, who served as chair of the EMC for the six years preceding her death, in 1991. Burlingham devoted her 40-year career to preserving Rockland County's natural resources for future generations. In that spirit, the essay contest encourages Rockland's youth to explore and enjoy the great outdoors.
From among this year's six winners, Earth Matters has tapped two representatives, both of whom attend Viola Elementary school in the Ramapo Central School District. Their essays on recycling and on our connection with the green growing world should reassure you about an able new generation, ready to fill in the ranks of Mother Earth's defense force.
Recycling: at home and at school
Freshly graduated from fifth grade at Viola Elementary School in Suffern, 11-year-old Anna Moetzinger loves theatre, reading, and playing the cello. She hopes to be an actress and a teacher someday. Her favorite book is Out of My Mind by Sharon Draper. This devoted recycler gets lots of support at home and at school in her quest for a waste-free world.
How I Recycle
by Anna Moetzinger
Did you know that some people throw away items in the garbage that can be used for recycling? Simple things like paper towel tubes, pieces of paper and cardboard boxes are being thrown into garbage bins. In my daily life, I make it my goal to recycle these items, so that they can be reused in different ways.
One place where I recycle is my home. My family recycles soda cans, cardboard boxes, old papers, plastic bottles and much more. In my garage we have two bins. One of the bins is a blue rectangle which is used for papers and anything that is made of cardboard. The second bin is a large green bin. That is used for glass bottles, soda cans, plastic water bottles, milk cartons and juice boxes. On Tuesday nights we put the bins at the end of our driveway so they can be picked up on Wednesday at around 6 AM.
Another place where I recycle is at my school. Most kids my age don't really recycle their items, but my school always wants everyone to recycle. One way I recycle is through our program called TerraCycle. Fifth graders spend their recess time collecting items from classrooms in Viola School. Some of these items are Capri Sun pouches, Honest Kids pouches, chips and popcorn bags, and anything that has a silver wrapping inside the packaging. We recycle these items so they can be used in different ways. For example, the Capri Sun pouches can be sewn together to make pencil pouches that hold markers and pencils. For every 10 pounds we recycle, TerraCycle gives one cent to the school. The money we earn adds up quickly for the year.
Imagine that one day everything we use in our world could be recycled. This would mean that all of Rockland County would have only recycling bins and no garbage cans. The only items left would be food scraps. Those would go into compost bins to create soil, which would be used in vegetable gardens, nurseries, and flower gardens.
After reading this essay, are you going to recycle more items than you would normally recycle? All you have to do is drop something into a different bin. It's that easy!!
A garden tree: a lesson for life
Emma Chin is 10 years old, and also finishing up 5th grade at Viola. She loves to read, write, sing, and cook, and hopes to be an author or an actress. Emma's favorite book series are J.K. Rowling's Harry Potter and Kiera Cass's The Selection. She and her colleague Anna are students in Ms. Lynda Hammond's Writers Group at Viola School.
Celeste, the Tree
by Emma Chin
My grandfather, Hadaboji, loves to garden. He and my grandmother, Himani, live in an apartment in New Jersey. When Hadaboji and Himani come to visit my family, Hadaboji spends half of the time gardening in our big backyard. One day when I was young, he planted the seed of a tree in our backyard. It was a boring summer day in June. I was sitting down on the driveway, watching without interest. I was very impatient. I wanted to see the seed grow up and up and up, like magic. What I didn't know then that it was magic, the magic of Mother Nature and God Almighty.
Over the years, my mother and father didn't pay attention to the seed, but I did. Even now, I don't know why I did. Maybe I was excited or maybe I just wanted something to happen. But I watched it grow in the hot, cold and windy days of the four seasons, and watched it when the water provided food for the seed, just beyond sight, under the black-brown blanket of Mother Nature. For me, the seed took forever to grow. So when I started to see a little seedling, just poking above the dirt, I did my "dance," which my parents thought was for hours. When I grew even older I always went outside in the summer and watered it. I tried to keep it alive and growing as best as I could. I even searched up on Google how to take care of a plant! Ever since Hadaboji planted the tree, it wasn't his anymore. It was mine.
After a little while, I decided to give it a name because I was tired of calling the tree "it" or "the tree." I named the tree Celeste, after one character in my favorite book series that was misunderstood but turned out to actually be quite amazing. That was the tree, I think. Everyone thinks it's just a tree, but for me, it turned out to be something very cool and very tall in my dull, boring life.
It stopped growing. Now, Celeste turned out to be a great climbing tree, and I try to go out every day in the summer and spring and some days in winter and autumn. Whenever I look at her, I feel proud that I helped make her grow this way. I also try to water her when I can, in hopes that Celeste will grow even taller. Celeste gave me a big responsibility, the biggest I ever had, and I took it.
I still think about her. I have Celeste to thank for giving me more responsibility and showing that I can do so many things. I wrote and am still writing poems about her.
Peeking through the door
I see you all, straight and tall
Celeste, I thank you.
Learn more:
Read Earth Matters every Saturday on Nyack News And Views, or sign up for the Earth Matters mailing list.
Earth Matters, a weekly feature that focuses on conservation, sustainability, recycling and healthy living, is sponsored by Maria Luisa Boutique and Strawtown Studio.