Dear Mother Deer,
It is with both respect and also awe that we are reaching out to express our admiration for your parenting efforts. What we recently witnessed on our property has convinced us that all the parenting books in the world and all the how-to websites can…well, go stuff it. Because we have learned something from you, or lots of somethings. In fact, it's possible we've learned everything we need to know about doing this right, thanks to your example.

We first saw your baby curled up in the straggly ground cover of our backyard at about 9AM. As we gazed at your sleepy offspring from our living room picture window, we remarked on what a magical and adorable sight this was to behold. Our four-year-old son even said, "Oh that is so precious." (Which was, if I do say so myself, also precious.) The point is, dare I say, we were fawning over your fawn.
(Is it okay that we began to call her Bambi? Yes, this was very derivative of us, but it was done with good will. And, we didn't know her actual name.)
We immediately began to document this situation by snapping a quantity of photographs that would eventually number in the millions. Your daughter (son?) was just so small and speckled with such tiny white…speckles. All folded up like that with her legs tucked under, she was barely bigger than a basketball.
An hour or so later, when we began to worry that she had been abandoned, we turned to the trusty Internet where we gleaned a few things about your brilliant customs. Our concerns were allayed. Bravo on finding such a cuddly hiding spot for your newborn while you went off to forage for food. We humans do this too, but we have to hire care so that our children don't choke on their own hands, climb up on top of the refrigerator, gulp down something poisonous, or stick toys in their ears. Though it was tempting, we got the message loud and clear that we should not do anything to interfere. And we did not; we simply observed and took notes.
What really impressed us was your dear little fawn, a true testament to your expert rearing. While she waited there for over 10
hours for your return, she displayed a level of patience we could hardly comprehend. What's remarkable is that she can walk (as we would eventually note and document at the pick-up) but she didn't. Conversely, infant humans cannot walk. As soon as they can, however, they not only walk, they sprint! Usually in zigzag patterns away from their parents, while hooting nonsensically, and at that point nothing, literally nothing can slow them down.
Sure, she dozed much of the time, but when awake, she just looked around, occasionally perked up her ears, and turned her head a bit. Otherwise, she was truly a portrait of calm. She didn't nervously wriggle or frantically writhe and she didn't scream out MOMMMMMYYYYYYY at the top of her lungs as soon as you were out of sight. She didn't stand on her head for attention or perform a series of reckless, rabid somersaults. She was clearly confident that you would return. It really seemed as if she was able to amuse herself only with only the sound of the breeze in her ears (okay, and also our neighbor's leaf blower) and focus on a steady string of her own thoughts.
I have a question: How did you convince her to do all this without the help of a lollipop?
You have instilled such independence! Such mutual trust! This exposure to your methodology has provided much food for thought. In fact, it has caused us to seriously reconsider our co-dependent and coddling ways.
When you picked her up, thank you for looking up at me, square in the eye. I think, if I could read your expression, you were saying "Thank you for watching over my baby from a safe distance." Or maybe you were saying, "Step off, this is our special moment." Either way, thank you for pausing long enough for me to snap a picture.
When you both walked away toward our busy street at dusk, we cringed, we howled. We slapped our heads and said, "Doh!" and also "Doe!" When you stepped onto the pavement and your baby followed behind, we begged you to turn back. Nooooooo! But you timed it perfectly – only a few cars were off in the distance – and you briefly strutted right down the middle of the street with assurance and maybe even a little aplomb. You were setting an example of courage for your child, and maybe for us too. After all, we have to do tough things in this world, and our kids might as well see us doing them so they can figure it all out, too.
When you both leapt into the nearby woods, we sighed with relief. Since then, we have been gazing out the window wistfully, wondering if you'll choose our yard again. Her cradle is still there and we'd be more than honored to host her for a second time. It's the least we could do.
Jocelyn Jane Cox is a  freelance writer and author. Her 2012 humor book on life in the New York suburbs, The Homeowner's Guide to Greatness: How to handle natural disasters, design dilemmas and various infestations, is available on Amazon.com.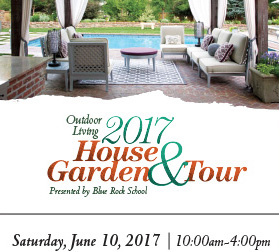 Follow her on Twitter at @JocelynJaneCox.

The Chronicles of Parenting is sponsored by Blue Rock School House & Garden Tour on June 10.
Save
Save
Save
Save
Save
Save
Save