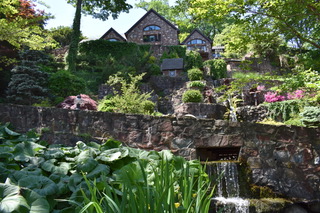 Nyack, NY—This spring, a handful of Rockland County's most stunning private outdoor spaces will be open to the public to enjoy for one day.  On Saturday, June 10, a self-guided House & Garden Tour will be held as a benefit for the Ruth Schaeffer Scholarship Fund at Blue Rock School.
Nestled into the river villages of Snedens Landing, Grandview and Nyack, the featured homes and grounds evoke the gentility and leisure pursuits of a bygone era in a variety of landscape architecture idioms from elegantly laid out formal English style gardens to less manicured spaces overlooking the river with a more natural and organic sensibility. The grounds and gardens on this tour are bedecked with romantic archways, meditative waterfalls, expertly crafted stonework, Koi ponds, vine-covered pergolas, open air lounges and shimmering pools, creating the ultimate leisure habitat.
This charming, waterfront enclave has long provided a retreat from city life for such illustrious artists and style makers as Mikhail Baryshnikov (whose former home is included on the tour), Björk, Al Pacino, William Hurt, Rosie O'Donnell and various Baldwin brothers.
The eight tour properties, each with a distinct design, include: a classic Queen Anne with a gracious wraparound porch perfect for high tea (and cocktail hour!) enveloped by an expansive lawn for croquet and badminton and a luxurious Gatsby-esque stone and slate patio that winds down to the Hudson river; the bucolic grounds of renowned artist Grace Knowlton's estate, once grazing pastures, now sculpture gardens showcasing her original work; and a home originally built by the award-winning children's books illustrators, Berta and Elmer Hader, who fell in love with the natural and rugged landscape of an old quarry site on which their majestic stone house is perched.
And what is Blue Rock School?
Blue Rock is the Lower Hudson Valley's only progressive, independent day school. Unique among private schools, Blue Rock is committed to fostering a non-elitist community of students from diverse economic backgrounds (over fifty percent of the school's families receive some form of financial assistance). Offering a test-and-grade-free learning environment that nurtures children's natural curiosity and innate love of learning, the school embraces a holistic and hands-on approach.
This self-guided House & Garden Tour will take place on Saturday, June 10 from 10:00 a.m. to 4:00 p.m. and will culminate with an elegant Garden Party overlooking the Hudson River with wine, hors d'oeuvres and live music from 3-5 p.m. Rain date is Sunday, June 11.
Tickets are $35 in advance online and $40 the day of the tour and on sale at 348 Route 9W, Palisades, NY. Tickets and event details can be found here.