May 18, 10a (revised) — There's a new business in town. And New York's Lieutenant Governor joined the mayor, the county executive and the president of SUNY-Rockland Community College to welcome York Labs to Nyack last week.

Over 50 people gathered on May 10 for the grand opening of York Analytical Laboratories, an environmental lab that moved its headquarters from Connecticut to Gedney Street in Nyack.
Lieutenant Governor Kathy Hochul thanked RCC for "being the vehicle to bring this business here." Through the
Start-Up NY
program, businesses that create new jobs on or near New York colleges can operate tax-free for 10 years.  "It's a whole different way of re-framing how we approach economic development utilizing the capital, the skills, the talent at our universities and our community colleges," said Hochul.
York Labs is an independent environmental lab that tests for contaminants in water, soil, and air. "There's a variety of testing we do around the construction of the new Tappan Zee Bridge," said Michael Beckerich, president of York Labs. "This includes the drilling that takes place in the bottom of the river. There's ongoing testing of the water, and of the soil that gets pulled out of sites."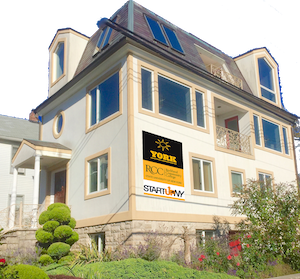 RCC students will participate in internships at York Labs beginning this summer. "Our partnership with York Labs offers unique opportunities to our students and alumni," said RCC President Dr. Cliff Wood. "Particularly in the growing fields of engineering, environmental studies and green technology." RCC is one of 81 schools participating in Start-Up NY, representing more than 600 Tax-Free Areas and 6.1 million square feet of tax-free space for new or expanding businesses to operate on or near campuses.
Beckerich said that Nyack has also benefited from the $130,000 invested in the Gedney St headquarters. "We found a building that is right in Nyack near the water. We bought it and cleaned it up. This is a way to revitalize that corner and that whole building. The waterfront is really starting to change with new condos and restaurants. An area that was once dirty and dormant is starting to come alive."
Not everyone was celebrating, however. Several neighbors made their feelings known at the May 11 Village Board meeting, concerned that hazardous chemicals would be brought to the neighborhood for testing. York's president said the 51 Gedney Street site is strictly a business office. "There is no lab analyses or regulated materials in our Nyack facility," said Beckerich. "This is our executive headquarters and business operations. Our two laboratories are in Stratford, CT and Queens, NY."
York Labs is Good For Nyack, RCC
York Labs went through an extensive evaluation to establish its partnership with RCC to gain acceptance from the Start-Up NY, according to Laird White. Because RCC and Start-Up NY were involved, the joint venture was considered a "government facility," a designation that is allowed in every zone in Nyack. She also noted that the business has been in operation for over a year prior to the official opening, with on-site parking and no complaints from neighbors.
Laird White welcomed York Labs to the neighborhood and said the project is a good for Nyack. "It's one that benefits kids who might not have had the opportunity to get such hands on tech and science training," she said. "It's wonderful that Nyack has embraced a project that supports opportunity and diversity. These are not kids from elite private colleges but students who grew up in this area from our community college."
Beckerich, a longtime Nyack resident, is excited to move York Labs headquarters from Connecticut to Nyack where he can be closer to family and the community he loves. "The business was started by my father 30 years ago and has grown steadily," he said. Beckerich raised three daughters here and is an active member at St Anne's Church. He is also involved in Inspire Nyack, a program that benefits Nyack public schools.
"This is the first program of its kind in our area," Beckerich said. "What's exciting is this is the beginning of a ten year partnership. We're just getting started."
Editor's Note: An earlier version of this article stated that the York Labs facility designation as a government facility put the building in a different category. Because "government facilities" are allowed in every zone in the village, no reclassification was done, and no appearance before the land use boards was required.