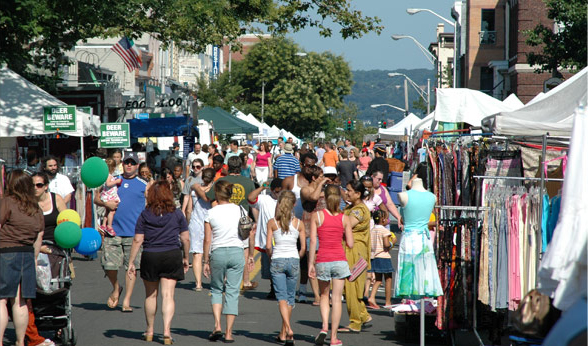 There may be as many as 30,000 people visiting the village on Nyack Street Fair Sunday. The good news is that the first 5,000 of them won't need parking and won't be here for very long.
Cyclists competing in the Gran Fondo NY 100 mile ride from the GWB to Bear Mountain and back will pass through the village between 7:45 and 845a. The Nyack Street Fair, sponsored by ACADA, Nyack's Art, Craft & Antiques Dealers Association, kicks off at 10a.
Street Fair Sunday features over 300 vendors on Main Street and Broadway in downtown Nyack.
Been Too Long At The Fair?
Here are a few other things going on this Sunday in Nyack, courtesy of the Nyack Weekender.
Opera fans don't need to travel to NYC to get their fix. Hear the best arias from the opera and Broadway accompanied by light refreshments at Anna Veleva's Opera Eupohoria. 11a, Union Arts Center, 2 Union Ave, Sparkill.
Look Ma, No Rules! The Nyack Parks Conservancy is bringing back child directed play at a Pop-Up Adventure Playground where kids make up their own rules and choose what to play using donated cardboard boxes, plastic piping, tubes, tires, containers and ropes. 12-6p, Memorial Park, Depew & Piermont Aves, Nyack.
Photographer and Professor, Collette V. Fournier, presents Retrospective: Spirit of a People, a historic embodiment of four decades of her photography archives exploring themes from The Amistad: From Mystic Seaport to Nova Scotia, Post Hurricane Katrina, Travels to W. Africa and her community. 2p, Nyack Library, 59 S Broadway, Nyack.
Want to know what to do and where to do it in and near Nyack? Sign up for the Nyack Weekender mailing list and get some news you can use each Friday morning in your inbox. While you are there, you can also sign up for our weekly deep dive into the planet we call home in our Earth Matters series.
Up to 25,000 people are attracted to the Nyack street fairs, when Main Street and Broadway are closed to traffic, making it a pedestrian paradise. Stroll throughout the village's downtown and street fair booths. However not *everyone* is welcome: Dogs are not allowed at Nyack's Street Fairs. Sorry, Fido.
See also: