by Beth Davidson
As I walk around our school district meeting voters and talking about the issues facing students and families in our community, I have the same conversation over and over—especially with folks who've lived here a long time. It goes something like this:
Me: Hi, I'm Beth Davidson and I'd like to be your next school board trustee.
Voter: Are you sure about that? That's a tough job – my money and my kids?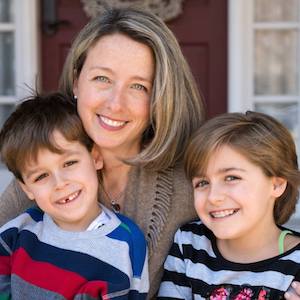 If you're one of those voters (or any voter!), yes, I'm sure. I do worry about all our taxes, I care about your kids, and I need your support. Having great schools is what makes any community vibrant and strong. When our children succeed, we succeed. When they thrive, we thrive. And don't take my word for it – walk around the next Street Fair. If you approach total strangers, as I've been doing over the past two months, and ask them if they live in Nyack—and they say, "not yet," the first question they'll ask is, "how are the schools?"
That one's easy. Nyack has great schools. But I believe they can be even better.
We have a strong superintendent and dedicated, visionary teachers. We also have a student population that's diverse in every way: background, socioeconomic status, learning need. Providing a high-quality education to every child WITHOUT busting the school tax cap and adding more to taxpayers' already heavy load is going to take bold ideas, vision, and conviction.
I've worked for two decades as a writer and strategist, the last 13 in education and nonprofit. I'm a Girl Scout leader and frequent PTA and community volunteer. I have many ideas about how to support our teachers in creating a learning environment that reflects our diverse student body while providing a rigorous, well-rounded education—and a bright future, in college and/or the workplace.
School Election Day: May 16
The Nyack Schools Budget and Board of Education Trustee Election is Tues May 16, 2017.
Five candidates are running for three board seats. For more information on polling locations and the 2017-18 school budget, visit NyackSchools.org.
Confused about where to vote? There's a place you can go that will tell you where to go. Visit es.FindMyPollPlace.com/nyackufsd.
As your school board trustee I would push to keep the focus on teaching, not testing. Parents and teachers have already moved the needle—a lot—on the way standardized tests are administered in New York. I'll support assessments that more accurately reflect student outcomes—and innovative curricula that help teachers implement lessons ranging from social justice to visual arts to vegetable gardening and more.
As trustee I'll also advocate for responsible budgets. "Live within your means" isn't just a quaint proverb; it's New York state law. School districts must keep school budget levies under 2% or the rate of inflation, whichever is lower. But unfunded mandates from the state and federal government—things we generally all support, like installing defibrillator signage, or adopting and printing bus idling rules—divert precious resources away from teaching and learning. If the federal or state governments wants NPS to do something, they should pay for it. As your school board member I'll work to reform this broken system that burdens taxpayers and shortchanges students.
And in the end, I'll do what I think is best for all our kids. I have two children in Nyack Public Schools; both in elementary school. I'm invested in this district for the long haul, and I have my eye on the long game: a budget process that will force tough choices; a student population that trends indicate will continue to evolve, especially regarding the number of English Language Learners; and a 3-year board term that will probably make some of the most significant major leadership, staff and curriculum decisions of this decade. As your board member I'll ask the right questions and take a holistic view to make sure each of these decisions benefits all our children, regardless of zip code or learning need.
I'm a hard worker. I'm a good listener. I stand up for what I think is right. If lucky enough to win your vote, and election as your school board trustee, I will do this "tough job" to the very best of my ability—for your kids, and for mine.
Please visit BethForNyackSchools.com to learn more about my candidacy. And please come out and vote on Tues May 16. Polls are open from 7a-9p.
See also: