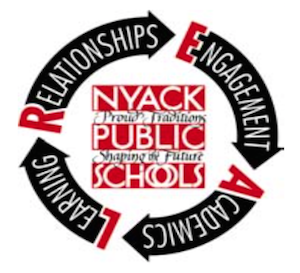 Nyack, May 16 — Beth Davidson, in her first run for Nyack's Board of Education, finished with more votes than three incumbent trustees. Davidson, Jen Marraccino and James Marshall were all winners in the five person race to fill three trustee positions.
More than 8 out of 10 voters said yes to the 2017-18 Nyack School Budget: 1113 said Yes, 246 voted No.
Here are the vote counts for each trustee candidate.
| | | |
| --- | --- | --- |
| | Votes | Percent |
| Beth Davidson | 1019 | 27% |
| Jen Marraccino | 999 | 26% |
| James Marshall | 939 | 25% |
| Leeann Irvin | 546 | 14% |
| Michael Lockett | 312 | 8% |
Winners Thank Supporters and Retiring Incumbent
Davidson said she is humbled by the support she received and looking forward to joining the board of education.  "I want to thank everyone who knocked doors, sent postcards, made phone calls and believed along with me that every child in this district, regardless of zip code or learning need, deserves the very best education we can provide," said Davidson. "When our children succeed, we succeed–and together, we are going to make a difference for Nyack and Valley Cottage families," she said.
"I'm thrilled to have the opportunity to serve on the Nyack School Board for another three years," said Marraccino. "We have a great school district and community and I'm happy to be able to continue working with parents, teachers and students to provide meaningful opportunities for all of our kids. Thank you so much to everyone who supported me! Also, a big thank you to Leeann Irvin who served six years on the school board, putting in lots of time and energy to serve our kids."
Leeann Irvin, who has served on the Nyack Schools Board of Education since 2012, sent congratulations to the new and re-elected school board members. "I wish you the best of luck in helping to keep this district moving forward. And thank you to everyone who has supported me the last six years. Your support has meant a lot to me and it has been an honor and privilege to have served you and your children."