by Susan Hellauer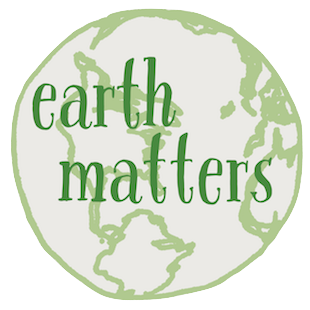 Earth Matters focuses on conservation, sustainability, recycling and healthy living. This weekly series is brought to you by Maria Luisa Boutique and Strawtown Studio.
If Earth Matters to you, sign up for our mailing list and get the next installment delivered right to your inbox.
It was 60 years ago come October, and even the first-grade baby boomers crammed into my Bronx parochial school sensed the shock over Sputnik, the Soviet Union's beachball-sized communications satellite launched into orbit in 1957. The United States had been enriched by Europe's World War II "brain drain," but, while we were eating our TV dinners, our commie arch-enemy's space scientists had eaten our lunch. What would be next? Spies in the sky? Atomic bombs raining down from outer space?
Suddenly, the times tables took on new urgency and it wasn't long before "The New Math" barred our befuddled parents from helping with homework. And the nuns at St. Frances of Rome School even set aside the Lives of the Saints once a week in favor of a science lesson.
Today, while educators are working hard to support a renewal of STEM studies, American scientists are bracing for a Trump-assisted one-way trip back to the Dark Ages, with proposals of deep budget cuts to an array of federal scientific agency research programs. Can American scientists find the political clout to fend off another Sputnik, and keep our own best brains from draining away to the highest bidder?
A meeting of minds
The Trumpian threat to science—especially to climate-change research—so upset paleo-climatologist Sheean Haley and her Lamont-Doherty Earth Observatory colleague Gwenn Hennon, that they reached out to U.S. Congresswoman Nita Lowey (D-NY 17th District), urging her to help head off the worst of the proposed science and technology research cuts.
Officials at LDEO and Lowey's office hosted a news conference at the world-renowned Columbia University science campus in Palisades NY on Monday May 1, to voice concerns about the Trump administration's anti-science agenda, and its impact on investigations into man-made global warming. LDEO Deputy Director Arthur Lerner-Lam moderated the event, and three local environmental activists—Rockland County Legislator Harriet Cornell, Riverkeeper President Paul Gallay and Gail Pisha, Executive Committee Secretary of the Sierra Club Lower Hudson Group — all addressed the gathering, pointing out the folly of defunding crucial climate research.
While the threat to climate change research was the headline, the threat to the U.S.'s stature as a world leader in scientific innovation was the alarming subplot. In her conference remarks, Sheean Haley addressed the consequences of a Trump-induced brain drain in reverse:
"Rebuffing the scientific consensus and sowing confusion about climate change doesn't just make us unprepared to deal with its impacts, it also hurts our international competitiveness in science and technology. Other nations are actively encouraging scientists like us to leave the U.S., and take our talents elsewhere. If we want the next great discovery in medicine, engineering or technology to be labeled Made in the USA we need to support young scientists like us and the great work that we do on behalf of our nation."
Trump anti-science: Sputnik 2.0?
Could the White House's science-be-damned thinking have serious consequences beyond the global warming battle? Should we worry if other nations—friends or foes—overtake us in climate research, clean energy, medicine, space exploration, or industrial technology? Lamont's Deputy Director Lerner-Lam says it's not enough to just talk about being the best in the world. The US needs to continue to support science and scientists if we want to maintain our advantages.
The Sputnik launch was seen as political as well as scientific. And that, in turn, generated the sharp uptick in our recognition of the importance of science. But 1957 was also the first International Geophysical Year, a progenitor of global earth monitoring. It brought together 67 countries and shaped the current view that, even though scientific research is funded by governments for their own national interest, science knows no borders. Advances made in Switzerland or China, for example, are openly published and support the entire community.

Even so, it's very important for our country to maintain the quantity and quality of its scientific research. Any nation that seeks to compete globally in trade, technology, or industrial manufacturing needs to have a research and development enterprise that has a long-term outlook. And that has to come from government. Science is driven by curiosity, and most businesses will not fund curiosity unless it helps their bottom line. Since World War II, we have grown a relationship between government and scientific communities (particularly at universities) that emphasizes curiosity-driven research. It generates results that can be commercialized to improve manufacturing, health and well-being.

Where is the U.S. lagging? Look at what percentage of GDP is spent on curiosity research, and on "translational" research that bridges the gap between basic curiosity research and applications or product development. We expect to see China in particular overtake us there. That is something that we need to pay close attention to as government agency budgets and agendas are developed.
Glimmers of light
At the May 1 news conference, Congresswoman Lowey noted that negotiations on a bipartisan interim budget had ended at one o'clock that morning. The ranking Democrat on the House Appropriations Committee said Trump-proposed funding cuts to medical research and environmental programs had been largely restored. But hold that victory dance: the budget deal was only good through September 2017.
Although the petroleum industry and the G.O.P. have often been caught holding hands, 17 Congressional Republicans broke with their leadership and signed a non-binding resolution last month, pledging to seek "economically viable" ways to stave off man-made global warming.
And in a surprise victory for environmentalists, three Republican senators crossed the aisle to prevent a rollback of an Obama-era rule barring petroleum companies from venting or burning methane  (a potent greenhouse gas) while extracting crude oil on public land. (But the Department of the Interior has announced plans to roll back this rule through a public process.)
Finally, hundreds of thousands of scientists-turned-activists, along with their many supporters, streamed into Washington, D.C. and at least 600 sister locations for a March for Science on April 22 (Earth Day) followed by a People's Climate March on April 29.
What you can do right now
So, what can the rest of us (who muddled through high school biology) do to sustain a vibrant, world-leading American scientific community—one that attracts brilliant young minds from here and from around the globe? Dr. Lerner-Lam had three suggestions:
If you believe that science matters, contact your congressional representatives and ask them to support full funding for the science and engineering agencies of the U.S. government.
As you read press reports or listen to news, maintain an air of curiosity and skepticism about what you hear. Weigh the evidence in relation to the expertise of the people providing that evidence. (And 97% of all scientists agree that human activity contributes to climate change.)
Respect expertise when you see it. Don't equate expertise with so-called "elitism." There's nothing e

litist about expertise.
Learn more:
Featured image: Scene from April 29 March for Science, Washington, DC. Photo courtesy @luckytran
Email Earth Matters
Read Earth Matters every Saturday on Nyack News And Views, or sign up for the Earth Matters mailing list.
Earth Matters, a weekly feature that focuses on conservation, sustainability, recycling and healthy living, is sponsored by Maria Luisa Boutique and Strawtown Studio.