by Susan Hellauer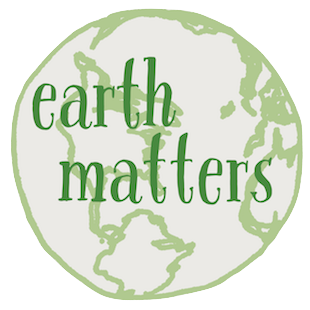 Earth Matters focuses on conservation, sustainability, recycling and healthy living. This weekly series is brought to you by Maria Luisa Boutique and Strawtown Studio.
If Earth Matters to you, sign up for our mailing list and get the next installment delivered right to your inbox.
Stories about rapidly melting glaciers and the dramatic changes that result elicit shrugs, blank stares or direct challenges from those who preach climate change denial or, at any rate, a human contribution to it. Even the sharp increase in extreme weather, and news that 2016 was the hottest year since records have been kept (followed by 2015, followed by 2014) won't discompose the doubters, who now have friends in high places.
So, how to answer those skeptics? We called on Dr. Klaus Jacob, an Emeritus Research Professor at the Lamont-Doherty Earth Observatory in nearby Palisades, NY, and an expert in the consequences of coastal storms.
Smart people listen when Jacob talks: he's an advisor to New York City on climate adaptation, and accurately predicted the flooding of the subways during Hurricane Sandy. On Monday May 8 at the New City Library, the Rockland Sierra Club and will present his talk "Climate Change: Why Is It Urgent to Act Now?" (see box). Prof. Jacob kindly responded to our theoretical climate science denier.
The earth used to be one big continent, and glaciers came and went. These changes are natural and they have been happening for millions of years.
KJ: Yes there were ice ages and the interesting thing is that we were supposedly approaching a another one, from purely astronomical considerations. But it turns out that we avoided that by putting all this CO2 into the atmosphere. It's become so warm that, for the foreseeable time, no ice age will have a chance to revisit the earth. That's man's doing, not Mother Nature's.
Humans have been around for only a microscopic portion of the earth's 4.5 billion year history. It doesn't make sense that we could have done that much damage in so little time.
KJ: I'm so glad you brought this up! Never before in all that geological time has so much warming occurred so rapidly. There simply has to be a man-made cause to make this change within one or two centuries—mostly in the last five decades—by putting all that greenhouse gas into the atmosphere. A natural process would take tens or hundreds of thousands of years, not decades, and that's the best proof that it's not a natural phenomenon.
Our country has a long history of engineering successes. Why isn't climate change just another challenge we need to overcome?
KJ: Well, it doesn't look like the current administration supports the science or technology or any such climate adaptation actions you're referring to, so it looks like we are going exactly in the wrong direction for that.
Energy independence from some of the world's "bad hombre" countries is a problem we need to address today.  The real impact of climate change won't be seen for 25, 50 or 100 years. Shouldn't we use the fossil fuel resources we have  today?
KJ: Let's just cut through the Gordian Knot here. If we want to be truly independent of any international oil and gas trading situations, the best way to do it is to use the wind and sun that are free resources. If we are willing to invest in these technologies, they will becomes cheaper than oil, gas and coal.
Isn't this a moot point because the Trump Administration is business friendly and all in for the next eight years on supporting our domestic fossil fuel energy industries?
KJ: First of all, I would shorten that period to four years, and secondly it's not clear that this administration will get what it wants. There are many private sector interests, including power companies, that are already committed to non-fossil fuels. It's a trend that even the administration, with all its efforts, may not be able to reverse.
A climate of hope?
Prof. Jacobs isn't alone in thinking that the Trump Administration won't have its way with fossil fuels. In their new book Climate of Hope: How Cities, Businesses, and Citizens Can Save the Planet (St. Martin's Press, 2017), former Sierra Club chairman Carl Pope, and former NYC mayor Michael Bloomberg put municipalities, states, private industry and just plain folks in the unstoppable vanguard of America's climate-sparing clean energy movement.
In a recent visit to NPR's Morning Edition, Pope cited bold renewable energy moves by big cities like San Diego (with a Republican mayor) and Salt Lake City (in the reddest state of the union), and went on to preach optimism in the face of a White House fossil-fuel fixation: "The reality is market forces, popular demand, public sentiment are driving the United States towards a climate-friendly economic future and a more prosperous economic future. And there really isn't anything that a presidential administration can do to reverse that fact."
CLIMATE CHANGE:
Why is it Urgent to Act Now?
Talk by Climate Scientist Klaus Jacob
Monday, May 8, 7p
New City Library
Prof. Klaus Jacob will discuss the local impacts of unavoidable climate change, including sea level rise on the Hudson and in NYC.  He will talk about what we can expect in coming years, the time frame, and why it's important for our communities to take action and to plan for resiliency.
Klaus Jacob is Emeritus Research Professor at Columbia University's Lamont Doherty Earth Observatory and an advisor to the NYC Mayor's Panel on Climate Change.
Presented by the Rockland Sierra Club.
Learn More:
The Hudson River and New York Bay are predicted to rise by up to six feet by the end of the century. For coastal communities like the Nyacks, Prof. Klaus Jacob recommends these resources, along with urgent consideration of waterfront losses from storm surge and sea rise.
Featured image: Riverkeeper president Paul Gallay and his People's Climate March poster. Photo: Susan Hellauer
Email Earth Matters
Read Earth Matters every Saturday on Nyack News And Views, or sign up for the Earth Matters mailing list.
Earth Matters, a weekly feature that focuses on conservation, sustainability, recycling and healthy living, is sponsored by Maria Luisa Boutique and Strawtown Studio.