Here are two reasons to celebrate: ¡Hoy es el Cinco de Mayo! And it's First Friday, too. This weekend you can help Riverkeeper clean up the Hudson; dust off your wheels and Bike Nyack; get a free comic book; enjoy a Disklavier Demo and Concert; take a yoga soundbath; listen to a Pop-up Choir or a Poetry Slam.
Friday
On the First Friday of each month, local businesses host art and music events.

This Cinco de Mayo the Nyack Art Collective is mixing it up. Meet and greet your favorite Nyack Art Collective artists at the Gazebo on Main St from 6p-8p. Nyack's own Katie Elevitch will be rockin' out and the Suffern poets will be back.

Reception for June Gumbel, the First Friday Artist of the Month from 6-7p and, both a milliner and a painter, June Gumbel will do a demonstration on her hat-blocking from 7p -8p at Edward Hopper House Art Center, 82 N Broadway, Nyack.
Cinco de Mayo in Nyack features a bar crawl, bluegrass, R&B, funk and…Shakespeare.

Hop aboard the funk train with Mr. Breakdown at Casa del Sol. 9:45p, 104 Main St, Nyack.

Nyack's Cinco de Drinko Bar Crawl includes Bourbon Street, Brickhouse, The Local, Maura's Kitchen, Nyack Pour House, Olive's and O'Malley's. Buy tickets online before or register from 4p-6p at the Pour House, 102 Main St, Nyack.
Hear some unique arrangements with killer vocals and instrumentation as the Old No. 7 Band bring their Americana, Bluegrass, Blues, Country, R&B and Rock sounds to Pier 701. 8:30p, 701 Piermont Ave, Piermont.
If you'd rather celebrate Cinco de Mayo with Shakespeare instead of something shaken not stirred, The Children's Shakespeare Theatre's production of A Midsummer Night's Dream opens at the Palisades Presbyterian Church. 7p, Fri and Sat, 117 Washington Spring Rd, Palisades.
Saturday
Bike Nyack, the community ride leaving from Nyack Memorial Park each Saturday morning, is back for another season of bicycling. This week's ride is to Hillsdale, NJ. 8:30a, Depew & Piermont Aves, Nyack.
Give back to the Hudson River at the 6th annual Riverkeeper Sweep.  Join fellow volunteers for a cleanup of Nyack's Memorial Park. 12p, 53 Piermont Ave, Nyack.
Saturday is Free Comic Book Day?  Start or add to your collection at Funny Business. 12p-6p (while supplies last), 130 Main St, Nyack.

Listen to music in a new way, i.e., lying down. SoundBath is a transportive musical experience where you can close your eyes and drift into your own imagery and contemplation. 8p, Nyack Yoga, 42 Main St, Nyack.
Help choose who represents our region in the Poetry Slam Finals. The best and most involved poets from the past year will be competing for the chance to be on our team at the National Poetry Slam. 6p, Casa del Sol, 104 Main St, Nyack.
The ladies of Cool Mess make sweet music at O.D.'s. 9p, 66 Main St, Nyack.
Think Bailey's Smokehouse is just for ribs? Come hear pop/rock band, Wild Planes, create timeless music that everybody can enjoy. 10p, 136 East Erie St, Blauvelt.
Sunday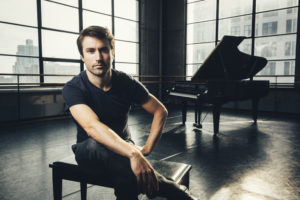 If you are a music fan, you won't want to miss a Disklavier Demo and Concert with Dan Tepfer, jazz piano wizard and Yamaha Disklavier expert. Presented by the Rockland County Jazz and Blues Society. This FREE event is guaranteed to be both informative and musically enjoyable. 3p, Union Arts Center, 2 Union St, Sparkill.
The Carnegie Concert Series presents All Seasons Chamber Players with "Classical Favorites for Flute and Strings." 2p, Nyack Library, 59 S Broadway, Nyack.
Be part of the first ever Nyack Pop-Up Choir featuring Simon and Garfunkel favorites. No musical talent is necessary. All you need is a love of music and a willingness to try something new. 6p, Casa del Sol, 104 Main St, Nyack.
Join Rockland Center for the Arts (RoCA) as they celebrate a milestone anniversary at their 70th Anniversary Legacy Gala. 6p, The View on Hudson, 101 Shad Row, Piermont.
Next Week
Monday
The Reform Temple of Rockland presents Helping Addicts & Families Recover: What Families Need to Know, a panel discussion, moderated by addiction specialist, educator and author, Dr. Stephen Jay Levy.  7p, 330 N Highland Ave, Nyack.
Thursday
Shades Repertory Theater presents Andromache. A year after the Fall of Troy, Pyrrhus returns to Greece with Andromache, Hector's widow, as his slave, and the only thing keeping her son alive is Pyrrhus' love for her. 8p, Thurs, Fri and Sat, 64 New Main St, Haverstraw.
Looking Ahead…Friday, May 12
Rivertown Film creates an immersive theater experience with Murder, Mayhem, and the Movies. It will be a fun-filled cinematic evening that features drama, live actors, costumes, good eats and great music. 8p, The West Gate Inn, 26 Rt 59, Nyack.
To get the Nyack Weekender delivered to your mailbox auto-magically every Friday morning, add your name to our mail list. Visit our
online sign-up sheet
to subscribe.