It's a weekend to roll up your sleeves and make something for yourself. Kids and parents can build a car for Nyack's upcoming Pine Car Derby or take a workshop and learn how to turn junk mail into art. There's also live music, stand-up comedy, a woman's storytelling event, an historic cemetery walking tour, a PBS retrospective and a farewell party for a beloved Nyack flower shop.
Friday
The Eric Mintel Quartet featuring Eric Mintel on piano, Nelson Hill on sax/flute, Jack Hegyi on bass and Dave Mohn on drums brings their brand of jazz to Sixty5 on Main. 65 Main St, Nyack.
Pier 701 literally has The Goods. The band covers everything from Stevie Wonder to Led Zep. 9p, The Turning Point, 701 Piermont Ave, Piermont.
Saturday
Don't know what to do with all that junk mail? Come to a Mail Art Workshop and put it to good use. Artist Jaynie Gillman-Cribbins will introduce participants to the three types of symmetry. Using radial symmetry, participants will use junk mail and other materials to create reliefs. 12p-2p, Azarian McCullough Art Gallery, 125 Route 340, Sparkill.
Charge into summer at Healthy Kids Day. Free family fun and games, a bouncy castle, healthy living activities and more. 12p-4p, Rockland County YMCA, 35 S Broadway, Nyack.
Be the one of the first to see the next big star at the South Orangetown Rotary's Rotary Knows Talent. 4p, Tappan Zee High School Auditorium, 15 Dutch Hill Rd, Orangeburg.
Ladies, do you have a story to tell? Spin your yarn at "Nevertheless, She…." A Women's Storytelling Event, a moth-style night of women's true stories. No judging, no scores, only community, listening and cathartic sharing. Add your name to the list to be picked to tell your story or just come and watch, be inspired and moved. 6:30p, Casa del Sol, 104 Main St, Nyack.
The Sarah Borges band performs at The Turning Point. 8:30p, 468 Piermont Ave, Piermont.
Sunday

Join the Historical Society of the Nyacks for a Walking Tour of Oak Hill Cemetery. Walk the scenic cemetery and celebrate the lives of many "permanent residents" of the Nyacks who made their mark on the national, state, and local stages. 2p, cemetery entrance gate, Route 9W, between Sickles Ave and 5th Ave.
Enjoy some relaxing music on a Sunday afternoon with Gene Bertoncini: Jazz on the Classical Guitar. This native New Yorker makes a special solo appearance playing jazz on the classical guitar with music from American Song Book, Brazilian works by AC Jobim, and some classical repertoire including Chopin, Schumann and others. 2p, Union Arts Center, 2 Union St, Sparkill.
What would life be like without the Public Broadcasting System? The Palisades Community Center presents A PBS Retrospective: An Afternoon with Al Perlmutter, a producer and executive director who helped shape what PBS is today. The winner of six Emmys and five Ace Awards shares footage and remembrances of his work in the early stages of PBS.  4p, 675 Oak Tree Rd, Palisades.
Next Week
Wednesday
Got the mid-week blues? Maureen's Jazz Cellar will have you laughing in no time at a Comedy Showcase hosted by Jeremy Cash and featuring Jared Rosado, Robin Larkin, James Camacho, Alyssa Sequoia, Raphael Hernandez and Chrissie Mayr. 7p, 2 N Broadway, Nyack.
Looking Ahead…Sunday, May 7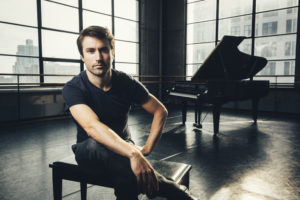 If you are a music fan, you won't want to miss a Disklavier Demo and Concert with Dan Tepfer, jazz piano wizard and Yamaha Disklavier expert. Presented by the Rockland County Jazz and Blues Society. This FREE event is guaranteed to be both informative and musically enjoyable. 3p, Union Arts Center, 2 Union St, Sparkill.
To get the Nyack Weekender delivered to your mailbox auto-magically every Friday morning, add your name to our mail list. Visit our
online sign-up sheet
to subscribe.