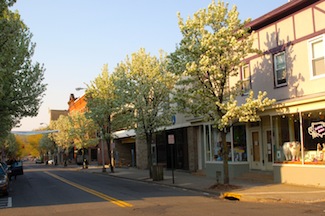 This Week in The Villages: The Nyack Chamber has a birthday. The village gets a new trustee. And if you are looking to get some dirt on Nyack, you'll need a shovel. And maybe a pickup truck. Volunteers are needed to help plant new trees.
New Trustee Named
Elijah Reichlin-Melnick has been appointed to fill the open seat on Nyack's Village Board. The 32 year old Nyack High School graduate works as a senior research planner at Pattern for Progress, a Newburgh-based, a non-profit focused on Hudson Valley planning and local government issues. From 2014-2016 he worked as Executive Assistant to Orangetown Supervisor Andy Stewart. Reichlin-Melnick holds a bachelors in history and government from Cornell University and a masters in city and regional planning from Rutgers. He will take the seat vacated by the resignation of Trustee Doug Foster earlier this month.
Nyack Chamber's Big Birthday Bash
The Nyack Chamber of Commerce celebrates turning 60 on Thurs 4/6 at 6:30p at 65 On Main Street. The village's businesses will honor Community Pillar Carlo Pellegrini, Chamber Champion Hudson House restaurant and the Nyack Center as the Nonprofit of the Year. Tickets are $60 per person and can be purchased online at NyackChamber.com
Root For Tree City USA
The Village of Nyack is looking for volunteers for the Nyack Tree Project 2017. The project kicked off last year with the help of local students, citizen volunteers and the Nyack DPW staff. This year 17 trees will be arriving in April, and volunteers of all ages and abilities are needed to help with planting. The Nyack Tree Committee selected locations along several blocks of North Midland Avenue. Please email Marcy Denker For more information.
ZBA Chair Chosen
There's a new chair at Nyack's Zoning Board of Appeals. Steve Knowlton, a practicing attorney and former village trustee, has been named to replace Cathy Friesen. Paul Curley will join the ZBA as a regular member and Glen Keene and Richard Gressle will serve as alternate members.
---
Here's a list of municipal events in the Village of Nyack and in South Nyack. There are no scheduled meetings this week in Upper Nyack.
Village of Nyack
Mon 4/3, 7p: Planning Board Meeting
Tue 4/4
Thurs 4/6, 9:30a: Justice Court
Nyack Village Hall is located at 9 N. Broadway.
Village of South Nyack
Mon 4/3, 5:30p: Justice Court
Tue 4/4, 7:30p: Zoning Board of Appeals
South Nyack Village Hall is located at 282 S Broadway.