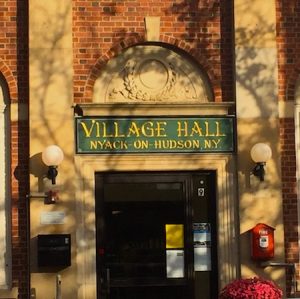 It's the ultimate in "No news is good news": The Village of Nyack 2017/18 budget has been passed with no increase in taxes–again. As for this week, Nyack Hospital will hold an information meeting for the public on their proposed expansion. All three villages and the school district have received funding to develop a Greater Nyack Bike/Walk Master Plan which will be completed before the new Tappan Zee Bridge Shared Use Path opens in 2018.
No New Taxes in Nyack, Again
by Don Hammond
For the second year in a row, The Village of Nyack will have a zero percent tax increase. Thanks go to Mayor Jen Laird White, who led the board and staff to develop this budget, a commitment to keep current programs with no tax increase. Camp Nyack will be even extended for an additional week. You can read the adopted budget online at  Nyack-NY.gov.
Saturday was Earth Day and Nyack celebrated with gusto.
Over 15 trees were planted throughout the village. Special thanks to Marcy Denker and the village's Tree Committee, as well as the Nyack High School Football team, DPW and the many neighbors and volunteers who made this happen.
The Nyack Chamber of Commerce and the village organized a family friendly event at the Veteran's Memorial Park. The rain couldn't stop the celebration; there was food, music and fun.
The village Waterfront Committee is moving forward with bringing storage racks for kayaks and canoes, as well as vendors for boat charters and human powered boats. Requests for proposals for the vendors are being developed. Thanks to Paul Curley and his committee the waterfront will have several enhancements later this Spring.
Don Hammond
If you have thoughts or questions based on either what you read here or things you've heard buzz about in the community, please feel free to reach out to me directly by email at dnhammond4@gmail.com or by phone at 914.954.7556. — Dr. Don Hammond
The villages of Nyack, South Nyack and Upper Nyack, along with the Nyack School District, have received a grant to develop plans to make it easier to get around without a car. The $120,000 grant from the New NY Bridge Community Fund to create a Greater Nyack Bike/Walk Master Plan will study the impact of the future Tappan Zee Bridge Shared Use Path and will explore ways to create better walking and biking connections from neighborhoods to Nyack Schools and other destinations throughout the villages. Dave Zornow helped coordinate the effort on behalf of the village and he will be looking for volunteers to be part of an advisory committee as this project moves forward.
This week, there will be more work around the village, with the repairs of sidewalks on Depew and the construction of the gazebo in Memorial Park. The Nyack Park Conservancy will be raising funds to place 15 benches in the upper section of Memorial Park.
The 58th annual Nyack NAACP dinner is on Thursday, April 27. It will be hosted by the amazing Dr. Frances Pratt and will honor several unsung heroes who give back so much to the community. Visit NyackNAACP.weebly.com for more information on this event.
A Pine Car Derby Workshop, Registration, and Weigh-in will be held on Saturday, April 29, 2017 from 9:30a-3p at the Nyack Center. All racers must register for race day at this time. After weigh-in, cars will be held at the Nyack Center until race day.
Representatives from Nyack Hospital will be hosting a public informational meeting about their Care Transformation Project on Tuesday, April 25, 2017 at 7p at the Nyack Village Hall. The meeting will include an update on the project as well as a Q&A period.
— Don Hammond
---
Here are the municipal events in South Nyack and the Village of Nyack for the week of 4/24. There are no  meetings scheduled this week in Upper Nyack.
Village of Nyack
Mon 4/24, 7p: Zoning Board of Appeals
Tue 4/25
5p: Justice Court
6:30p: Nyack Housing Authority
7p: Nyack NAACP Meeting
7p: Parks Commission
9:30a: Justice Court
6p: Annual NAACP Freedom Fund Dinner
Nyack Village Hall is located at 9 N. Broadway.
Village of South Nyack
Tue 4/25
6:45p: Police Board
7:30p: Board of Trustees
South Nyack Village Hall is located at 282 S Broadway.