This Week in The Villages. Spring? It's on. New trees are coming to Midland and 5th Ave. Attn motorists: Tappan Zee Bridge construction will cause Wed evening and overnight interruptions. Next Saturday brings the annual Easter Egg roll. And Congresswoman Nita Lowey opines on last week's Trump administration moves.
Hammond's Highlights
by Don Hammond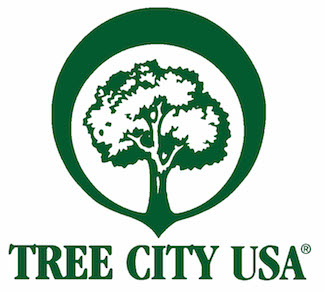 Thanks to some wonderful volunteers, the village will look greener and prettier.  Fifteen student athletes from the Nyack High School Football team, three coaches and several neighbors prepared 15 sites for planting new trees on Midland and 5th Ave on April 8.  The community spirit was great and it was amazing to see these young men, fueled by bagels and cream cheese, dig so many holes in a three hour period.  Thank you to Marcy Denker for arranging this event.  Look for the trees to be planted over the next few weeks.
Don Hammond
If you have thoughts or questions based on either what you read here or things you've heard buzz about in the community, please feel free to reach out to me directly by email at dnhammond4@gmail.com or by phone at 914.954.7556. — Dr. Don Hammond
Memorial Park benefited from a Sat morning spring cleaning on 4/8 courtesy of the Nyack Park Conservancy and Park Commission. The groups placed new mulch and flower beds in the playground area and cleaned up Nyack brook. The park and playground look amazing. It is worth taking a walk down to the park to see the transformation.
On Thurs April 6, the Nyack Chamber of Commerce celebrated its 60th birthday at 65 and Main. In the past 60 years the chamber has evolved from an organization focused on helping businesses build a community to one that helps the community grow local businesses. Nyack continues to thrive on the ideas of smart, creative and energetic people.
— Don Hammond
---
South Nyack: The annual South Nyack Easter Egg Hunt will be held at 2p on Saturday, April 15 at Franklin Street Park. This event is open to all South Nyack residents. Reminder: BYOB(asket).
Tappan Zee Bridge: If you are planning on crossing the Hudson going east into Westchester on Wed night, there's New NY Bridge construction inspired traffic in your future.
At 7p one late will be closed.
At 8p, there will be two lanes closed.
At 11p, three lanes will be closed. And at sometime during the overnight all four lines will be closed for about 10 minutes.
The South Nyack / South Broadway entrance to the Thruway will be closed beginning at 10p.
Why is this happening? "The lanes will be shifted approximately 30 feet south, allowing Tappan Zee Constructors to safely accomplish drainage work in the area and prepare for future operations," according to a press release from the
New NY Bridge
. Expect the shift to remain in effect throughout the rest of 2017.
This week's closings will lead to next year's openings. The new Tappan Zee Bridge will include a
Shared Use Path (SUP)
allowing joggers, bicyclists and sight-seers to cross the Hudson River and take in the view from six
belevedere
viewing locations. An updated rendering of the SUP can be found at
SouthNyack.NY.gov.
Clarkstown:
"I ran for office eight years ago because I wanted to devote my time to public service and to my community,"
said Clarkstown Town Councilwoman Stephanie Hausner in a Facebook post
  announcing that she will not seek re-election. "When I started that journey at 25 years old, I had no idea where it would lead me. I have enjoyed my over seven years on the town board and feel like I can honestly say I have made a difference in my community." Hausner's accomplishments include economic development, leading the effort to save the Traphagen property and the Vanderbilt-Burke house, a Transit Oriented Development (TOD) project in Nanuet and pushing for senior and millennial housing options.
Washington, DC:
Congresswoman Nita Lowey's office released her response to the US bombing of a Syrian airfield and the Justice Department's decision to review agreements with police departments over civil rights issues.
April 7 — "President Trump's missile strike was a measured response to deter further use of chemical weapons by Assad and the Syrian regime. However, this strike will not solve the Syrian crisis nor provide humanitarian assistance to millions of Syrians so desperately in need."
April 5 — "Syrian President Bashar al-Assad's suspected use of chemical weapons violates long-standing global agreements and universal principles of human decency. This barbaric attack that took the lives of over 100 Syrians, including 20 children, is a crime against humanity. There is absolutely no place in human civilization for chemical weapons or those who would use them. For peace to ever return to the region, President Assad and those who committed this attack, as well as countless other crimes against the men, women, and children of Syria, must be held accountable."
April 4 — "Ensuring law enforcement officers are safe as they work tirelessly each day to protect and serve our communities is one of my top priorities. However, I am deeply concerned that Attorney General Jeff Sessions' decision to review agreements between the Division of Civil Rights and troubled police departments nationwide will halt reforms that would make officers and citizens alike more safe; sow doubt between law enforcement and communities of color; and break our nation's promise that all Americans, regardless of race, must be protected under the law. We must support law enforcement by helping them reach the highest standards of excellence as they safeguard our communities, just as we must continue the difficult but necessary work of building communication, collaboration, and trust between police departments and communities that have been targets of racism and violence."
---
Here's next week's municipal events in Upper, South and the Village of Nyack.
Village of Nyack
Tue 4/11, 5p: Justice Court
Thurs 4/13,

4:30p: Board of Water Commissioners

6:30p: Village Board Pre-meeting Workshop

7:30p: Village Board Meeting
Nyack Village Hall is located at 9 N. Broadway.
Village of South Nyack
Mon 4/10, 5:30p: Justice Court
Tue 4/11, 7:30p: Board of Trustees Regular Meting
South Nyack Village Hall is located at 282 S Broadway.
Village of Upper Nyack
Mon 4/10, 6p: Architectural Review Board
Thurs 4/13, 7p: Village Board Meeeting
Upper Nyack Village Hall is located at 328 N. Broadway.