by Mike Hays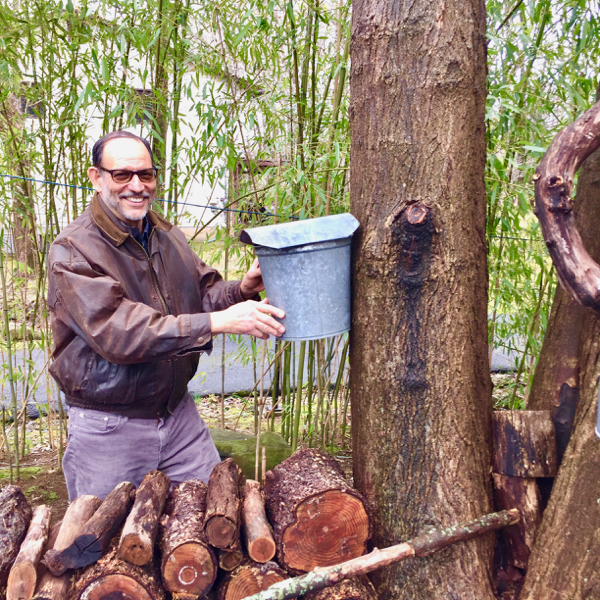 Bob Stien shares a glass of maple sap he has recently harvested from local sugar maples. Unlike the syrup that is made by boiling, new sap is clear, fresh, invigorating, and slightly sweet with a hint of forest and frost.
Driven by his passion for more access to nature, Bob moved to Nyack in 1995 from the Upper West Side. He runs a family business in the New York City but still finds time to explore Hook Mountain, the Hudson River and Harriman Park. His passion for nature came to him early. He started caving while attending Washington University in St. Louis. He is an active hiker and mushroom hunter known for his morel finds at the Hook.
Bob's generous spirit spills over into charitable work for the MaryDell Faith and Life Center in Upper Nyack, the New York Fathering Council, and EPIC (Every Person Influences Children) among others. He learned how to harvest sap from hiking friend Ed Bieber, owner of Nature Place day camp. He soon began offering a program for kids from the 92nd street Y (NYC) entitled Sugar & Snow – Let's Go. He enjoys teaching kids how to drill a proper tree hole, and how to taste and harvest the sap. He has offered the program for many groups of kids at Marydell and the Y as well as additional programs for the Y like The Ghost Town of the Wild East (a tour of Doodletown near Bear Mountain).
You want a friend like Bob. A good tree can deliver up to 25 gallons in a good year when conditions are right (freezing temps at night, above freezing in the day.) He has an annual sharing route of friends to whom he hand delivers fresh sap in recycled water jugs.
Michael Hays is a 30-year resident of the Nyacks. He grew up the son of a professor and nurse in Champaign, Illinois. He has recently retired from a long career in educational publishing with Prentice-Hall and McGraw-Hill. He is an avid cyclist, amateur historian and photographer, gardener, and dog walker.
He has enjoyed more years than he cares to count with his beautiful companion, Bernie Richey.
Nyack People & Places features photos and profiles of citizens and scenes near Nyack, NY. Sponsored by Weld Realty.
Photo Credit: Mike Hays