by Susan Hellauer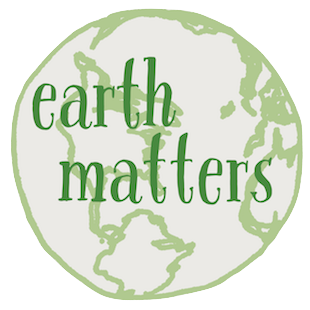 Earth Matters focuses on conservation, sustainability, recycling and healthy living. This weekly series is brought to you by Green Meadow Waldorf School, Maria Luisa Boutique and Strawtown Studio.
If Earth Matters to you, sign up for our mailing list and get the next installment delivered right to your inbox.
On Earth Day we learned that Hiking Matters—but some hikes matter more than others. Lamont Doherty Earth Observatory geophysicist and South Nyack resident Andrew Goodwillie describes a 2011 hike to a rapidly melting Alpine glacier. The consequences of man-made climate change that Goodwillie saw are also the subject of the April 29 People's Climate March.
Down to the Sea of Ice
The Grand Balcon Sud near Chamonix in the French Alps is a spectacular hiking route. Mont Blanc towers above, the boulder-strewn milky river meanders like a ribbon below. Flower-filled meadows cling to the hillsides. These higher elevations are dominated by ice and rock and all around is evidence of the relentless erosive power of glaciers.
But something does not feel quite right. And nowhere is the sense of disquiet better revealed than at the Mer de Glace, the "Sea of Ice" glacier.
Like most glacial valleys around the world, the Mer de Glace shows the very real effect of our rapidly warming planet. A few decades ago, an ice cave carved annually into the glacier was close to the cog railway station. But, each year the glacier has been getting smaller and smaller as the planet's temperature gets warmer and warmer and now visitors must descend steep metal steps bolted to the rock face to reach the ice. In 2011 when I last hiked in the area, more than three hundred steps led down to the ice. Another fifty steps downwards have since been added. In 2015 alone, this alpine glacier lost about twelve feet of its thickness.
Clambering down the steps to the ice is a sobering experience. There are plaques affixed to the rock face to mark the position of the ice surface at intervals since the year 1990. The plaque for 2005, sited far below, brings home how much of the ice has disappeared.
Natural processes like climate change can seem imperceptibly slow. We hear about the level of the global ocean rising by a few millimeters each year but we all know that a millimeter is really small, so why bother to take action now—can't it just wait for another generation to deal with?
In our busy everyday lives we probably do not notice the slow changes taking place in the natural world around us–the slightly earlier bird arrivals, the sooner-than-expected blossoms, for example. But in delicate environments like the Alps the consequences of our thirst for fossil fuels become startlingly apparent. Hiking in these fragile places brings home how much humans can alter our world: a necessary reminder that emissions of heat-trapping CO2 and its more potent partner methane and other greenhouse gases do not stop at national boundaries.
Geophysicist Andrew Goodwillie is Lamont-Doherty Earth Observatory's Data Systems Manager for Marine Geology and Geophysics. He also serves as a trustee on the South Nyack Village Board.

CLIMATE CHANGE:
Why is it Urgent to Act Now?
Talk by Climate Scientist Klaus Jacob
Monday, May 8, 7p
New City Library
Prof. Klaus Jacob will discuss the local impacts of unavoidable climate change, including sea level rise on the Hudson and in NYC.  He will talk about what we can expect in coming years, the time frame, and why it's important for our communities to take action and to plan for resiliency.
Klaus Jacob is Emeritus Research Professor at Columbia University's Lamont Doherty Earth Observatory and an advisor to the NYC Mayor's Panel on Climate Change.
Presented by the Rockland Sierra Club.
Learn More:
Glaciers and ice caps that melt over there contribute to coastal sea level rise over here. The Hudson River and New York Bay are predicted to rise six feet by the end of the century. Regardless of the source of the warming, both believers and deniers should check out some of these resources:

Email Earth Matters
Read Earth Matters every Saturday on Nyack News And Views, or sign up for the Earth Matters mailing list.
Earth Matters, a weekly feature that focuses on conservation, sustainability, recycling and healthy living, is sponsored by Green Meadow Waldorf School, Maria Luisa Boutique and Strawtown Studio.