by Susan Hellauer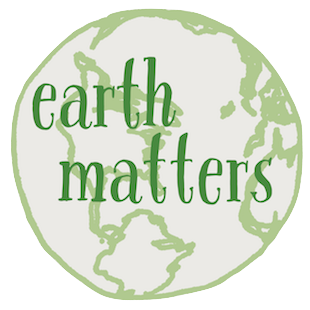 Earth Matters focuses on conservation, sustainability, recycling and healthy living. This weekly series is brought to you by Green Meadow Waldorf School, Maria Luisa Boutique and Strawtown Studio.
If Earth Matters to you, sign up for our mailing list and get the next installment delivered right to your inbox.
Orangeburg's Aluf Plastics says their plastic bag factory isn't the source of harmful VOCs (volatile organic compounds) in the surrounding neighborhood. An April 10 press release from Aluf asserts that three rounds of ambient air testing within the last year by the NY State Department of Environmental Conservation (NYS DEC), the US Environmental Protection Agency and the Town of Orangetown's consulting engineer all showed only background levels of VOCs at test locations near their sprawling half-million sq. ft. facility at 2 Glenshaw Street.
Nowhere in the press release does Aluf mention the main source of irritation for its Orangeburg and Blauvelt neighbors: frequent, acrid, repugnant odors of burning or industrially-fragranced plastic.
The press release implies that Aluf is not the source of the offensive odors. But VOCs are not the only plastic-factory emissions that smell. The NYS DEC has compiled "a list of odorous compounds to test for in addition to volatiles," in testing scheduled for later this month, according to the grassroots citizen-action group Clean Air for Orangetown (CA4O).
Meanwhile, nearby residents are bracing for another "Aluf summer"—indoors, with windows shut tight.
Baloney!
That's how Town of Orangetown Supervisor Andy Stewart opened his 4/11 "News 12 Hudson Valley" interview about Aluf's press release.
Stewart, who has been locked in a frustrating, years-long battle with the malodorous manufacturer, was no less eloquent when he spoke to Earth Matters about Aluf's 4/10 press release. "It's obnoxious and misleading," he said, because it appears that Aluf is trying to absolve itself of responsibility for its odor problem. "The bottom line is that Aluf is already under a number of violations from NYS DEC and Orangetown on account of their inadequate odor control system," Stewart added. "Claiming that they don't have an odor problem is baloney."
In an answer to our follow-up question, Aluf continued to point to other manufacturers in the area as possible odor sources despite the fact that an NYS DEC inspector, walking the area in August 2016, tracked the characteristic smell directly to Aluf's facility. Yet state agents are indeed working to rule out any other local odor sources as part of their investigation.
Fire!
The long battle between Rockland County, Orangetown, NYS DEC and local residents on one side, and Aluf on the other, began almost as soon as the manufacturer moved to Orangeburg in 1986 after a fire at its Edison NJ plant. Aluf was cited by Orangetown in 1990 for dumping harmful substances into a tributary of Sparkill Creek, and odor complaints rolled in as the factory expanded through the years. (Budget cuts in 2014 took Rockland County out of the enforcement picture.)
Aluf has accrued multiple town fire code violations over the years—10 in September 2016 alone—along with actual fires at the new Aluf, the most recent on the night of Saturday April 1. FIOS 1 TV News covered the incident with an on-air report on 4/3, which included closeups of sooty vent covers in poor repair.
Within a week, Aluf had crafted and sent out its press release.
CA4O reacts
Clean Air for Orangetown, which has been all over the Aluf saga on behalf of nearby residents, issued a statement in reaction to Tuesday's press release:
The noxious odors from Aluf continue to be reported in the area around the facility as recently as today, Thursday, April 13, 2017. Residents were able to confirm that Aluf was definitely open for business. The parking lot was full of cars and the factory was noisy and operational. 

CA4O does not accept recent ambient air testing results as indicative of the air quality. Samples were taken at times when there were NO odor reports. The NYS DEC scheduled samplings were one hour in duration, and the outsourced Town testing by Langan Engineering were taken during a single 24 hour period. We do not have a record of the EPA tests, so we cannot comment on whether odors were present at the time of testing. To this date, the odors from this facility remain a serious quality of life issue and quite possibly a health concern due to lack of reliable testing method and results.

CA4O has no choice but to hope that the noxious odors will permanently end if Aluf is forced to abide by the final DEC recommendations. The fact that Aluf has chosen to assume no responsibility for these noxious odors is of great concern to residents; however their response is not surprising and is, in fact, historically consistent with the company's response to violations over the past few decades. The one thing which has changed in recent years is the community's ability to organize and share information. 
Orangetown adopts a watchdog
To win their quality-of-life battle with a $122-million+ corporation, Orangetown's lean administration is adding a public health engineer position. The job description and requirements have passed muster with both town and county administrators, according to board member Tom Diviny, who hopes that their new watchdog will be on the job by late June.
Meanwhile, the funds already allocated for the post will be used between now and then for a three-month ambient air monitoring project, which the Town Board signed off on last week. This should yield more accurate results than a 24-hour test, which is subject to vagaries of short-term wind and weather, Diviny said. "And there's a concern about whether the factory was running at full capacity during those 24-hour ambient air sampling tests," he added.
NYS DEC steps it up
Besides being cited by the Town of Orangetown for multiple odor code and performance standards violations, Aluf also entered into an "order on consent" last December with the NYS DEC, requiring an upgrade to its odor-control systems and "stack testing" for harmful emissions.
In a March 27 email to Clean Air for Orangetown, a NYS DEC official summed up the current status of the Aluf case: "[W]e have recently approved a ventilation upgrade at ALUF that will provide increased makeup air, control fugitive emissions and provide for better worker comfort, negating the need to open doors and windows to alleviate the buildup of heat from the extrusion process [from polyethylene pellets to plastic bags]." These upgrades need town approval, and are scheduled to be heard by the Orangetown Zoning Board of Appeals on May 3.
Unlike ambient air sampling, the stack testing slated for this month grabs air before it leaves the factory's elevated chimneys. The state of the stacks is almost beside the point, however, if overheated workers prop doors and windows open in warm weather, as board member Tom Diviny pointed out: "Once it gets warmer, it gets worse." 
In response to Aluf's press release, NYS DEC spokesperson Erica Ringewald cited her agency's "history of vigorous enforcement of the Aluf Plastics facility to ensure the public and the environment are protected." She said that the DEC continues to work to ensure the facility is in compliance and will hold it responsible for any environmental violations.
Aluf Plastics: Next steps
In late 2016, Orangetown was ready to seek injunctive relief in NY state court. But the town has put that process on hold because of Aluf's current cooperation with the NYS DEC. "They're requiring stack testing, and we want stack testing," said the Orangetown Board's Tom Diviny,
Aluf is scheduled for an oft-postponed appearance in Orangetown town court on May 18, to respond to numerous odor code and performance standard violations.
Clean Air for Orangetown remains on high alert, pushing both town and state for answers and relief from the strong odors of as-yet-undetermined content, which always increase in the summer when Aluf's workers are more likely to open doors and windows, letting unfiltered factory air loose at street level in their neighborhood.
And Supervisor Andy Stewart concluding his rant about the deep-pocketed, lawyered-up corporation (for whom fines thus far assessed are pretty much petty cash), summed up the battle when he described the air: "It stinks—intermittently. But it just stinks."
Learn more:
Earth Matters, a weekly feature that focuses on conservation, sustainability, recycling and healthy living, is sponsored by Green Meadow Waldorf School, Maria Luisa Boutique and Strawtown Studio.
Read Earth Matters every Saturday on Nyack News And Views, or sign up for the Earth Matters mailing list.