Presenting…The TRUMP PAN Zee Bridge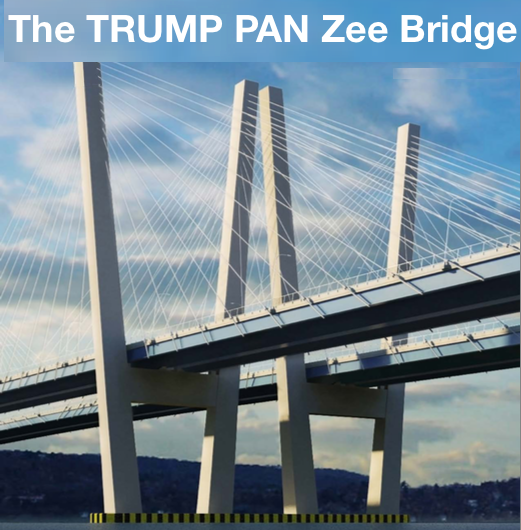 Nyack, April 1 2017 — When you owe a lot of money to your creditors, they can make unusual and unexpected demands. That's what NY Governor Andrew Cuomo learned today when the US Department of Transportation announced that the new Tappan Zee Bridge will be formally named the TRUMP PAN Zee Bridge.
In 2013, New York State secured a 35-year, $1.6 billion TIFIA loan to partially finance construction of a replacement TZB from the US Department of Transportation. The Secretary of Transportation serves at the pleasure of the President of The United States. And the President of The United States likes to name things after himself.
Nearby Yorktown Heights has the Donald J. Trump State Park. Worldwide there are eight Trump Towers, seven Trump International Hotels and four Trump Plazas. In fact, there's a "List of things named after Donald Trump" Wikipedia page which includes all of the Trump property namesnakes.
Last week Cuomo's office said a vintage Packard Phaeton used by US President and former NYS Governor Franklin Roosevelt used would be restored for use at the official bridge opening ceremony. The Trump Administration has now nixed those plans, saying they will take over the event planning for the 2018 dedication. "People are saying it will be a huuuuuge #MAGA TRUMP PAN Zee Bridge party," tweeted @POUTUS. "And we will have great entertainment too. Radio City Rockettes, the 1st grade choir at the Upper Nyack Elementary School, the scruffy kid with the acoustic guitar who plays in front of the Nyack Starbucks and someone from America's Got Talent will be there." Native Nyack band Regret The Hour was also invited to perform, but passed, saying that if they did, they would regret that hour.
Administration officials are already predicting a bigger public turnout for the Trump Pan Zee Bridge opening than the 1955 opening of the first TZB, the opening of the 1927 opening of the George Washington Bridge and Barrack Obama's 2008 and 2016 inaugurations combined.

We've Been Hacked!
We were just as shocked as you to see our normal masthead replaced with the words, Nyack Nudes And Views at 12:01a on April 1. For those of you who were offended by the disgusting photos of the heads of our elected leaders photoshopped on to the bodies of swim suit models, we apologize.


To the Nyack group known locally as the "Friends," please know we would never intentionally call you the "Fiends Of The Nyacks." We also apologize to those serious citizens who preserve our community history for being called the "Nyack Hysterical Society." And finally, to the business community, we were aghast to see your group referred to as the "Nyack Chamber Pot of Commerce."
Glad we were able to clear that up. Are we still good?

Tax Dollars Used To Provide Sanctuary To Known Killers
April 1 (Brightbarf News) — There's no question these felons are a flight risk. And your tax dollars are being wasted shielding them from justice.
They have been known to attack their innocent victims at ferocious speeds approaching 200 mph and to kill in cold blood. But instead of calling these criminals to account for their atrocities, state officials are coddling them. And providing a safe sanctuary for their kind on the taxpayers dime.
Because these beasts might strike without provocation, officials have set up 24/7 monitoring of their behavior so the public can help keep an eye on these jailbirds that prey. Watch them here.

Nyack's People's Party Prepares for the 2017 Election
"We're a village of warriors and fanatics, marching forward in perfect unity, all thinking the same thoughts and shouting the same slogans, perpetually working, fighting, triumphing, persecuting — all with the same goal of Making Nyack Great Again!" declared Phil A. Buster, chairman of the People's Party in Nyack. Mr. Buster has quietly volunteered his services as a Big Brother in our community for many years.
Fervor for the party has been growing since the last election along with a dedication to correct the curriculum in Nyack schools. "People are saying, let's stop spreading the hoax about climate change," said Buster. We've always had climate change. It's called winter, spring summer and fall." People's Party backers also want to replace Spanish with Russian as a foreign language option. A rally was set for Tuesday; forecasters predicted a bright, but cold April 4th. Buster urged like-minded supporters to meet up downtown just as the clock strikes 13.
To learn more about the Tuesday April 4th event, click here.

Today In History