This weekend Rockland goes green with an environmental and outdoor organization meet and greet, a photo exhibit from the People's Climate March, a program on green investing and an interfaith panel on climate change. POPCON Nyack, the village's first ever pop culture convention, debuts and The Walking Dead departs with a season finale watch party. You can also hear classical guitar or jazz and see one of the first performances of the Hudson Valley Ballet. If the national political conversation make you feel like Big Brother Is Watching You, go see 1984 on the National Screening Day. Last but not least, The Jewish Film Festival concludes this week with five new movies and an encore presentation.
Friday
In conjunction with the Activism in Art: Art Changes Things exhibit, Rockland Center for the Arts presents Artists Talk: Activism in Art. Five artists will speak on the subject of artists as the observers of our society and their role in activism. Artists Vera Aronow, Kiri Laurelle Davis, Lisa Levart, Francesco Mastalia, and Wilfredo Morel respond to social injustice and environmental issues while using their art as a weapon to bring to the forefront issues they are most passionate about, bringing about community healing and change. 7p, 27 S Greenbush Rd, West Nyack.
Classical guitarists Seth Himmelhoch and Gabriel Handy will perform solo and duo selections by Debussy, Bach, Domeniconi and others in the beautiful 19th century York Room at the Birch Mansion as part of the Ramapo College Open Door Concert Series. The event is free and open to the public. 7p, 505 Ramapo Valley Rd, Mahwah, NJ.
Saturday
Do you want to give back and help the environment? At the Meet and Greet With Nature, Outdoor and Environmental Organizations at the Valley Cottage Library, seven local organizations will have tables with information and representatives to answer your questions. There will be an organizational "speed dating" style series of presentations to introduce you to what their focus is, what activities and events they offer, and how you can get involved. 10:30a – 2:30p, 110 Route 303, Valley Cottage.
POPCON Nyack features vendors selling comics, vinyl, collectibles, and clothing. Meet Comics icon and Marvel/DC author Denny O'Neil from 1p – 4p. Participate in a Cosplay contest and win cash prizes. 10a – 4p, Nyack Center, 58 Depew Ave, Nyack.
Opening reception for Photographs from the People's Climate March. This photography exhibit from the 2014 People's Climate March in New York City reflects the diverse, worldwide community fighting climate change/global warming. Many Rockland residents participated and made their voices heard. Statements from March participants will accompany the exhibit. This will give March participants another opportunity to express their views. 12:30p – 2:30p, Valley Cottage Library, 110 Route 303, Valley Cottage.
Elliott Forrest Interviews Kelly Carlin. With rich humor and deep insight, Kelly Carlin, daughter of George Carlin, pulls back the curtain on what it was like to grow up as the daughter of one of the most recognizable comedians of our time. 8p, Nyack Library, 59 S Broadway, Nyack.
The Robert Rodriguez Trio featuring Jorge Roeder and Ulysses Owens play Maureen's Jazz Cellar at 8 & 9:30p, 2 N. Broadway, Nyack.
Sunday
Do you want to learn about Green Investing? Mary Beth Gallagher will provide an overview of environmentally responsible investing for individual investors, and for institutional and organizational investors. You will learn tools to use with financial managers to align your investments with your values, as well as considerations for making investment decisions that promote environmental stewardship and how to use investments to mitigate climate change. 1p, Nyack Library, 59 S Broadway. Following the Green Investing conversation there will be an Interfaith Panel on Climate Change. This facilitated panel discussion will cover theological responses to climate change from a wide variety of perspectives both in terms of religion and culture, and in terms of addressing the many negative impacts of climate change. 2:30p, Nyack Library, 59 S Broadway.
"Bring Out Your Dead" and join other walking deadheads at Dave & Buster's for The Walking Dead Season Finale featuring a buffet, prizes, giveaways, happy hour specials and zombies. 8p, 4661 Palisades Center Dr, West Nyack.
Next Week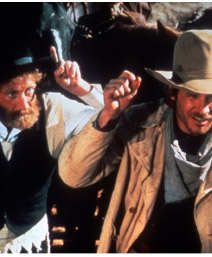 The Frisco Kid showcases Gene Wilder at the height of his celebrity in one of his very best performances it is funny, touching, and celebrates the power of Jewish values. Innocent, trusting, and inexperienced Polish Rabbi Avram Belinski (Gene Wilder) is sent to America in the mid-1800s by his village to transport a Torah to a new San Francisco synagogue and become its first Rabbi. He lands in Philadelphia and sets out on his odyssey across the continent. Quickly robbed and deserted by a group of con artists, Avram optimistically continues alone into "the Wild West". Along the way he is befriended and looked after by a compassionate horseman named Tommy (Harrison Ford). Unfortunately, Tommy may not be quite as heroic as he seems, and together they have many perilous, yet hilarious adventures on the long journey to San Francisco. Monday at 7:30p, Lafayette Theater, 97 Lafayette Ave, Suffern.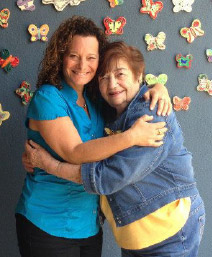 Not the Last Butterfly is a film about The Butterfly Project, a contemporary grass roots arts and education initiative that memorializes the 1.5 million children killed in the Holocaust through displays of ceramic butterflies…one painted for each child. The Project's messages of hope and healing through art are woven together with survivor's stories, and biographies of the children who perished. The seminal story that lead to founding the Project is that of the infamous Theresienstadt concentration camp in Czechoslovakia, where a young child wrote the poignant poem "The Butterfly" before his death. Imprisoned there as a child, Tappan resident invited speaker, Ela Weissberger, now in her eighties, reveals how she and other children were given the strength to endure by an artist and teacher.Tuesday at 2p, Regal Cinemas, 6201 Fashion Dr, Nanuet.
Hummus! The Movie and The Last Blintz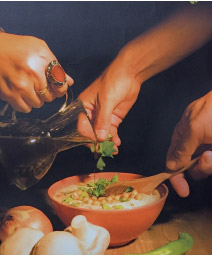 Hummus! The Movie is an eclectic, touching film about: hummus the food, a Guiness World Record, and the power of hummus to bring Muslims, Christians and Jews together in the Middle East, America and around the world. The film focuses on three main characters – a hard working Muslim woman, an ever-smiling Jew and a young Christian Arab on a restless quest for meaning. Despite their historical and cultural differences they all have one thing in common… a passionate love of hummus!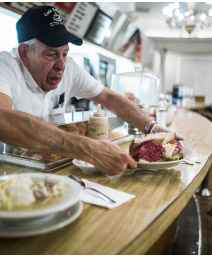 The Last Blintz is about the The Cafe Edison (aka The Polish Tea Room). It is not just a story about another famous show business haunt shutting its doors – which it is, big time – it is an American Dream-come-true story about a multi-generational, big-hearted, mom-and-pop family business that is tragically and pre-maturely coming to an end. It's too late for The Cafe Edison… but, looking to the future, The Last Blintz is an impassioned plea for 'progress' that honors the past, protects the future and preserves the heart and culture of our great cities. Tuesday at 7:30p, Regal Cinemas, 6201 Fashion Dr, Nanuet.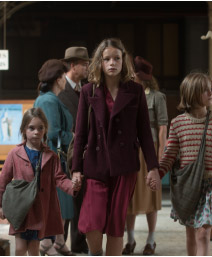 In Fanny's Journey (encore presentation) a group of Jewish youngsters flee Nazi-occupied France and Italy. The film is a tale of bravery, strength and survival. It's the story of a daring young girl who will stop at nothing and fear no one. In 1943, 13-year old Fanny and her younger sisters were sent from their home in France to an Italian foster home for Jewish children. When the Nazis arrive in Italy, their caretakers desperately organize the departure of the children to Switzerland. These eleven children will do the impossible to reach the Swiss border in order to survive. Wednesday at 1:30p, Regal Cinemas, 6201 Fashion Dr, Nanuet.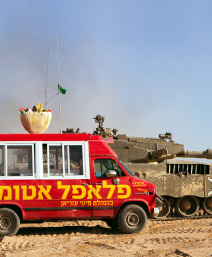 Atomic Falafel is a hilarious, fast-paced farce which employs the kind of verbal and visual humor that holds nothing sacred. The story is about how two teenage girls, one the Israeli daughter of a falafel maker and one the daughter of an Iranian rocket scientist, both of whom live in towns with nuclear weapon facilities, are able with the aid of a teenage Israeli hacker, to foil a nuclear war when top brass on both sides decide to "push the button." Wednesday at 7:30p, Regal Cinemas, 6201 Fashion Dr, Nanuet.
Tuesday
George Orwell's portrait of a government that manufactures their own facts, demands total obedience and demonizes foreign enemies has never been timelier. Rivertown Film presents 1984 as part of a National Screening Day to show support for the arts and free speech. Why is April 4 a special date to coordinate a coast-to-coast cause-related screening? It's the same date that 1984's protagonist Winston Smith begins keeping a forbidden diary, his first act of rebellion against his repressive government. 8p, Nyack Center, 58 Depew Ave, Nyack.
Wednesday
Be one the first to see the newly-formed Hudson Valley Ballet in a free dance concert at the Cultural Arts Theater at Rockland Community College. Abdel R. Salaam of Forces of Nature Dance Theatre choreographed one piece for the performance, utilizing a unique blend of contemporary modern dance, ballet and traditional West African dance. Students will also perform Patriotic Suite, an excerpt from a new ballet by RCC faculty member Melissa Padham-Maass. Additionally, the show features student performances in modern, contemporary, jazz and hip-hop styles of dance. 7p, 145 College Rd, Suffern.
Thursday
Join Krishna Das and friends at the Tarrytown Music Hall for an evening of sacred kirtan music to benefit the Tibetan Home of Hope. Krishna Das is an American vocalist known for his performances of Hindu devotional music known as kirtan. The benefit will support the Home of Hope which provides shelter, healthcare and education to Tibetan children; a safe haven where children thrive academically and are also able to connect to their culture within a loving community. 8p, 13 Main St, Tarrytown.
Get the Nyack Weekender in your mailbox auto-magically every Friday morning. Add your name to our mail list to get this weekly guide to weekend events. Visit our online sign-up sheet to subscribe.