Weekend Traffic alert: there will be 10,000 Maniacs in Tarrytown — but only on Sat night. In Sparkill, Levanta: World Music Ensemble will perform their globally influenced music at the Union Arts Center. You can also hear great blues/soul, classical and jazz this weekend from The Bruce Katz Band, The Rockland Symphony Orchestra and The Hudson River Jazz Ensemble. If the Play's Your Thing catch Queen Lear, Play It Again Sam, St. John Passion, or The Prodigy on stage. The Carson McCullers Centennial Celebration concludes with a screening of two of her short stories. Also: The Jewish Film Festival continues this week with five new movies and an encore presentation.
Friday
Saturday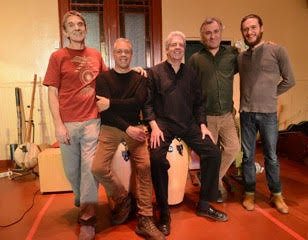 Do you want to be transported to exotic lands through sound and song? Levanta: World Music Ensemble will bring their global influences and expert skill to a sound that is both contemporary and timeless with their eclectic mix of styles and instruments featuring Thomas Workman on flutes, ngoni, didjeridoo, fujara and hulusi, Gabriel Dresdale on cello, Timothy Hill on guitar and vocals, Roberto Rodriquez on percussion and Evry Mann on percussion.  Tickets are $20 in advance and $25 at the door. 8p, Union Arts Center, 2 Union St, Sparkill.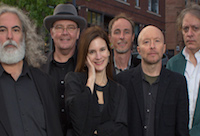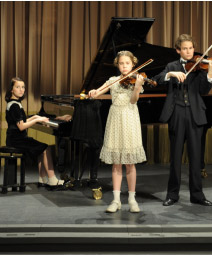 Wunderkinder, a World War II drama set in Ukraine in 1941, tells the story of three children brought together by their love of music, and torn apart by a world gone mad. Siblings Abrascha (violinist) and Larissa (pianist) Brodsky are Jewish musical Wunderkinder (child prodigies) living in Ukraine under Russian rule. They befriend a young German girl, Hannah Reich, a budding violinist who lives in the town with her family, and the three become inseparable friends. When Germany declares war on the Soviet Union, the Jewish Brodsky's help the German Reich family to hide. Quickly though, the German Army arrives in town, and now it's the turn of the Reich family to try to save their Jewish friends.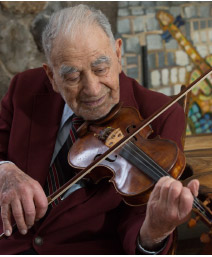 Ed, is a film about Rockland's Edward Simons: violinist, violin teacher, conductor, and inspiration. If activity level is a clue to one's age, then Simons is still a young man, at 100 years old. Ed wakens with a vitality driven by his passion for music. He played violin in the Pittsburgh Symphony, was conductor of the American Ballet Theater, and had a long career conducting on Broadway. Sixty four years ago he founded the Rockland Symphony Orchestra, for which he is still Music Director and Conductor. He helped establish the Community Music School, now the Rockland Conservatory of Music. Ed Simons will be joining us for the screening and will play with some of his prodigies. Sunday at 7:30p, Lafayette Theater, 97 Lafayette Ave, Suffern.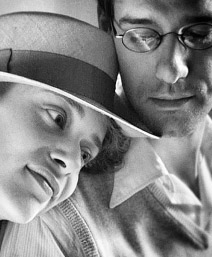 Fever at Dawn (encore presentation) is a life-affirming story of love against all odds set against the backdrop of the immediate post-Holocaust world based on the novel of the same name. Tuesday at 1:30p, Regal Cinemas, 6201 Fashion Dr, Nanuet.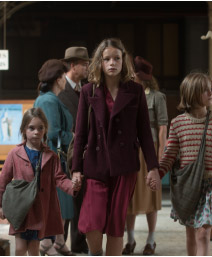 In Fanny's Journey a group of Jewish youngsters flee Nazi-occupied France and Italy. The film is a tale of bravery, strength and survival. It's the story of a daring young girl who will stop at nothing and fear no one. In 1943, 13-year old Fanny and her younger sisters were sent from their home in France to an Italian foster home for Jewish children. When the Nazis arrive in Italy, their caretakers desperately organize the departure of the children to Switzerland. These eleven children will do the impossible to reach the Swiss border in order to survive. Tuesday at 7:30p, Regal Cinemas, 6201 Fashion Dr, Nanuet.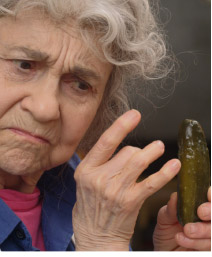 In The Pickle Recipe, Joey is a divorced father and king of Detroit party MC's on the Wedding and Bar Mitzvah circuit. He loses his sound equipment in a freak accident in the movie's opening scene, his daughter Julie's Bat-Mitzvah is only weeks away, and she's counting on him to MC her party. With no other options, Joey turns to his shady Uncle Morty, who agrees to give him the money on one condition…Joey must steal his grandmother Rose's top secret dill pickle recipe. Responsible for the success of the deli she started with her late husband, it's a recipe which she has vowed to take to her grave. But she has a soft spot for Joey, so the game is afoot. Wednesday at 1:30p, Regal Cinemas, 6201 Fashion Dr, Nanuet.
The Fire Birds is a murder mystery that enticingly entwines past and present, with a smart mix of humor, charm and melancholy. When the body of an 80-year-old man is found with stab wounds and a number tattooed on his forearm, the case is assigned to a down-on-his-luck Israeli detective who has returned to duty after a lengthy suspension. The investigation leads him to a tattoo parlor and a club of Holocaust survivors with a zest for life, who seek solace in romantic recollections of their pre-war world. As the plot rewinds through the victim's final months, a story of deadly dalliances, desire, loneliness and rejection emerges. Wednesday at 7:30p, Regal Cinemas, 6201 Fashion Dr, Nanuet.
Sunday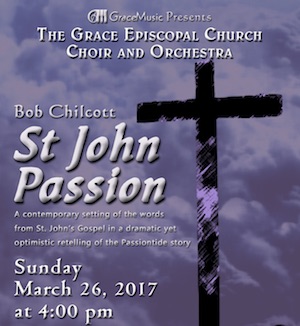 GraceMusic presents Bob Chilcott's St. John Passion. Brandon Beachamp conducts the Grace Church Choir, orchestra, and soloists in this contemporary, yet classical, setting of the Passion story. Originally written for the Choir of Wells Cathedral (UK), Chilcott's Passion is modeled after the great settings by J. S. Bach. The hour-long performance features David Vanderwal (St. Thomas Church, Fifth Ave., NYC) as the Evangelist and Peter Walker (St. Luke in the Fields, NYC) as Jesus.  As in Bach's Passions, the role of the choir is to play the part of the crowd or a group of soldiers within the narrative. Tickets: $20 adults, $15 seniors, $5 students, children 12 and under are free. Tickets may be purchased here. 4p, Grace Episcopal Church, 130 First Ave, Nyack.
Next Week
Monday
The public is invited to see a special presentation, Moving Ahead: Effective Water Planning Approaches, hosted by The Rockland County Task Force on Water Resources Management. Dr. Daniel Van Abs will discuss how other communities have protected and managed their regional water resources through task force planning.
The Rockland County Water Resources Task Force is working to identify the best ways to conserve and protect our water, so that demand doesn't outpace supply. 5:30p,  Clarkstown Town Hall Room 301, 10 Maple Ave, New City.
Wednesday
Relax with some lively music after work.  The Hudson River Jazz Ensemble, a group of young jazz musicians from both sides of the Hudson River featuring Coby Petricone-Berg of Nyack on alto sax, Sam Caldwell of Ardsley on piano, Neal LaPolla of Katonah on bass and Henry Mermer of Sleepy Hollow on drums, perform at 9p at Maureen's Jazz Cellar, 2 N Broadway, Nyack.
Get the Nyack Weekender in your mailbox auto-magically every Friday morning. Add your name to our mail list to get this weekly guide to weekend events. Visit our online sign-up sheet to subscribe.