by Mike Hays
We take for granted the large, attractive stone building fronting the parking lot and the Hudson River at Nyack Beach Park. Most of us have never been inside the building. I have often wondered how this building got there and for what purpose and why is there such a huge fireplace.


As it turns out this is a fine example of building renovation. The original building was the powerhouse for the Manhattan Traprock Company. One of the three rock quarrying companies in what is now the state park. The building was a pretty ugly structure made of poured-in-place concrete.
In 1900 Theodore Roosevelt and Foster Vorhees created the Palisades Interstate Park Commission to stop the damage to the palisades caused by quarrying. In 1911, PIPC purchased the Manhattan Traprock Company for $415,000 including Hook Mountain, this building and a very long dock with railroad tracks in front of the powerstation.
In 1926, the company removed equipment from the building and the CCC began renovating the structure by covering the building in local stone and creating a cafeteria and bath house with a second floor balcony from which the river can be seen. There was once a covered front porch that has since been removed.
Wouldn't it be great if the state found more uses for this building?
Hook Mountain State Park: Saved From Destruction 106 Years Ago
Less than a year after the Harriman gift of $1 million and 10,000 acres was used to raise an additional $4.5 million in private and state funds, the Palisades Interstate Park Commission began its purchase of the five quarries that were steadily eating away at the stately Hook Mountain ridge between Nyack and Haverstraw, New York.The first of these quarries, belonging to the Manhattan Trap Rock Company, was purchased for $415,000.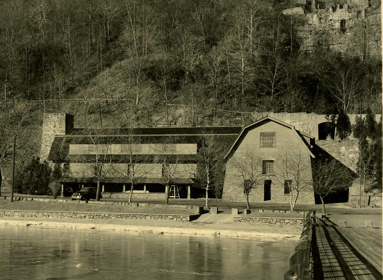 Its facilities, including the concrete power house used to crush the rock before being loaded onto barges from the wharf, were eventually dismantled or converted to recreational facilities as WPA projects, resulting in the beautiful dutch colonial sandstone building that now stands at the foot of the mountain. Used for decades as a bathing facility
when swimming in the Hudson was still permitted
, this magnificent example of adaptive use is now experiencing a second wave of interest by the community as the anchor of Nyack Beach State Park.
Source:
Palisades Interstate Park Commission
, March 2011
Michael Hays is a 30-year resident of the Nyacks. He grew up the son of a professor and nurse in Champaign, Illinois. He has recently retired from a long career in educational publishing with Prentice-Hall and McGraw-Hill. He is an avid cyclist, amateur historian and photographer, gardener, and dog walker.
He has enjoyed more years than he cares to count with his beautiful companion, Bernie Richey.
Nyack People & Places features photos and profiles of citizens and scenes near Nyack, NY. Sponsored by Weld Realty.
Photo Credit: Mike Hays
See also: