by Mike Hays
He's co-owner of the oldest family-owned restaurant in Nyack. He's also a talented baker and master of desserts at The Hudson House, a prolific photographer and a Hudson River rowing enthusiast.
But you may not know that Matt Hudson is a self-taught wood-carver. Born in Nyack Hospital, Matt is a lifelong Rocklander who remembers going to his first movie in Nyack. He now lives within sight of the house where he first began carving.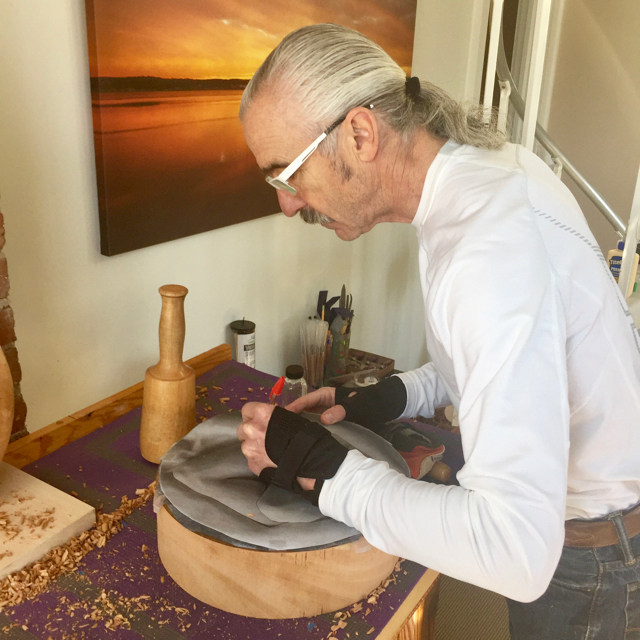 Hudson's inspiration came from the story of a wood-carver in Hermann Hesse's novel, Narcissus and Goldmund. His first carved four masks into a tree trunk he found on the side of a road.
He put away his carving as he began his restaurant career but upon seeing the photo of a gold manhole cover in the NY Times he was inspired to take up carving again about ten years ago. He enjoys working with art deco designs that he finds from different sources, tracing them onto wood and then, as he says, the wood dictates from which direction he can carve.
It's likely that you've enjoyed Matt's desserts and marveled at his photography. You might also enjoy seeing his woodcarvings on display during March at the Valley Cottage Library, 110 Route 303. There's an opening reception this Sunday, March 12, from 1-3p.
Michael Hays is a 30-year resident of the Nyacks. He grew up the son of a professor and nurse in Champaign, Illinois. He has recently retired from a long career in educational publishing with Prentice-Hall and McGraw-Hill. He is an avid cyclist, amateur historian and photographer, gardener, and dog walker.
He has enjoyed more years than he cares to count with his beautiful companion, Bernie Richey.
Nyack People & Places features photos and profiles of citizens and scenes near Nyack, NY. Sponsored by Weld Realty.
Photo Credit: Mike Hays