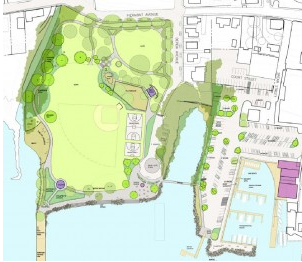 The Village of Nyack's Comprehensive Master Plan has been the subject of fierce debate. Some traditionalist local residents have balked at the changes it could bring to the village's composition. Others have celebrated it as an exciting step towards a better tomorrow. Count the New York Planning Federation in the latter camp. This week, the NYPFA recognized the village's Comprehensive Master Plan with its planning award.
"This award is a recognition of the village's Master Plan as a thoughtful, thorough and superior example of Master Planning and we are delighted," village spokespeople said in a statement on the Nyack website. "We thank all of those involved in the plan, our village planner, Bob Galvin, Frank Fish, Susan Favate, Simon Kates, James Lima, Stu Turner and the entire Planning Team from BFJ, all of the Nyack residents who served on the steering committee (Elijah Reichlin Melnick, Bill Batson, Roger Cohen, Barbara Atwell, JC Brotherhood, Paul Curley, Rodger Stevens and Marcy Denker along with Doug Foster and Jen Laird White from the Village Board) and each and every resident who joined in this process that took more than a year."
In the statement, the village recognized the time and effort the community put in to making the plan work for the most people possible. "Thank you for your good ideas, your excellent comments and your willingness to give up valuable time to participate in creating a document we can all be proud of… [The plan] is, as it calls itself, an excellent blueprint for a healthy future for our wonderful village and we are proud to be recognized for this effort."
A copy of the plan and a timeline describing the village's process can be found here. And some of our coverage of the plan can be found here.
The award will be given at a luncheon in Saratoga Springs on March 27th.  The Comprehensive Master Plan update was made possible by a grant from NY State Energy Research and Development office.