by Jocelyn Jane Cox
February is the height of cold and flu season. But there's a new, convenient source for seasonal aches and pains, a bit more reliable than your grandmother's old-fashion remedies. HRHCare, a primary and urgent care health center in Nyack, is now open on 9W just North of Main Street, at 84 North Highland Avenue.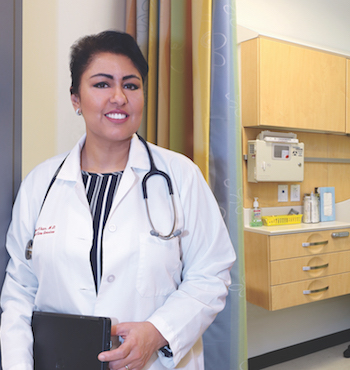 "Usually urgent care centers are free-standing. If you have an acute pain, you visit the urgent care, then follow up with a doctor at a separate site," says Dr. Asma Khan, one of the urgent care physicians on staff. "But here, you can follow-up at the same location. Your records are in our computers and we can easily check in with you."
Offering both primary as well as urgent care under the same roof, HRHCare presents an inviting atmosphere, with a clean and modern feel and a sun-soaked lobby. Patients feel comfortable flowing back and forth, from urgent to primary care, depending on their current ailment or injury.
Facilities like HRHCare address a health care concern shared by most patients: most people don't like going to a doctor, or may not be under the care of a primary care physician when they get sick or are injured. Khan says the facility's design and their staff make a difference. "You can get comfortable with the front desk staff and even the building itself." This can translate into more preventative and comprehensive care, she says.
The team at HRHCare prides themselves on seeing urgent care patients within 15 minutes of their arrival. "If possible, we like to get you out the door in under 40 minutes. I know the feeling myself of waiting in a lobby," says Khan. "This can be very stressful, especially if you have a laceration or if you have young children with you."
Since they opened last September, Khan says they have seen the expected amount of sprains, strains, allergic reactions, skin rashes, abdominal pains, and concussions. HRHCare can perform XRAY/radiology exams, rapid tests for strep throat and urinary tract infections, and sugar and blood tests for diabetics.
HRHCare has deep Hudson Valley roots. Originally founded by four Peekskill women known as the "Founding Mothers," the company now has 28 locations in the Hudson Valley and Long Island with Nyack as the first facility to offer urgent care. It's a unique arrangement: only 3-4 percent of the urgent care centers in this country currently offer this type of integrated service.
This location is walking distance from Main Street and very near to Nyack Hospital. Khan says she feels more comfortable with the hospital nearby. "For example, if I see an 80 year-old with chest pains, I am not comfortable sending that patient home after hours. I have Nyack Hospital just across the street."
The feedback has been positive so far. In addition to serving local adults and children of all ages, they have helped several students from Nyack College and people who have just moved to the area, and haven't been able to set up their primary care doctors yet. They take many insurance plans and offer a sliding scale of fees based on family size and income.
HRHCare is open 8a-8p Monday through Friday and 9a-5p on Saturday.