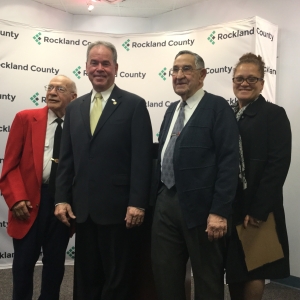 NEW CITY, NY – Rockland County Executive Ed Day, who is in the fourth and final year of his term, gave his annual State of the County address on Tuesday night. The speech was delivered to members of the Rockland Legislature and much of it focused was on the county's fiscal health.
"We have been working for three years to transform this county from near bankruptcy with an unsustainable tax-and-spend cycle to what it is today – a county that stayed within a very strict 1.17 tax increase, a county that cut spending nearly 10 percent, a county with four consecutive bond-rating increases, a county government that is getting smaller and more efficient, a county that works to make sure that all of our diverse residents have a voice and a county where the laws apply to all," he told the legislature.
Day was in the news for much of last year for the fight he waged against the Rockland County Legislature's funding of nonprofits and community organizations. He ultimately did not veto a bill that the legislature passed to partially fund 32 nonprofit and community organizations; the bill allocated nearly $675,000, which was half of the $1.3 million they requested for 2017.
According to Day, the deficit is now projected to be $10 million – more than a 90 percent reduction from the $138 million when Day took office. And he said that for the first time in at least five years, the county was able to pay its $32 million pension bill to the state without financing it. The 7.5 percent interest on financing has added millions to the county's bill in the past.
But the message of Day's address — that the county is in strong financial shape — runs counter to what representatives from Governor Cuomo's office have been saying as recently as last month. "Even with unprecedented financial help by the state [$96 million for deficit reduction in 2013], state oversight over Rockland County remains in effect and the county is nowhere closer to financial solvency. Rockland County's finances remain at one of the highest levels of "fiscal stress."
Day also made the following points, according to a press release from his office:
The Rental Registry will begin next month. It requires owners of rental units to pay a one-time $25 fee to register and will allow the county Department of Health to keep track of these housing units.
In 2016, the Rockland Codes Initiative received almost 1,200 complaints. A total of 6,574 violations – a third of them critical, life-threatening safety violations were cited by county inspectors. We have assessed nearly $1.15 million in fines since we started this program in 2015.
Sunday service on the Tappan Zee Express buses will begin next month. This service improves transportation and addresses the value gap that still exists between what Rockland residents pay to the MTA and what they get in return. Also, new bus service from Blue Hill Plaza in Pearl River, the heart of the county's business community, into mid-town Manhattan began this week.
In the last three years the county has found $3.5 million in Medicaid and other benefits that were received by ineligible people and avoided an additional $3.4 million in costs by identifying ineligible people at initial application and by finding and removing ineligible people who were already receiving benefits. That is nearly $7 million in savings.