by Susan Hellauer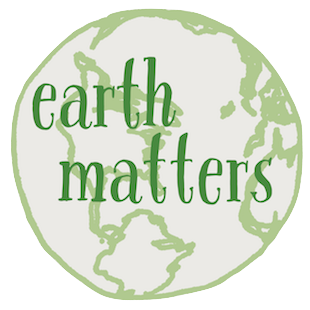 Earth Matters, formerly known as Sustainable Saturday, focuses on conservation, sustainability, recycling and healthy living. This weekly series is brought to you by Green Meadow Waldorf School, Maria Luisa Boutique and Strawtown Studio.
He's an American Everyman, just an "average guy" as he tells you right up front: clothes a little baggy, hairline heading north. But his dogged search for answers to some troubling questions made average Jeb Berrier a movie star.
A plastic bag odyssey
Berrier's small Colorado town got into a friendly competition with another town to see which could reduce its use of plastic bags more. And that set him to thinking—and not just about the ubiquitous flimsy sacks peeled off and filled by the hundreds of billions every year.
When Jeb Berrier opened his eyes to plastic he saw it everywhere in our over-consuming, disposable society: forks and spoons, diapers, packaging inside of packaging, bottles that carry water from Fiji or the French Alps to the corner gas station. And, above all, he saw miles and piles of those single-use petroleum-based polyethylene plastic bags.
Just Bag It!
In the multi award-winning 2010 documentary Bag It!, filmmaker Suzan Beraza, follows earnest citizen Berrier as he explores the world of plastic and sees how some people in some places are shedding their plastic bag habit. He travels to Europe to see how Germany, Ireland, and a seaside town in the U.K. created a cleaner world where disposable plastic bags are banned or priced out of practical use. Several countries in Africa and Asia have banned the polluting, fossil fuel-hogging bags as well, and that includes great big China.
During the course of filming, Berrier learns that his wife is expecting their first child, and his quest takes on a new urgency. He even tracks harmful plastic compounds found in many baby products, like bisphenol-A and pthalates, into his own body, and is shocked at what he finds.
Since Bag It! first appeared, scientists have seen swirling sea-gyres of trash continue to poison fish, birds, and other marine life. Small creatures feed unwittingly on shreds and specks of floating plastic, which, in some places, outweigh plankton 40 to 1 . . . and so on up the fish-eat-fish food chain. The flesh of an ever-growing number of marine animals now contains plastic and the toxins it attracts. The water bottle or plastic bag that got away is sitting in your belly with that nice fish dinner.
Albany to NYC: Don't bag it!
On February 14, Gov. Andrew Cuomo signed NY State Senate bill S4158, passed by large margins in both houses of the Albany legislature. It puts a one year block on a hard-fought New York City law that would have had stores charge and keep five cents for each single-use plastic bag, beginning last week. A similar ban has worked wonders in many places in the US, but not without pushback—some of it from people who don't know or care about the downside of "disposable"  plastic or who resent being charged for it; and a lot of it from plastic bag industry.
New York's plastic bag political lobby, part of the American Chemistry Council, is alert, poised and ready to pounce on plastic bag laws, as they did in San Francisco and Seattle. They do so by either convincing state legislatures to turn back local efforts like New York City's or by initiating lawsuits. (Not one of these organizations agreed to be interviewed for Bag It!.) Last June, when the Albany lawmakers quickly created S4158, the NY Daily News pointed at powerful, deep-pocketed lobbyists as the moving force behind the Albany bag-ban block.
Other voices, like the New York Times, see this as a crude and aggressive Albany overreach, regardless of how it got started or carried along. Gov. Cuomo, in an unusually long 1,000-word statement, defended his action, saying that it was "absurd" for businesses to collect all those nickels—despite the fact that they purchased the bags to give away. At first glance, this move seems out of keeping with Cuomo's consistent championing of clean energy efforts. But he did promise that a task force would look into statewide actions to reduce plastic bag use and report back by the end of this year. 
Bag It!'s advice for people whose lives are too plasti
c:
Cut way way back on single use disposable bags

Don't drink bottled water

Avoid overpackaged products

Bring your own bag or container

Buy things used

Buy less stuff

Remember that "

recycle

" comes after "reduce" and "reuse"
Volunteer for litter cleanups (see

Keep Rockland Beautiful

)
Most important? Simplify your life
Watch and learn
In next week's earth matters we'll talk to our Albany legislators, local officials, and environmental advocates about the effort to rid the Village of Nyack and all of Rockland County of these noxious, unnecessary bags and similar disposable plastics—in use for maybe 10 minutes, and poisoning our land and water for eons thereafter.
This week, to get the big bad bag picture, find 78 minutes to watch the documentary Bag It!, which can be rented on iTunes or Amazon, or viewed for free on tubitv (where you'll also see ads, at about the rate of a late night movie on TV but, hey, free!). After you've watched, then maybe, like new dad Jeb, you'll be asking yourself: "Is my life too plastic?"
Learn more:
NY State Senate bill S4158
The New Yorker: "The Bag Bill" (5/2/16)
San Francisco Chronicle: "Plastics industry pushing to halt bag-ban momentum" (9/10/16)
Sacramento Bee: "Californians say farewell to the plastic bag" (11/10/16)
Email Earth Matters
Earth Matters, a weekly feature that focuses on conservation, sustainability, recycling and healthy living, is sponsored by Green Meadow Waldorf School, Maria Luisa Boutique and Strawtown Studio.