by Susan Hellauer
Last week, the upstate activist group Finger Lakes Zero Waste Coalition (FLZWC), made a plea to Rockland residents: Help us save our upstate environment, our health and our homes by reducing the Rockland trash exodus, which has increased significantly every year.
The FLZWC are neighbors of the Ontario County Landfill, near Seneca Falls, which gets almost half of its 2,999-tons-a-day of municipal solid waste (MSW) from our county. Since the closure of the last of our county's landfills in the mid-1990s, the Rockland County Solid Waste Management Authority (RCSWMA, aka Rockland Recycles), have been charged with managing and minimizing the waste generated in Rockland County. They've been taking significant steps to reduce the waste stream, but the pressures of a growing population, and the demolition and construction that go with it, have had an inevitable impact on the landfill-bound numbers.

RCSWMA has been recognized by state and national organizations for its efforts in diverting wastewater biosolids, household hazardous waste, e-waste, yard trimmings, construction debris and recyclables from the waste stream. Education Coordinator Kerri Scales has the floor this week: she responds to the FLZWC letter to make her agency's case, which boils down to:
We've come a long way, but we need to finish this job together.
Rockland Recycles:
Where We Are, How We Got Here
by Kerri Scales, Rockland County Solid Waste Management Authority
There is no doubt that the waste that we generate as a society has negative impacts on our environment. In response to the 1990s closing of landfills (Rockland County had three), the County of Rockland established the Rockland County Solid Waste Management Authority. Created in 1994, the authority began analyzing waste generation, management and disposal to develop long-term solutions.
The authority began by purchasing the existing permanent Household Hazardous Waste Facility in Pomona from the county, in an effort to recover an increased amount of hazardous materials from residents, thereby preventing them from being disposed of in landfills. One of only 18 permanent facilities of its kind in NYS, the HHW Facility is open Monday through Friday and ten weekend dates per year. In 2016 alone, over one million pounds of electronic waste was recovered and sent for recycling.

As the years passed, our environmental management programs and services grew. In 1998, the authority constructed a Recycling Center to manage recyclables on a more local level. Understanding the important role that educating the public plays in the success of community programs such as these, an Interactive Environmental Education Center was constructed as part of the Recycling Center. This one-of-a-kind education center started conducting free informational tours to school and other community groups, in an effort to inform the public about existing environmental programs and their importance. The center is still conducting tours and has an estimated 3,500 visitors attending annually.
Shortly thereafter, a state-of-the-art co-composting facility was constructed to turn dewatered biosolids, from wastewater treatments plants in Rockland County and surrounding communities, into valuable compost. Each year approximately 25,000 tons of biosolids are kept out of landfills and turned into a profitable commodity.
Those are just a few of the notable examples of how far the Rockland County Solid Waste Management Authority has gone to minimize waste in an effort to protect the environment. Other programs include three Yard Waste Composting Facilities that provide finished compost back to residents, backyard composting education, compost bin and rain barrel sales, and videos to educate the community about waste reduction through smart shopping, reuse and donation. In anticipation of a state-mandated commercial food waste composting regulation, the authority created a pilot food waste composting site. Work has already begun with local food pantries and food banks on ways to increase the diversion of usable food.
So, what have all of these programs done for Rockland County's waste generation and disposal? When you break down the numbers they tell a very important story. Although some of the authority's facilities serve as regional recipients of waste, it is important that we focus only on the waste that is generated within Rockland County's borders.
When tracking waste generation and the impacts of programs within a community, it is important to look at who is generating what. It is also important to look at national standards and markers in our economy to determine trends that may be affect people's behaviors. When the economy rises or falls, so does the waste that people generate.
A piece of the waste stream that has been identified as the largest contributor to the uptick in waste being shipped to landfills over the past three years from Rockland County, is construction and demolition debris (C & D). This is material that is generated as a result of the demolition of existing structures and new construction.
Although municipal solid waste (MSW) saw a small increase from 2014 to 2015, it has held steady for the last two years. C & D material, however, saw an increase of over 26 thousand tons between 2014 and 2016. This was due to local construction projects such as the Tappan Zee Bridge, Spring Valley Apartment Complex and Pfizer Pharmaceutical. This is a positive indicator for our economy but demonstrates its effect on waste generation in a community.
With responsible deconstruction on the rise, the authority already has plans to increase its outreach to construction and development companies to encourage more separation of recyclable waste materials such as metal, wood, concrete and asphalt. The authority already has a Concrete and Asphalt Crushing Facility that processes these materials back into usable aggregate. The crushed concrete, asphalt and even glass product that we produce is being utilized in local construction projects for pipe bedding and road base, which has helped contractors meet new requirements for the state's Storm Water and Pollution Prevention Plan.
As part of the state-mandated Solid Waste Management Plan, the authority has included elements for increasing existing waste diversion and recycling programs, as well as new initiatives. These plans include responsible deconstruction, constructing a reuse center with a repair café, community Pay As You Throw programs, and the ongoing research of new waste management technologies.
Rockland County is considered to be on the forefront of sustainability in New York State and is constantly striving to do more.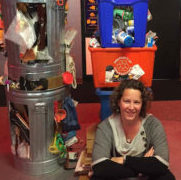 We welcome those interested in learning more about the many environmental programs provided by the Rockland County Solid Waste Management Authority to visit our website at rocklandrecycles.com or by calling our office at 845-753-2200.
Kerri Scales is the  Education Coordinator of the Rockland County Solid Waste Management Authority.
Rockland County Solid Waste Management Authority— awards and honors:
US EPA Region 2, Environmental Champion Award (2016)
US Composting Council, Composter of the Year (2015)
Governor's Waste Reduction & Recycling Award for Innovation (2002)
NY Water Environment Association, Beneficial Use of Biosolids (2001)
American Public Works Association, Public Works Project of the Year (1999 & 1998)
Learn more:
Email Sustainable Saturday
Sustainable Saturdays, a weekly feature that focuses on conservation, sustainability, recycling and healthy living, is sponsored by Green Meadow Waldorf School, Maria Luisa Boutique and Strawtown Studio.