by Ashley Tedino
Today's Nyack Window Project featured installation and artist is "Wonder Winterland" by Johanna Goodman.
An annual Nyack streetscape exhibition that pairs visual artists with local landlords to create original installations in downtown storefronts,  the 2016 edition of the Nyack Window Project features 16 locations featuring the work of 15 artists. Nyack News And Views has been featuring the work of several of this year's artists all week long.
"Wonder Winterland" by Johanna Goodman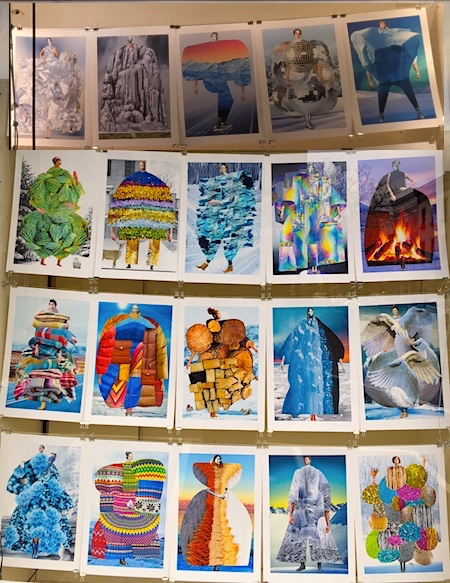 Walking in a Winter Wonderland takes on a whole new spin with Goodman's holiday window. Each image in the window "fits into her ongoing personal collage project entitled 'The Catalogue of Imaginary Beings.'" This project is a fictional catalogue that is expected to be in print someday. The work is of Imaginary Beings, which is in the tradition of Audubon's well-known compendium of birds.
Johanna Goodman resides in Nyack. She attended Parsons School of Design, where she obtained her BFA in Illustration. Ever since college, she has been a freelance illustrator. Goodman said "much of her work is for reproduction." Her clients include The New York Times, The Washington Post, Time Magazine, The Rock & Roll Hall of Fame, Rolling Stone, Entertainment Weekly, The Museum of Natural History, and others.
Wonder Winterland is on display through the end of January in the windows of the Athene building at the corner of Main Street and Broadway in Nyack. Goodman's entry in the 2016 Nyack Window project was sponsored by The Time Nyack hotel.


The project was coordinated by the Village of Nyack Recreation department. Nyack News And Views is a participating sponsor, along with The Time Nyack hotel, Christopher Street Financial, Rand Commercial Realty, Weld Realty, Nyack Hospital, Senator David Carlucci, Nancy Blaker Weber, Kim-Adele Rosner, Nyack Mayor Jennifer Laird White, Don Hammond and Thom Kleiner, Amos Friedland and Phoebe Ryder, Denise and Adam Lipson, Jennifer Smith, Edward Hopper House and Maura's Kitchen.

See also:
Photo Credit: Ira Sussman, Melody Partick, Ken Sharp