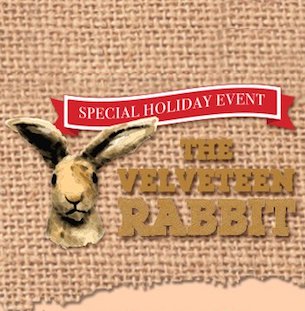 This weekend features a velveteen rabbit and Blank-fest rock 'n roll; snow boarding and sopranos singing; ample amounts of art and acting; a party for animal rescue…and the Beatles. Here are a few  suggestions on how to embrace the holiday spirit, brought to you by The Arts Council of Rockland.
Friday
Enjoy the beloved classic, The Velveteen Rabbit, set to stage. Fri at 7p, Sat at 11a & 2p, Sun at 2p at Elmwood Community Playhouse, 10 Park St, Nyack.
Featuring some of the finest jazz improvisers anywhere, Richard Sussman's core quintet performs "The Evolution Suite" at the Union Arts Center.  in Sparkill. 8p, 2 Union Street, Sparkill.
Saturday
Snow what? Minnewaska State Park is offering free snow shoeing lessons. A Sam's Point Ranger will show you how to adjust, wear and walk in snowshoes before you head out to your favorite trail. Rentals available for $5 per person; pre-register at (845) 647-7989.  5281 Route 44-55, Kerhonkson, NY.
Underground, a new play by Samuel Harp, follows three Rockland County families who ran safe houses as part of the Underground Railroad for slaves to escape to free states and Canada in the 1800's. The play will receive its first public reading, performed by members of Shades Repertory Theater.  Free, 12n-3p at the Nyack Library, 59 South Broadway.
Small Matters of Great Importance: Paper + Art is a juried exhibition celebrating small works that make big statements. The exhibit runs through Jan 3. Edward Hopper House, 82 N Broadway, Nyack.

Full Circle: Grace Knowlton And Haile Binns at Union Arts Center. Using items she finds in the environment to create "sculptural paintings," Haile Binns says her work is influenced by her Jamaican heritage and time she spent living in Hawaii. The smooth hardness of rock and the textures of volcanic rock add dimension to the surfaces of her wooden canvases which often depict sunsets. Exhibition runs through Jan 6. Meet The Artists 12n-4p, Union Arts Center, 2 Union Avenue, Sparkill.
ZaniaDollz puts on a Holiday Barbie Doll Exhibit at the Suffern Free Library, 210 Lafayette Ave, Suffern. Exhibit open during regular library hours through Dec 30.
It's opera night in Sparkill: Soprano Anna Veleva's Rockland Holiday Gala Concert: Holiday songs, arias, and classical piano selections including La Boheme, La Traviata, Liszt, Rachmaninov. 6:30-8:30p, Union Arts Center, Sparkill.
What was it like when one of the most influential bands of the 20th century went on the road? The Beatles: Eight Days A Week – The Touring Years follows John, Paul, George and Ringo through August 1966 when they stopped touring. 8p at Rivertown Film in The Nyack Center, 58 Depew Avenue at S Broadway.
Sunday
Blank-Fest 2016 brings 12 hours of rock and roll to Nyack's Hudson House to benefit New York City's homeless. The 20th anniversary performance showcases a dozen acts of local, NYC-based, indie and major label performers. The admission? One blanket in good condition. 12n-12m, 134 Main Street, Nyack.
It's been said that Every Dog Shall Have It's Day. Rescue pups will have theirs from 2-5p at Casa Del Sol during the Animal Lighthouse Rescue fundraiser. Drink, eat and dance to help save an innocent dog's life. $10 admission, 104 Main St, Nyack.
Classical pianist Margarita Rovenskaya performs Beethoven, Chopin, Schubert and Ravel in the Young Masters Recital Series. 1:30p at Valley Cottage Library, 110 Rt 303, Valley Cottage.
Spend an enchanted evening during a Candelight Tour of the Historic 1832 Jacob Blauvelt farmhouse and experience Dutch American Holiday traditions of the 1830s with music, song and seasonal refreshments. Sundays at 5 & 6:30p through Jan 15. Jacob Blauvelt, 20 Zukor Rd, New City.
Next Week
Thursday
The Nyack Farmers' Market has gone undercover! From Thanksgiving until the end of March, you can still shop for fresh produce and meats, fish, honey, a variety of farm products inside The Nyack Center each Thurs from 8a-2p. There are arts and crafts on sale too, all while enjoying live music from local musicians.  The Nyack Center is located at 58 Depew and S Broadway.
Get the Nyack Weekender in your mailbox auto-magically every Friday morning. Add your name to our mail list to get this weekly guide to weekend events. Visit our online sign-up sheet to subscribe.
The Nyack Weekender
is sponsored by