Can a local group of grassroots activists take on a $100+ million business and win back their right to fresh air?
by Susan Hellauer
At a neat split ranch on a wooded cul-de-sac in the hamlet of Blauvelt a father and his ten-year-old daughter shoot some driveway hoops before supper. He laughs playfully, but this dad is on high alert. "When the smell hits, we go right inside," he says. "I don't know what's in it, but it smells bad, really bad. I don't want my daughter breathing it."
Just past the wooded area at the end of his street lies a sprawling half-million square foot factory complex owned by Aluf Real Properties. Housed inside is plastic bag manufacturing company, Aluf Plastics Division. The business moved to 2-10 Glenshaw Street, Orangeburg, from New Jersey in 1986, and has been steadily growing, providing 421 of those American manufacturing jobs that politicians like to say they'll keep here—or bring back from somewhere.
Aluf's recycling machinery and bag manufacturing lines run around the clock and, according to local residents, so do foul and noxious odors from the plant. Concern about the odors themselves, and what, if any, harmful emissions they might signify, has grown from an intermittent whisper to a mighty roar, and there's no sign that the noise will pipe down any time soon.
Almost 500 concerned area residents have banded together to share information and updates on the Clean Air for Orangetown Facebook page. Many attend town meetings regularly, where a core group of activists make detailed statements and ask equally detailed, pointed questions of local officials. They stress the plant's immediate proximity to schools, daycare centers and Dominican College dormitories, as well as neighborhoods where kids play and people breathe.
What is or isn't that smell, really?
Some residents say that their email and phone complaints to Aluf Plastics about the noxious odors have met with the response that the offending smell comes not from them, but from the wastewater treatment plant on the other side of Route 303. On August 25th of this year, Maria Antoniou, with the New York State Department of Environmental Conservation (NYS DEC), paid a visit to Aluf's neighborhood to investigate a flood of complaints, and made the following finding:
This was a visit to the area where the complaint was reported. Odors were evident and ranged from mild to strong around Hayes Street and Arthur Street in Blauvelt. These odors were ALUF type odors consistent with melted and or burned plastic mixed with fragrance. The duration of the odor was at least one and one half hours that I stayed in the area . . .  — NYS Department of Environmental Conservation, Notice of Violation to Aluf Plastics, 8/26/2016

A war on two fronts? Try three
Orangetown odor opponents are waging a triple campaign: they take issue first with Aluf Plastics, but they're also keeping steady pressure on both their town officials and the New York State Department of Environmental Conservation (NYS DEC) to address this problem in a timely and effective way.
It's not easy. Founders of Clean Air For Orangetown (CA4O) have a lot more to do than just gather signatures and make their grievances known. They've had to become conversant with the long and tangled history of the issue, as well as complex state and local odor and emissions regulations, ambient air testing methods, compliance requirements and the means of enforcing them, and "the endless number of hours that people from our group have spent FOILing documents on every level of government," according to CA4O co-founder Tanya Witek. To some degree, however, their perseverance has paid off, with recent press coverage in The Journal News, Our Town News, Rockland County Times, News 12 Hudson Valley, and WCBS Newsradio 880.
And it's not a new problem
The story may be new to you, but it's far from new to Aluf's neighbors, according to nearby resident Michael Smith, a construction department manager and mechanical engineer, with whom I spoke by phone. Since 2001, he and his wife have lived about 300 yards northwest of the plant. "I placed a few calls early, maybe 2004, to the town and to the police, thinking that the odor indicated some sort of emergency," he said.
Smith fears that evaluation of individual airborne contaminants may miss potentially harmful effects of combined chemical emissions. And, like many of his neighbors, he's frustrated by the inexplicably long gap between the first alarms from residents and protective actions. "It's all a matter of money and will," said Smith. "Unfortunately people's health takes a back seat to profits."
A rapidly growing concern
Orangetown Town Supervisor Andy Stewart says that as Aluf has expanded the complaints about the odors in the neighborhood have grown, too. The factory which started with 100,000 square feet in 1986 has five times that space today and now, "clearly has inadequate odor control."
Over time, the company has expanded to 500,000 square feet and 70 extruders. Improvements made at the plant about ten years ago after community outcry and investigation do not appear to have kept up with the growth in number of plastic extruders at the site. Odors have been a serious problem over the last year and more. Involved agencies include the Town Building Department (OBZ), Town Attorney, and the NYS DEC. — Orangetown Supervisor Andy Stewart's memorandum "…on efforts to eliminate the odor of burning plastic from Aluf Plastics in Blauvelt," 10/21/2016
It was within this same ten year period that Aluf began adding significant recycling capacity, according to a June 2015 article in Plastics Technology (June 2015) . "Yes we are large," said owner Susan Rosenberg. "At 500,000 square feet in Orangeburg, we operate the second-largest blown film plant under one roof in the U.S. . . . Annual sales exceed $100 million [including a smaller plant in Sulphur Springs, Texas]."
Citing information from Aluf VP David Anderson, the article describes recent and projected growth at the Orangetown facility: "Its processing operation is fed by enormous outside silos, and Aluf is laying the foundation to accommodate three more . . . adding that the site can accommodate up to 20 railcars. Over the last five years, Aluf has added 15 [manufacturing] lines." 
Who's on top of the smells and vapors now?
The Orangetown Building Department issued Aluf a violation last August based on odors, and the need to update and review machinery at the plant under the town code for performance standards. In September, the Orangetown Zoning Board of Appeals declined to approve Aluf's Performance Standards. Hearings in the Orangetown Town Court on both of these matters have been adjourned until mid November. Aluf plans to seek a further delay from the Zoning Board of Appeals at a continuance hearing on November 16 at Orangetown Town Hall.
At Orangetown Town Board meetings, CA4O members regularly question the number, nature, and status of building permits filed by Aluf, some of which remain "open" without full explanation by town officials.
Between May and August of this year, the NYS DEC issued four violations to Aluf, and performed on site air testing. As outlined in Supervisor Stewart's October 21 memo, Aluf has submitted a required document covering the scope of work to be performed by an independent engineer (to be chosen and paid by Aluf) to identify the source and the reason of the odors and recommend solutions "in order to ensure than no odorous air from any process that takes place inside the Facility shall escape the building and be sensed in the surrounding neighborhoods," according to the DEC order.
Barring postponements, the schedule of review, approval and actual remediation puts the project's end as late as April 2017.
Meanwhile, Aluf continues to operate normally, and a growing number of local residents are turning out at town meetings, or turning to the CA4O Facebook page, to express mounting frustration with what they perceive as Aluf's delays and non-compliance, and the remediation effort's glacial pace.
Rockland County and US EPA stand by
As the odor problem around Aluf grew along with the plant's capacity in the early-to-mid 2000s, aggrieved neighbors turned to the Rockland County Department of Health for help investigating and analyzing the problem. (Current Aluf odor activists are armed with reports and documents from these investigations, prepared by a dogged county public health engineer, the late Gregory Price.)
As a cost-cutting measure in 2012, however, Rockland County eliminated its Department of Health (RCDOH) air quality monitoring program, along with the regulations it enforced, ceding oversight of air emissions to the NYS DEC. "All complaints now go directly to the state," said Director of Strategic Communications Jane Lerner in an email. "The state is better qualified, has better monitoring equipment, etc., as well as the regulatory power to handle these issues. . . [t]hey have been working diligently on the Aluf issue and we feel confident that it is being handled correctly."
Can the US EPA weigh in? When asked to describe the role they could play in this matter, an EPA official explained that responsibility for ambient air testing and analysis in this case would fall entirely to the NYS DEC.
So, what's in the air?
The NYS DEC has just received results of the air sampling conducted at Aluf in September, and summarized them via email:
Preliminary comparison of levels in the sample data with DEC's health-based guidelines for these air toxic pollutants demonstrates that the levels are below the State's risk management level. DEC will continue to evaluate the results and produce a summary.

The samples do not indicate that levels of anything harmful to human health are being released into the air, however, DEC staff have conducted inspections and discovered several operational deficiencies, such as leaking duct work and the effectiveness of current air filtration. DEC would like Aluf to address these issues, and as such a consent order is being drafted with a compliance schedule and potential fines."
Clean Air for Orangetown co-founder Heather Hurley expressed her dissatisfaction with the initial parameters of these air tests in her statements to a meeting of the Orangetown Town Board on the first of November:
Whatever results that the DEC and resident canister sampling event from this past September concludes, it must be on the record that, per George Sweikert of the NYS DEC, 'The samples were analyzed for 45 likely chemicals recommended by EPA given the nature of the industry (plastic bag manufacturer).'

But what the sampling fails to provide is an analysis of chemicals that are actually documented through County files that are specific to Aluf Plastics manufacturing process, including formaldehyde, cyanide, and other contaminants that do not appear on the most recent DEC chart.

. . . This should be an immediate wake up call to the town board and residents in Orangetown.
In other words, the NYS DEC did "round up the usual suspects," but CA4O says that documents from the now-defunct RCDOH air quality program indicate that Aluf has, at some point in its Orangeburg tenure, used or created other hazardous chemicals that have not been accounted for in the NYS DEC's latest tests. Formaldehyde and cyanide compounds are both included in the
US EPA Title III list of hazardous air pollutants
.
New demands from CA4O, and a response from Aluf Plastics
On October 31, Clean Air For Orangetown sent a detailed letter to local, state and federal officials presenting their demands for more thorough and independent testing and greater transparency in the Aluf odor and emissions remediation process.
When asked by Nyack News and Views for a status report on their efforts to eliminate the odors that their neighbors are complaining about, a spokesperson for Aluf Plastics Division replied by email:
"Aluf Plastics is working in concert with the Department of Environmental Conservation (DEC) to assess our air handling and filtering systems to ensure they are efficient and effective. In addition, the DEC is looking at other potential sources of odors in the area."
Describing its role in hunting down odor sources in this case, an NYS DEC official stated, via email, that the "DEC is looking at all possible sources of air contamination in the area – and in New York State – as it is the agency's responsibility to do so to protect the public and the environment. DEC is actively monitoring and investigating Aluf regarding odor issues and air contamination at its facility." Describing the agency's role in enforcement, the official also stated that "[the NYS DEC]  has the authority under New York State Environmental Conservation Law (ECL)  to enforce violations of the ECL and promote compliance. DEC has the ability to use various tools to implement this authority through an administrative or judicial process, including the collection of  penalties for violations of the ECL," the DEC official said.
Next steps for Orangetown, and the anti-odor activists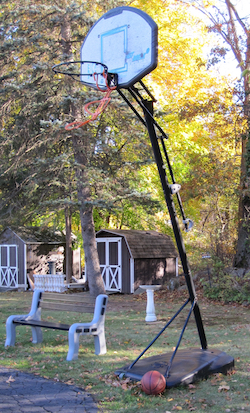 Clean Air for Orangetown's members have called for a Public Health Officer for Orangetown, who would, among other duties, spearhead the effort to monitor and remediate the Aluf Plastics odor problem. The Town Board is expected to create this position in 2017.
Orangetown Supervisor Andy Stewart strongly urges anyone detecting odors from Aluf to report them immediately to Aluf, to the NYS DEC, and to the town. A list of email addresses to notify is posted on the CA4O's Facebook page and in Stewart's memo of October 21, 2016.
Whether or not Aluf is found to be emitting any contaminants above the state action level, NYS DEC officials stated via email that "the odors from Aluf are potentially a violation of  6 CRR-NY 211 if it can be demonstrated that they 'unreasonably interfere with the comfortable enjoyment of life or property.'"
Meanwhile, activist residents intend to keep the pressure on their town and the NYS DEC to arrive at an early and satisfactory solution. Time is passing, and they—and their children—are still inhaling those acrid Aluf odors.
Undaunted, Clean Air for Orangetown's Heather Hurley sums up her grassroots group's intentions bluntly: "We're not going to go away until it's remedied."
See also:
Email Sustainable Saturday.
Sustainable Saturdays, a weekly feature that focuses on conservation, sustainability, recycling and healthy living, is sponsored by Green Meadow Waldorf School, Maria Luisa Boutique and Strawtown Studio.