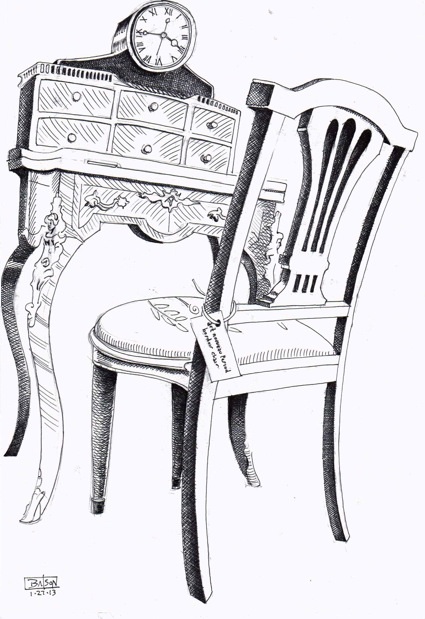 by Bill Batson
Mohamed Mahmoud opened his store in 1993 at the tail end of the antiques boom in Nyack. During the 1980s, almost every street in downtown Nyack had a storefront selling antiques or collectables. Less than a dozen antique dealers remain, with most of these businesses clustered in the Franklin Antique Center on Franklin and Main Streets. Mohamed's first location in Nyack was inside that indoor mall.
Mahmoud moved to the United States from Egypt in 1968 and was first employed as a chemist in New Jersey.  In 1983, Mohamed opened an antique store on the Upper West Side of Manhattan because he wanted more independence from the corporate culture of the chemical industry in Egypt and America.
You might think that Mohamed's passion for antiques was inspired by the ancient monuments from his homeland: the pyramids packed with antiquities that have lured tomb raiders, scholars and tourists for centuries. But it was the French occupation of Egypt that introduced decorative furniture into their popular culture. "Every home, rich or poor, had fine furnishings," Mohamed says.

Today, his store,
Antiques Masters
on Main Street is stocked with an impressive selection of carved wooden frames, massive armoires, period tables, desks and chairs, lamps and sculptures.
The economic currents that led the first wave of antique dealers up the Hudson to Nyack, providing them with affordable rents, vacant shops, and bargain estate sales began to reverse in the early 1990s.  Sensing the shift, Mohamed began to develop a specialty in restoration. As an immigrant struggling to secure the American dream for his family there are many levels of meaning in the text on the sign he hangs in front of his store that reads, "Bring me your broken chair, old lamp and your damaged table, and I'll fix it and save you money."
It's only fitting that the
inscription
that inspired his slogan is engraved inside the pedestal of  the 127 year old
Statue of Liberty
that was given to the United States by the French.
Mohamed has noticed a change in consumer behavior as a result of the most recent great recession. "We are becoming less of a throw away culture," he has observed.  "People used to throw out chairs that had broken caning. Now I am re-caning ten chairs." Mohamed believes that people are choosing to hang on to their possessions because modern items lack the quality and personality of many antiques.
But as some repair classic pieces of family furniture, a recent article suggests that other baby boomers view heirlooms as unwanted burdens and are flooding the antique market, lowering prices. That would be tragic.  As gifts that are often kept in pristine condition for the purpose of being passed between generations, heirlooms are a meritorious form of materialism that represent both thrift and conservation.  Nyack was once the regional capitol for this honorable enterprise.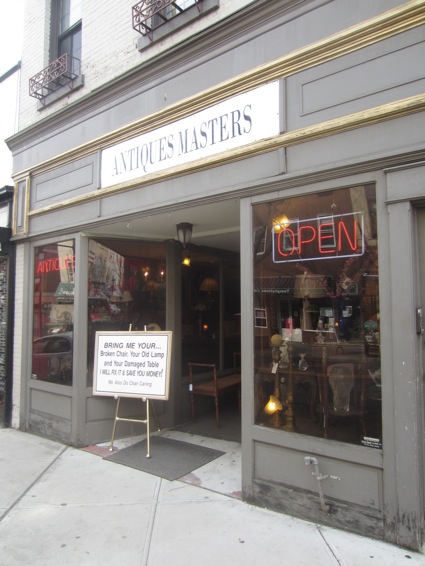 As antique as antiquing may have become for some, there is a set of values in the antiquarian inclination that are consistent with the identity of our village. Many of these ideals endure within the
Arts, Crafts and Antique Dealers Association
(ACADA), the group that organized the first street fairs in Nyack. The annual events have become a major cultural and economic event in the life of the village. ACADA still organizes two street fairs each year. Mohamed is an active ACADA member.
Stores like Antiques Masters celebrate craftsmanship and historic preservation, traditions that attract many to our village.  There may not be the volume of shoppers to sustain an antiques district, but Nyack's remaining antique dealers need our support. So bring Mohamed your broken chairs, yearning to be repaired!
The items from Antiques Masters featured in my sketch are an
Art Deco
style clock, A
Louis XV
ladies' writing desk, and an
Art Nouveau
period boudoir chair.
Here's a list for those still on the hunt for local haunts that sell second-hand heirlooms:
Antiques Masters, 83 Main Street
Colin Holmes – Home, Garden, and Gifts, 85 Main Street
Ku Ku Antiques, 142 Main Street
My Own Corner Antiques, 142 Main Street
Grace's Thrift Shop, 10 South Broadway
Nyack Hospital Thrift Shop, 142 Main Street
Thieves Market, 76 South Broadway
Bill Batson is an activist, artist and writer who lives and sketches in Nyack, NY. Nyack Sketch Log: Last Armoires Standing " © 2016 Bill Batson.