by Mia Leo, GraceMusic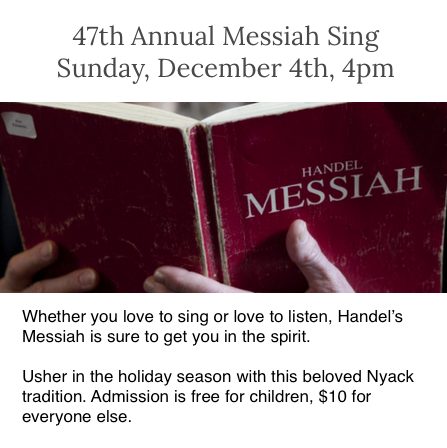 Messiah Sings have become a tradition among music lovers in the English-speaking world, especially around Christmas time. They are often organized in a concert hall or church, where a core choir has rehearsed the music and professionals sing Handel's beautiful arias, but the public are invited to bring scores and join in on the choruses.
The organist  and choirmaster at Grace Episcopal Church in Nyack led the first Messiah Sing 47 years ago, the only one of its kind in Rockland County at the time.  It was a resounding success, and clamors for an annual repeat were enthusiastic. I guess the rest is history, since there has been a Messiah Sing at Grace ever since. This year's Messiah Sings is set for Sun Dec 4  at 4p.
Enjoy the solos sung by professional singers and Nyack residents Korliss Uecker and Joel Jameson as well as Tammy Hensrud and George Hemcher. Brandon Beachamp conducts and David Macfarlane accompanies on the organ. Afterwards, join your friends and neighbors  and enjoy some caroling, festive cookies, and cider.
So why not usher in the holiday season with this beloved Nyack tradition?  Whether you love to sing or love to listen, Handel's Messiah is sure to get you in the spirit. Bring your score if you have one – Grace has a limited supply for borrowing. Admission is free for children under twelve, $10 for everyone else.
Grace Episcopal Church is located at 130 First Ave. Nyack – handicap-accessible via First Avenue entrance. Visit GraceMusicNyack.com to purchase tickets.