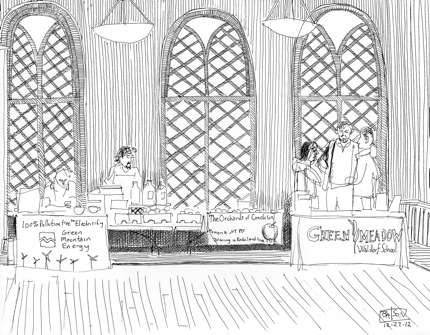 by Bill Batson
Nyack's Farmers' Market returns to the Nyack Center starting on Thursday, December 1. Organized by the Nyack Chamber of Commerce, the farmers' market continues to offer a bountiful harvest throughout the winter months.
This year's indoor vendors include American Pride Seafood, Blooming Hill Farms (organic), Campanelli's Poultry Farm,  Kiernan Farm, Orchards of Concklin and Rockland Farm Alliance. Newcomers include Mana Sauces and Paolo's Kitchen
Through consistency and creativity, the market has kept a loyal following and brought in new shoppers. Year-round anchor vendors like the Orchards of Concklin and the Rockland Farm Alliance, provide  reliable supply of locally grown affordable produce.
Nyack's Farmers' Market was launched in 1977 in Veteran's Park by Carol Baxter, the market has had various managers including Lorie Reynolds and former Chamber Board members Art Clark and Carlo Pellegrini. Currently, the market is supervised by Chamber Board member and Sweet Pea Market owner David Collins, and managed by Pam Moskowitz.
Moskowitz estimates that up to 1,000 shoppers visit the market each Thursday. From its inception, the mission of the market has been to provide quality goods at reasonable prices. Moskowitz sees the market as "a place where folks come to meet and greet each other, and catch up on news of each others' lives and the Village."
As proud as Moskowitz is of the role that the Chamber plays in operating the market, the very spelling of the name of the market reflects the driving force behind the venture. "Farmers' is purposely spelled with an s' … not an 's … Because this is truly the market of the farmers who show up every week," Moskowitz said.
One of the most exciting developments in the 15-year history of the Farmers' Market, the establishment of an indoor market, was the brainchild of a farmer, Richard Concklin of The Orchards of Concklin. In collaboration with the new venue, the Nyack Center, the indoor Farmers' Market opened in November 2012.
Come in from the cold to support local business and secure fresh food for your family. Free parking is available in the Main municipal parking lot from 8a – 2p. The Market continues March 30, 2017.
The Market is sponsored and supported by Green Mountain Energy, New City Yoga and Tai Chi Center,
Smooth Photo Scanning service, Solar Maximum, Sprint, The Blue Rock School, Nyack New and Views, Rivertown Magazine and Natural Awakenings
Bill Batson is an activist, artist and writer who lives and sketches in Nyack, NY. Nyack Sketch Log: Indoor Farmers' Market " © 2016 Bill Batson.