by Owen Voutsinas-Klose
What's made this year's presidential election fundamentally different than all other elections of years past?
That was among the central questions raised, and wrestled over, by some of the most experienced minds in journalism and politics at Saturday night's "An Evening of Presidential Politics" at the Rockland BOCES Rittenhouse Theatre. The evening's discussion, presented by ArtsRock, featured Chairman of the NY Republican Party Ed Cox, John Hockenberry of WNYC's The Takeaway, Nancy Giles of CBS and MSNBC and TurboVote's Seth Flaxman. The panelists dove deep into the factors, seen and unseen, influencing this very bizarre presidential race.
A Shift in Political Power
In this year's election we've seen a shift in political power, away from the parties and towards politicians.  Donald Trump vanquished his rivals in the primary with little establishment support, and voters are clearly drawn to him because of what he represents, not so much the conservative 'policies' he did or did not support.
John Hockenberry argued that much of Trump's success could be attributed to the desire for change not just in government but in the party system.  All the other panelists, including NY GOP Chair Ed Cox, concurred. Trump represents change and a break from the usual, and that enhances his appeal to voters despite his many flaws. While this trend was more evident in the Republican party, it also played a role in the Democratic primary.  Senator Bernie Sanders, a self-avowed socialist, who had never been a member of the Democratic party, found success and galvanized millions with his call for a "political revolution" against a rigged party system.  Sanders' "revolution" occurred outside the confines of the political party system and also illustrated the increasing trend in politics towards following a "cult of personality," at least in Hockenberry's framing.
What's Going on with the GOP?
The Republican party is at a point of reckoning. What's evident from the outside was also the consensus from the insiders on the stage. "Whether or not you agree with the Democratic party, you know where it stands on the issues," Hockenberry said, using Hillary Clinton's embrace of, and support from, the Democratic party to support his argument. By contrast, the Republican party has been divided into the pro-Trump and anti-Trump camps, the Breitbart Right and the Wall Street Journal Right.  Because of Trump's unorthodox positions on many issues, as well as the perpetual battle between moderates and conservatives in the party, voters are left confused as to where the Republican party stands.  The night's prized conservative, Ed Cox, seemed to agree with this interpretation, but defended the party by reiterating that his job was to help get GOP candidates elected, not to dictate the party ideology.  Should Trump get elected, much of the turmoil in the party would be pacified.  He acknowledged that in the (more likely) scenario of a Clinton presidency, the party must grapple with internal division.
Rock(land) The Vote
The registration cut-off for voters  to participate in this year's General Election is Fri Oct 14.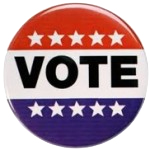 However, new registrants (voters new to Rockland County or first time registrants) may register in person on Sat Oct 15, 2016. Those in person registrations will be deemed timely for the November 8, 2016 General Election.
This registration must take place in person at our office, 11 New Hempstead Road, New City, New York 10956. Registrations postmarked after October 14, 2016 will not be valid for this election.
For more information or to download a voter registration form or absentee ballot
application visit VoteRockland.com or call at 845.638.5172.
Why Trump?
There are a whole host of factors — the waning popularity of international trade, the faults of Obamacare, demographic shifts, racial and  economic anxieties — attributed to Trump's rise.  During this portion of the conversation, Cox went on the attack.  Citing recently released transcripts of speeches Hillary Clinton gave to Wall Street banks, where she argued for free trade across North America, Cox said "Donald Trump is clearly the only candidate who'll put America first."  All panelists agreed that the rise of Trump — and, to a lesser degree, Sanders — is the result of years of globalization that negatively affected some key factions of American voters.
The Race from Now to November 8th
The evening's talk was held the day after the bombshell Trump "grab 'em by the pussy" tapes were released, and one day before the Town Hall debate. Cox struggled to defend Trump's comments, but argued that they would have little effect on the race.  Trump has been making lewd comments for decades, and voters are more motivated by the issues than what he did or did not say. What about what he did or did not do, though? some in the audience may have been wondering. If it's revealed that Trump did in fact sexually assault women, one has to imagine that that will sink his already floundering base of support.
The Future of Voting
How will voting change in the future? Seth Flaxman, a Nyack High School, Columbia University and Harvard Kennedy School graduate, founded a nonprofit called TurboVote that uses the Internet to enhance voter participation. TurboVote will send you a reminder when it's time to vote, including in local and primary elections. The website provides polling place information to Google, and works with local election administrators in all 50 states to increase voter knowledge and turnout. Some recent successes cited by Flaxman include convincing Florida's GOP legislature and governor to pass an online voter registration bill. Flaxman said that commonsense measures to make it easier to vote have bipartisan support, and we should act on them. Flaxman did a survey of the room and asked the audience members, by a show of hands, who was registered to vote.  Almost every hand went up. But when asked who voted in the September 13th primary elections, over half of the hands went down. Only 5 percent of voters participate in primary elections, according to Flaxman, and those who do are the most ideological, partisan voters in society.  By not participating, we allow them to make decisions for us and therefore increase political polarization, which is how the GOP ended up selecting Donald Trump, an outsider who has never held political office.
For more information or to sign up for TurboVote reminders, visit TurboVote.org.
To learn more about ArtsRock and their upcoming events, visit ArtsRock.org